Falling in Love with Scotland
My 4 days in Scotland were nothing short of magical. Thinking back on Scotland, the thing I remember most is the rugged, untamed terrain, endless mountains, and climbing in worn-out sneakers, attempting not to slip and fall off a cliff and kill myself.
It was cold in Scotland, there was an endless breeze that had to be battled anytime I stepped outside. I remember hiking and feeling the cold sting of the wind on my face, and feeling invigorated as I looked around on the peak, seeing nothing but gorgeous mountains. I felt alive.
And I fell in love with Scotland.
I didn't even expect it. I can't say exactly when it happened, but one thing is for certain, it happened in the Scottish Highlands, on a Haggis bus tour. Edinburgh was fine, but the real gem of Scotland is the Highlands. And, if you can get a legitimate Highlander to show you around the Highlands, you are in for a treat.
Haggis 3-Day Isle of Skye Tour
I spent one day in Edinburgh. Then, to explore Scotland more in-depth, I opted for a three day Haggis Bus tour called Skye High, which featured trips to the Isle of Skye, Loch Ness, and the Scottish Highlands.
Why Haggis Tours?
With Haggis Tours, you get a lot of tour for your money. All accommodations are included, as well as transportation. A whiskey distillery tour and tasting are included, and you have a great tour guide as you explore (which in my opinion is priceless!)
Prices start at just over $300 for a three-day tour, and vary depending on what time you go. Rooms are usually shared but you can pay more for a single room.
My Haggis Tour Guide
I had the best tour guide on my Haggis Tour. Joe was a full-blooded highlander, whose first language was Gaelic. His voice, to my tame ears, sounded garbled, and rough, and I had to focus if I wanted to understand a single word that he said.
But after a few hours, I detected a wildness in his voice, a tough, gritty cadence that reminded me of something from hundreds of years in the past, and made me quite aware that the man who possessed such a voice was no stranger to hardship and hard work, the Scottish highlands and all of Scottish history.
Hearing this man weave Scottish stories and history, stomp around in huge boots up mountains while the rest of us younglings trailed behind him trying to keep up, and wearing a kilt with a Haggis t-shirt, made him the best possible guide that I could have ever hoped for.
In any case, maybe this legitimate Highlander, quite a rare breed in Scotland these days, was the reason that I fell so hard for the country.
Can I do this Tour on my Own?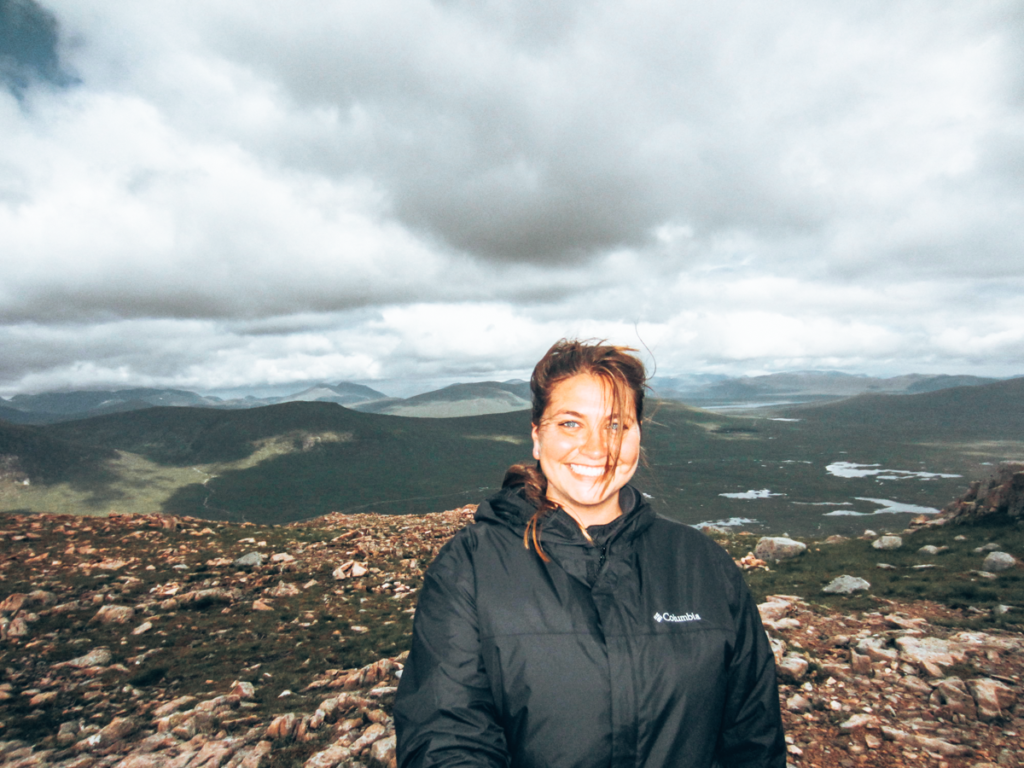 Absolutely! One of my best travel hacks is to look at popular tours offered by tour companies in the country that you want to visit and then mimic their itinerary on your own.
If tours aren't for you, rent a car in Edinburgh and complete this tour on your own or with a friend or partner!
Day 1: Edinburgh
Haggis' three day Skye High tour does leave from Edinburgh, but does not include tours of the city. So make sure to budget at least 1 or 2 days to see the capital city.
Before you embark on your Haggis tour or a personal tour of Scotland, spend one of your 4 days in Scotland exploring Edinburgh.
Arthur's Seat Hike in Edinburgh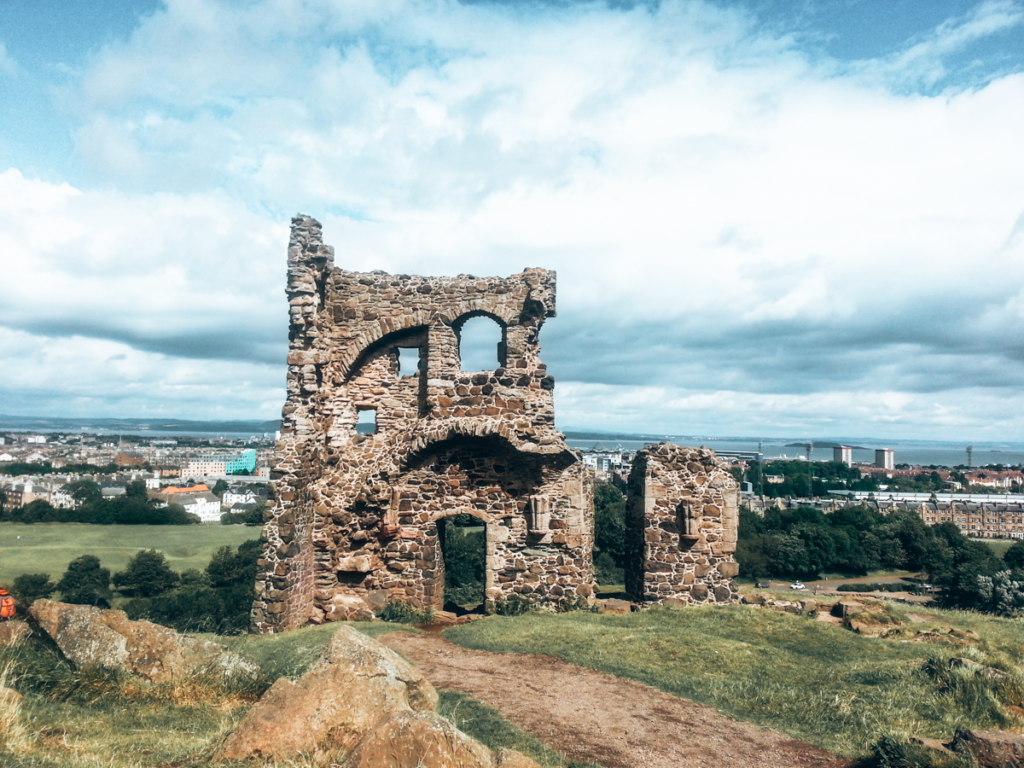 Begin your day in Edinburgh with a small hike. Arthur's Seat hike is located within Holyrood park, at the end of the Royal Mile. There are several hikes that you can take in the park to reach Arthur's Seat, I took the less strenuous one, and enjoyed my time out in the fresh air. And the views of the city from above were stunning. 
Click here for trail options to Arthur's Seat!
Take A Guided Tour
Edinburgh's history is fascinating. And unless you're a history teacher, it is well worth it to spend your late morning on a free guided tour.
There are several free tours in the city, as well as some specialized tours like ghost tours and Harry Potter tours. I recommend either Sandemans, The Orange Free Tours, or City Explorer Free Tours. You can read about all three tours here.
If you're a major Harry Potter fan, but don't have time for the tour, check out some of the famous sites around town relating to the series.
The Edinburgh Royal Mile
Sloped downward from Edinburgh castle, on a once active volcano, the Royal Mile has been a hub of trading and housing for centuries.
Today, the Royal Mile is packed with restaurants, shops, hostels, castles, old buildings, churches, statues, bagpipers, entertainers, and plenty of tourists.
After your walking tour, take your time and walk the entirety of the mile, perhaps stopping for a quick lunch and coffee.
St. Giles Cathedral
Located on the Royal Mile, this church is a showstopper. The modern building was built in the 14th century with additions made in the 16th century. The church is called "the Mother Church of World Presbyterianism" after its role in the Scottish Reformation.
If you take a walking tour, you'll most likely stop by this church and learn even more of its history.
Edinburgh Castle
After lunch, take a tour of Edinburgh Castle. The castle sits at the top of the Royal Mile, and looks like it's built right into solid rock. Book your ticket online to save some money. A free tour is included in your ticket, so make sure you take advantage of that!
Calton Hill
Spend your early evening visiting one of the most iconic sites in Edinburgh. Calton Hill is a UNESCO World Heritage Site and commonly found in paintings and depictions of the city. This famous site is located off of Princess Street, and easy to get to from the Edinburgh city center.
Calton Hill is home to some beautiful Scottish monuments. People rave about the sunrises on Calton Hill, I went for sunset and was stunned by the monuments and the views.
Grass Market
End your night in Edinburgh at the Grassmarket. The Grassmarket is located right behind Edinburgh castle, and is one of the prettiest areas in town. Walk down Victoria Street and take some photos of the beautiful houses. Victoria Street was said to inspire JK Rowling's Diagon Alley in the Harry Potter Series!
Say hello to the statue of Greyfriars Bobby, a small, loyal dog. Then, do some shopping and grab dinner! You'll find local artisans by the dozen, and some of the best restaurants in Edinburgh.
Skye High Tour with Haggis Tours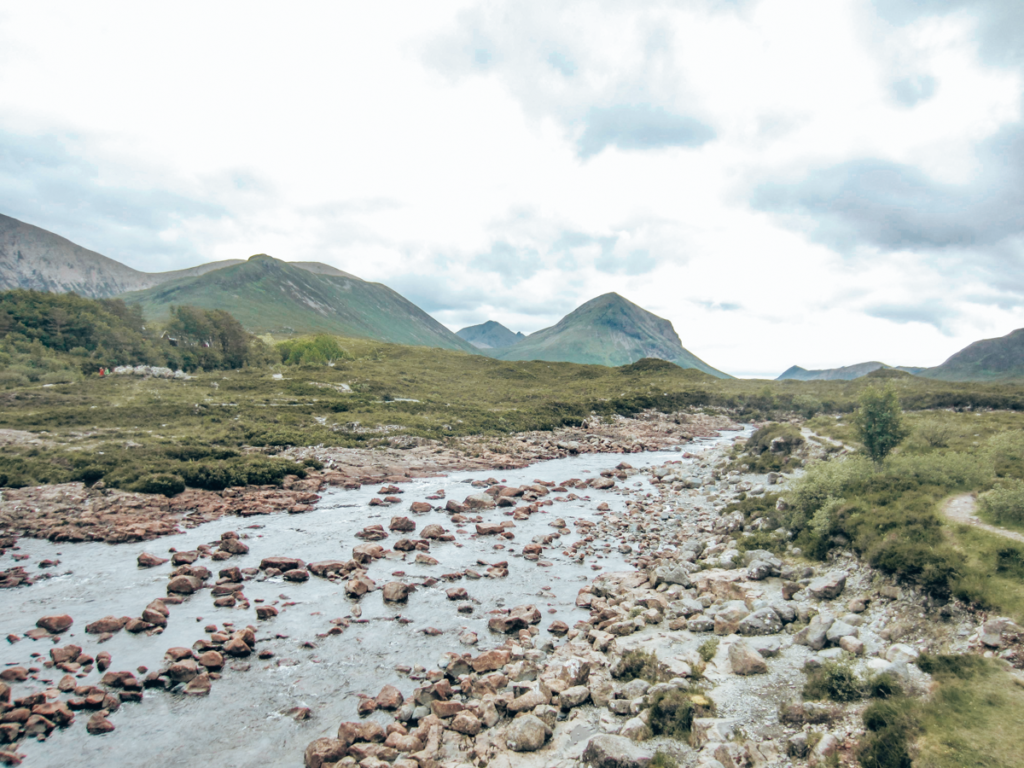 After your wonderful day in Edinburgh, it's time to embark on a trip to see some of the most beautiful scenery in the world.
My experience with Haggis Tours was amazing. But if group tours aren't for you, use this as a guide to plan your itinerary in the Scottish highlands.
The itinerary on the Skye High Tour is subject to change (Day 1 would be Day 3 and vice versa) and some activities may be modified due to weather.
Haggis Tour Day #1 Loch Ness
You'll leave from Edinburgh early in the morning and make your way towards your first night in Loch Ness. But before you get to search for the sea monster, you'll stop in at a whiskey distillery. The drive from Edinburgh to Tomatin Distillery is about 3.5 hours, so you may have to stop at least once to stretch your legs.
Whiskey Distillery
Whiskey, known as the 'water of life' is Scotland's biggest export.
Visit the famous Tomatin Distillery. Haggis tours include a tour of the facility and a free whiskey tasting. If you go on your own, book a tour in advance to guarantee your spot.
Loch Ness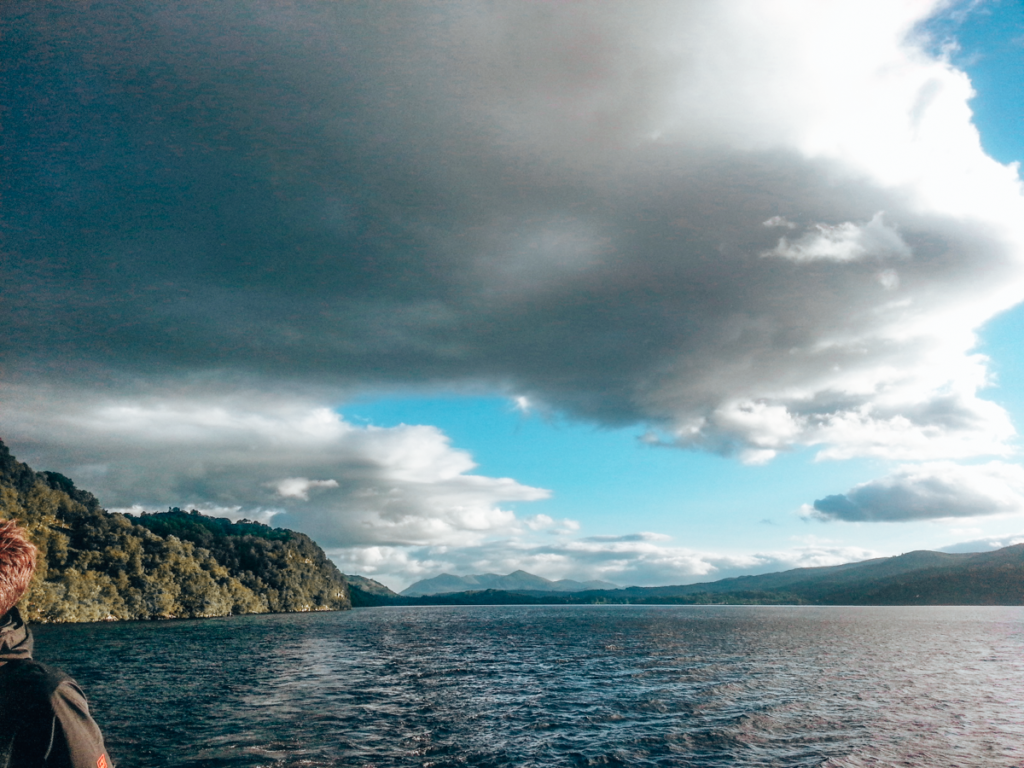 After the distillery, the drive to Loch Ness is about 30 minutes.
Loch Ness, the home of Nessie. On my tour, I had one crazy friend who insisted she swim with the sea monster. She did swim in the lake, but I recommend taking a boat tour and searching for Nessie instead.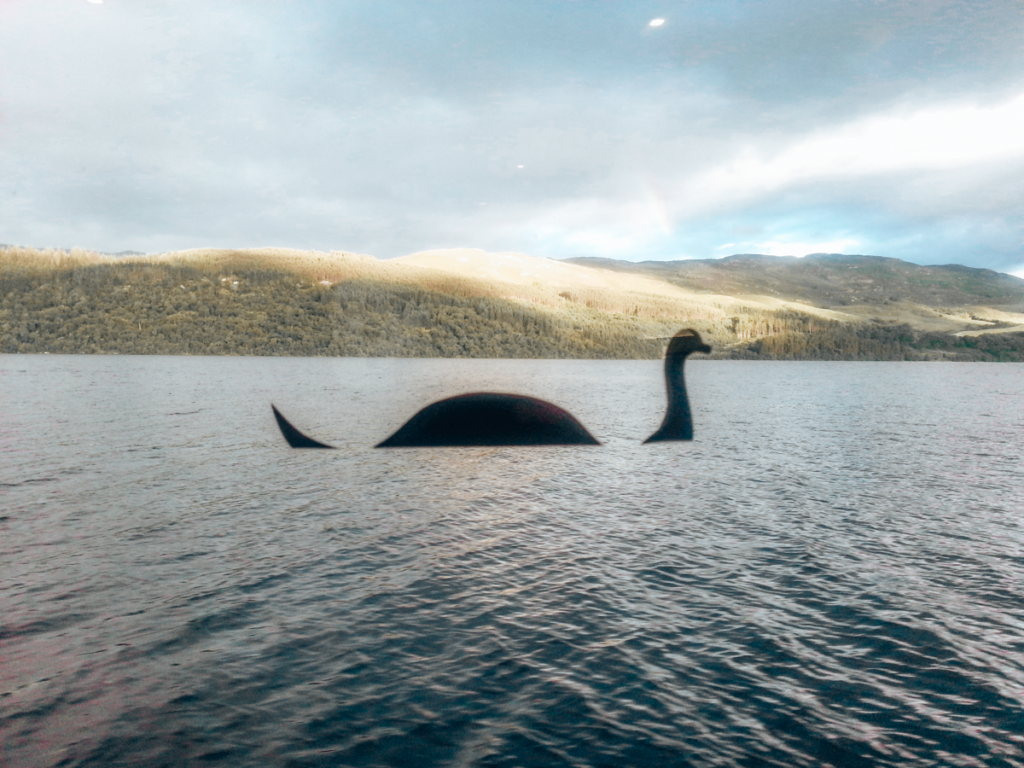 Sadly, when I visited there were no sightings of the famous sea monster, but we did see a rainbow after some light showers.
Haggis tours will plan your boat tour for you. If you journey on your own there are plenty of companies that offer tours of the loch like Cruise Loch Ness or Loch Ness by Jacobite, or Loch Ness Cruises.
We stayed in the Fort Augustus area of the loch (which I recommend). And there were plenty of pubs and restaurants in town to amuse us at night.
You can also check out the Calodian canal and Urquhart Castle in and around Fort Augustus.
Haggis Tour Day #2 Isle of Skye
Old Man of Storr Hike
This is one of the most famous hikes in Scotland. The Old Man refers to large rock formations that can be seen for miles. The hike itself takes a little over an hour if you don't stop. But I recommend stopping, taking pictures, and enjoying the beautiful views.
There is a carpark on the main road about 10 minutes away from the town of Portree. If you visit during the summer, do this hike first thing in the morning as the car park fills up quite quickly. There is an overflow lot available.
Portree
After your hike, spend some time in the cute town of Portree. Take pictures of the colorful houses all lined in a row, grab a bite to eat, and do some shopping.
I wish the tour offered more time in Portree. Other outdoor activities that you can do if you're on your own are The Lump, Lealt Falls, and Scorrybreac.
Sligachan Magical Waters
This beautiful little bridge and stream has magic powers. The story goes that Scáthach, a famous female warrior was challenged to a fight by Cú Chulainn, a warrior from Ireland. They fought for days and nights. Scáthach was getting frustrated and cried into a river because she didn't know how to defeat her opponent. Her tears called to the fairies of the river and they told her how to defeat Cú Chulainn.
She offered Cú Chulainn soup, and as a guest, he knew he could no longer break the rules of hospitality and fight her.
Today, the fairies still live in the water, and if you dunk your whole head under you will achieve eternal beauty.
The small walk to the river is stunning. Make sure you dunk your whole head in when your guide tells you to!
Eileen Donan Castle
I wasn't aware of the cult movie classic Highlander until my host Mom in Italy made me watch it. Anthony Hopkins is fantastic, as per usual, and I liked the quirkiness of the movie. The actual castle where Highlander was filmed is called the Eileen Donan Castle.
The castle itself is awesome, the family who owns the castle lives in part of it, and hosts all sorts of weddings and birthday parties. It is not only a piece of history but a family home.
Of course, the best part about the whole experience was when our Highlander guide, Joe, made us recreate the famous scene from Highlander on the bridge, complete with sound effects.
We took a tour of the castle, which you can book online.
After the castle, stay close by or elect to drive the hour back to your hotel in Fort Augustus.
Haggis Tour Day #3 The Highlands
Culloden Battlefield
I hadn't heard of the Battle of Culloden until I watched and read Outlander. Culloden marks the final battle in the 1745 Jacobite Rising. Our tour guide was able to give us a full history of the site, as well as point out some famous markers as we walked the battlefield. You can also book a tour online.
Perhaps one of the most powerful images was the memorial cairn that serves as the grave for 1,500 Jacobite soldiers.
Scottish Commando Memorial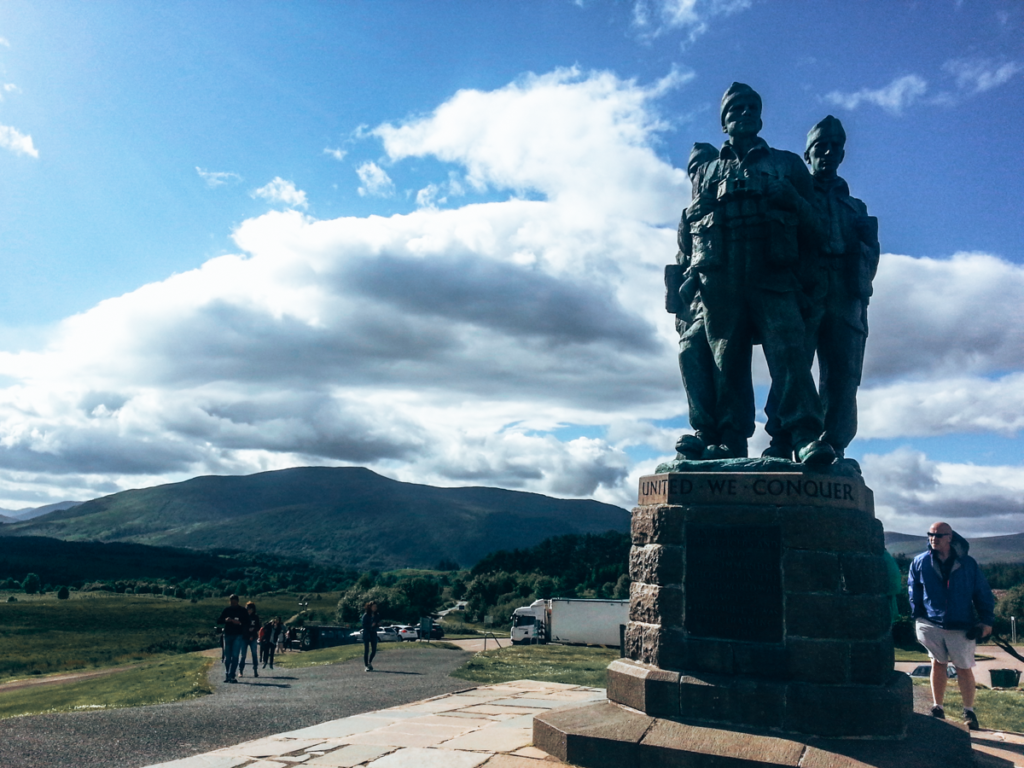 Stop by this beautiful memorial dedicated to the men in the British Commando forces during WWII. The statue stands at the Commando Training Depot.
There are also amazing views of Ben Nevis, the highest mountain in the British isles, and Aonach Mor.
Glen Etive Road Views
Make sure that you drive this scenic 12-mile highway-named one of the most beautiful drives in Scotland. The James Bond movie, Skyfall, was filmed along this road. Make some side-of-the-road pit stops to get some great photos.
Rannoch Moor Drive
Haggis will also take you through Rannoch Moor, the site of some of the scenes in the Harry Potter movies. Simply driving through Scotland is such a treat.
Glencoe Mountain Chairlift Rides
Perhaps my favorite stop on the Skye High Tour was for lunch in the Highlands at the Glencoe Mountain Chairlift. We started by grabbing bag lunches from a small restaurant at the base of the mountain.
Then, we took ski-lifts a bit higher, before hiking a bit and settling down for lunch and some pretty amazing views. The Scottish mountains are not all that big, but they are magnificent.
Deer at Inveroran Hotel
After the chairlift ride, Joe took us to a field right in front of the Inveroran hotel and let us feed wild deer. For 'wild' deer they were pretty accommodating, eating food right out of Joe's hand.
Scotland Details
Scotland is a fairly easy country to travel in-although I would recommend renting a car or completing a tour to get around. Rental car prices are reasonable. You'll be driving on the left side of the road.
Currency is the pound sterling. 1 pound sterling is about 1.25 US dollars. Credit cards are accepted everywhere, and you can easily get money out of ATMs in cities and small towns. It is not an inexpensive country to visit, but you also won't be shocked at prices (maybe a bit in Edinburgh), but overall prices are reasonable.
People speak English in Scotland, few people speak Gaelic.
Scotland is an extremely safe country. Take normal precautions that you would take visiting any city.
4 Days in Scotland Final Thoughts
Like every other place I've visited, it is impossible to fully appreciate a country through pictures and stories. No matter how hard bloggers and travelers try, you can't capture the feeling that you get when you're walking around another country. It is pointless to try and capture everything that you experience when you travel.
When I returned home to Florida after my trip, I couldn't stop thinking about the Scottish Highlands. I was ready to trade my bikini and sunscreen for a warm fleece and hiking boots.
Alas, I probably will not return to Scotland for quite some time. The world is a big place, and I want to see more of it. But I am so thankful to Haggis tours for escorting me around their beautiful country. And, for Highlander Joe who truly is the best guide I could have asked for. Until next time.
Love this article? Pin it!