The holiday season approaches, can you believe it? It seems like 2020 went by in a crazy blur and at a snail's pace at the same time. I think we all could use a little joy this holiday season. And, because most of us aren't traveling (and travel is kind of my life) I thought I would create a list of some cute gifts for travelers ideas.
And every single item is $40 or under. Because let's be honest, we're all on a budget these days.
If you're constantly looking for a gift for a travel-loving loved one, or want to treat yourself, here are some cute travel gifts under $40 for the traveler in your life!
Cute Maps
$30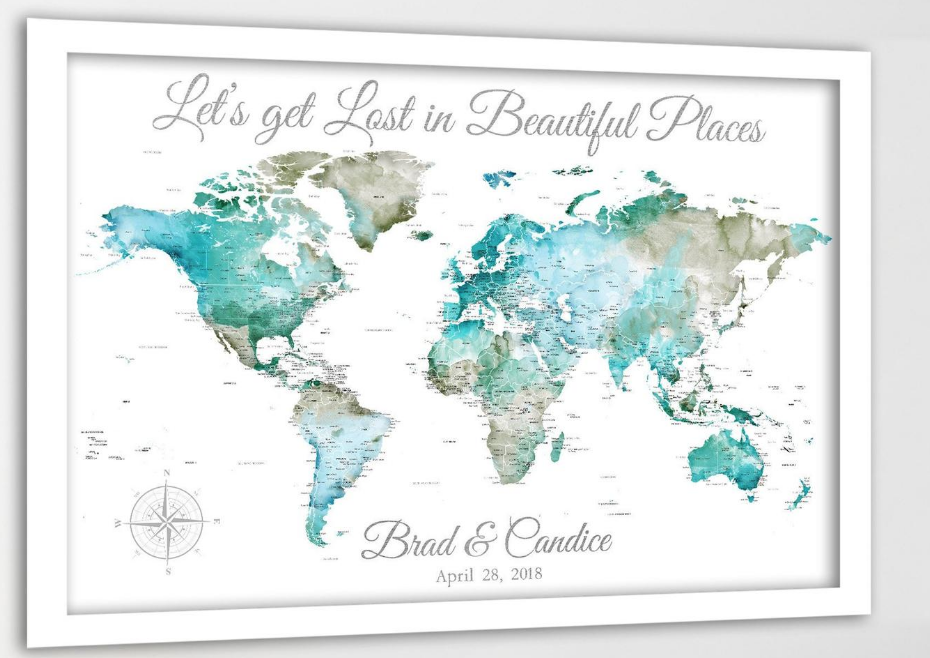 A push pin map is one of my favorite ways to document my travels. My map hangs on my wall and is a conversation piece when people come over. I also get a rush when I get home from a trip and get to put a pin in a new country or city!
This map is customizable and a really beautiful color.
$33.00
If you're into water color, this scratch-off map is for you. Scratch off every state or country that you have been to, and watch the map transform into a beautiful water-color piece of art.
$39.99
Another push pin map that I think is just beautiful. Large enough to actually see which countries you visited, but still with a really cool style. I love the compass detail at the bottom.
Artwork
$9+
I want my home to remind me of my adventures around the world. One way to commemorate an especially awesome trip, is with some wall art. CityPrintArt has so many unique prints from dozens of cities around the world in any style that you could want.
$7.33
If you love postcards, these city art prints are for you. Big, bold colors and graphics, this is perfect for a travel-lover with modern style.
$34.00
If you're a major traveler, it may be hard to pick just one country to display on your wall. So choose this sign and customize it with all of your favorite locations.
Travel Journals
There is no better way to capture and remember what you did on a vacation than by using a journal.
When my friends go on their first big trip (or any big trip) I'll either buy a journal for them, or encourage them to buy one of their own. Pictures are great but there is something about taking 10 minutes at the end of your day and writing down what you did and how you are feeling.
I started documenting my travels when I was 18 years old-and I still have the worn out pages declaring my love for Italy and Greece. Do yourself a favor and buy one a journal for your next trip.
Here are some of my favorites!
$34.55
I love this simple, cute, and customizable travel journal. Purchase one to remember a specific trip.
$27.63
If you travel a lot, or like the look of cork, this vegan travel journal is for you. Fill it's pages with all of your most wonderful adventures and know you are not hurting any animals in the process! Add your name for a more personal touch.
$15.99
Using a journal for more than travel? Maybe to record your dreams, thoughts, and wishes? Consider purchasing a customizable journal that speaks to you. I promise, when you have a journal that you love, you're more likely to use it. Weird and strange, but true.
Practical
$28.00
Lack of pockets in pants always gets me angry. But this scarf allows you to keep your phone, passport, and small tokens secured in the folds. Perfect for traveling, coffee dates, or concerts.
$13.83
Going on a long-haul flight and wanting to get some sleep? This travel set is for you! Ear plugs, eye mask, and neck pillow at an affordable cost. Enjoy those zzzzs.
$14.99
I'm in love with pillows. My boyfriend is not. But I think pillows are a great way to sneak in some wander in your home. These pillows are super cute and subtle.
$18.50
Looking for a way to protect and beauty your passport? These custom passport covers are practical and cute.
$17.00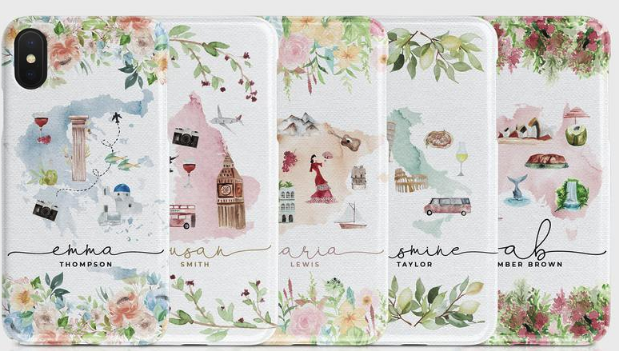 We're on our phones everyday, and as an extension of ourselves, display your love of travel with these cute, customizable phone cases.
$16.00
I bought my first Turkish towel about 5 years ago and haven't gone back since. They are the best towels in the world.
$9.99
Some planes have wonderful in-flight entertainment, others don't. Whether you want to read, play games, or watch movies, this little device will support your phone on a plane while you do all of the above!
Jewelry
Jewelry is another great subtle way to show off your love of travel. Layer these gems with some other pieces for an eclectic, bohemian, free-spirited look!
$24.99
Add your or your friend's birthstone to this beautiful compass necklace to make it extra special.
$38
Airplanes are magic (in my opinion). I love this airplane necklace celebrating a wonderful symbol of travel.
$6.00
I'll always be a fan of layered rope bracelets. Even if you're on a budget, this safe travels good luck bracelet is a sweet gift for a family member or friend before their big trip.
$20.00
A customizable city bracelet is another great way to keep track of your travels. Add a pendant for every city that you've visited, or one that you remember fondly.
$35.00
Want to remember where you fell in love with traveling? Where you were married? Or your favorite place? This coordinate necklace is the perfect way to carry that happy memory with you always.
Clothing
$17.32
Ciao bella-if you've ever been to Italy, you know what I'm talking about. This cute tee is the perfect gift for an Italy lover.
$29.00
We've focused a lot of cute travel gifts for cities in this post, but what about the mountains? This pretty tee is perfect for anyone who loves the mountains.
Other
$14.80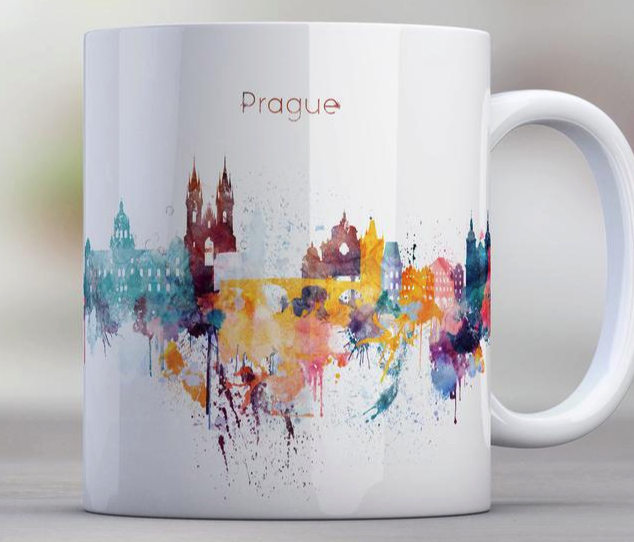 Remember your perfect trip every morning with a cup of coffee in this beautiful coffee mug.
$20.76
It's 2020 (almost 2021) and we can't travel right now. But we can start saving for travel. And this cute jar is the perfect way to keep track of spare change!
$40.00
What a perfect mat for a travel loving home. I mean you do arrive and depart your home on a daily basis, but the wording and picture make this the perfect door mat.
$18.00
Yearning for SouthEast Asia? These wonderful candles will bring you back. Smell is one of the best ways to trigger memories. Bring some of those memories to your home.
$16.95
I love this keychain that keeps track of your travels. Every time you go somewhere new, you can add a charm to this keychain.
$22.17
This travel challenge deck will turn your trip into an adventure. This is perfect for the game-loving adventure couple!
Final Thoughts
I hope this guide helped you find a wonderful gift for the travel-lover in your life. Remember, just because we can't travel now, doesn't mean we won't be able to travel soon.
Happy Holidays!
Love this post? Pin it!