There is something special in a road trip, something akin to freedom. The open road in front of you, the opportunity to go wherever you want, whenever you want, and do whatever you want. I got to take an epic Serbia road trip when I visited the country in 2014.
Disclosure: I only recommend products and services that I would recommend to a friend. Some of the links in this article are affiliate links. Meaning, at no additional cost to you, I will earn compensation if you click through and make a purchase.
We began and ended our journey in my friends' hometown, and the capital city of Serbia, Belgrade. Spend at least one day in Belgrade seeing the main attractions. While it's not enough time to see everything, you'll get a good feed for the city. I enjoyed my time in Belgrade.
But, the Serbia road trip was spectacular. Getting to see a huge chunk of the entire country, with friends, while taking my first cross-country road trip was exciting.
I was road tripping with my Serbian friend, who I had met in the US, and his girlfriend. It could have been awkward, being the third wheel, and messing up their romantic vacation, but neither ended up being the case. I loved them both and we had a lot of laughs, some tears, and a lot of excitement during the trip.
My Serbia Road Trip Itinerary
3 Nights in Prokuplje
Trips to Niš, Devil's Town, Prolom Banjas, Kopaonik
3 Nights in Zlatibor
Trips to Aleksandrovacka Zupa, Mokra Gora, Drvengrad, Stopica, Sirogojno
Check out booking for the best accommodation in Prokuplje and Zlatibor. I prefered having a home base and taking short day trips on the Serbia roadtrip.
Renting a Car in Serbia
My trip was a bit different because I had locals drive me around, and never had to rent a car. But it seems easy enough to rent a car if you want to do a Serbia road trip. You must be 21 years old, have a valid driver's license, have a passport (and have held it for two years), and carry insurance cards and rental papers with you at all times. 
You can reserve a car on several big websites like kayak or Expedia.
I would only recommend having a car in the countryside, you do not really need one in Belgrade.
Language and Currency
Serbians speak Serbian. Most younger people will be able to speak English and a fair amount of people working in the tourist industry.
The currency is the Serbian dinar (RSD) and 100 RSD (approx) equals 1 US dollar.
A decent number of places take credit cards, but always be sure to have cash on hand. In the cities there are always banks with ATMs where you can get money out.
Serbia is a fairly inexpensive country, your money will go far here!
Serbia Road Trip Day #1:
Niš
The first stop on our trip was Niš, a good size city, although a lot smaller than Belgrade.
I got the chance to see a skull tower in Niš. The tower was built after the battle of Čegar; a fight between 3,000 Serbians and 70,000 Turks. Massively outnumbered, and with the knowledge of being captured, Steven Sindjelic, a Serbian militant, shot a gun powder magazine, killing thousands of Turks, and the few remaining Serbs, to cause the enemy as many losses as possible.
And it worked; although he killed about 100 surviving Serbs (all 3,000 Serbians ended up dying in battle), he also managed to kill 10,000 Turks. The Turks, upset by the loss, gathered the skulls of the dead Serbians and built the tower, trying to instill fear in the Serbian people. The tower still stands today, but not as a symbol of fear, but as a symbol of the brave actions of the Serbians.
After the skull tower, we spent a few leisurely hours walking around Niš fortress, taking pictures of old walls, storage units, and graves.
Prokuplje and all of the Good Serbian Food
After Niš we drove about 40 minutes to my friend's family house. It is situated in the country, in the town of Prokuplje, and it is so quaint and beautiful. There are fruit trees in the back yard with all kinds of plants, the mountains make up the skyline in the background, and the sounds of farm animals can be heard constantly. It was quite relaxing. This was our home base for the next several days.
Having a home base was absolutely wonderful. The mornings were spent drinking coffee and eating traditional Serbian food, a lot of bread, filled with cheese, called pita sa sirom. My friend's family gave us food constantly, and we were never hungry.
We visited my friend's family several times throughout our trip. I was always greeted warmly, like part of the family. They were all so welcoming and friendly towards me. And we ate well! My friend's family purposefully cooked traditional Serbian food for me to try.
When we arrived after a long journey, I tasted slatko, a sweet cherry mixture given to people after a trip. I also tried punjena paprika (stuffed paprika), musaka (3 layers of potatoes, mashed meat, and more potatoes), Ćevapi (a kind of minced meat that is served in finger-like pieces), and pljeskavica (which looks like a hamburger). All of the food was to die for; I'm sure I gained a few pounds during the trip.
When early afternoons rolled around, we would pack up the car and head out for a little adventure, never driving more than an hour or hour and a half away. It was so nice having someone else drive and schedule everything, I could just sit back and enjoy.
Serbia Road Trip Day #2
Devil's Town
One of our day trips was to Devil's Town. Devil's Town consists of several rock formations. The rock formations almost made it onto the list of natural world wonders. And they are pretty spectacular.
There are many legends surrounding Devil's Town, the one I heard goes like this: a group of God-fearing people once lived in the town; they were very pious, religious people. The devil saw these devout believers and decided to poison them, to make them forget their lineage, and forget their devotion to God. The people were poisoned, and soon a marriage was arranged between a brother and sister, an incestuous relationship. A fairy, who is rumored to still live in the town today, prayed to God to end this marriage. God heard the cry and turned the wedding guests to rock, and they are still standing there today.
The area itself is also quite beautiful. The small hike leading up to the rocks was filled with orange-colored streams, and fun caves.
But the actual rock formations themselves are something to behold. You know when you reach the top of a mountain after hiking for hours and you just drink in everything around you? That's what we did.
My friend pointed out onto the formations, "before they put up these barriers, when I was little, I crawled out onto the rocks." I eyed the barrier, and with a grin, hopped over the fence (which looking back was a foolish, idiotic thing to do) I walked out onto those formations, staring at those structures, which are the source of so many Serbian legends.
My friend took some pictures of me, but he was super worried, at one point, holding my arm because he thought I was going to fall, "you nearly gave me a heart attack!" He said.
Serbia Road Trip Prolom Banjas and the First Proposal
After Devil's town we stopped by the Prolom Banja. Banjas in Serbia are like spas in the US. They are usually located in the mountains, where the air is fresh and crisp. People pay a certain amount of money to stay at the Banja, and their fee includes (in addition to housing) food, and an arrangement of spa services like massages, facials, different therapies, several different pools, and steam rooms, and exercise rooms.
Prolom Banja is very famous in Serbia because the water that they have is so pure. You can actually buy Prolom water all over Serbia.
We stopped and ate at a restaurant located in Prolom banja. This was where I got my first taste of just how foreign Americans are to Serbians. So, there we are, in a restaurant, speaking English (which is not a common occurrence in Serbia) when this older man approaches us. He is Serbian, but lived in Chicago for thirty-something years. He starts telling us his life story, which is interesting, and about how his son is trying to get a visa to be a lifeguard in the United States.
Ironically, this is how my friend and I met, lifeguarding in the US. The conversation is pleasant enough until the man talks about how I should marry his son so his son could get a visa to come to the United States. At first I thought, this guy is joking. And although he kept a joking tone, he was not joking. This man offered me a house in Serbia.
The man's wife snaps a picture of me (to be fair she got a picture of my friend and his girlfriend as well) and puts me on the phone with her son (who can barely speak any English). At this point, I just want to run away, but trying to be polite, we wait out the conversation until we can quietly leave.
We took a short walk around the Banja, me still reeling from our conversation, my friend less surprised. "They all want to get out Kelly, out of Serbia. The US is the stuff of dreams." I shook my head.
This would not be my last proposal in Serbia.
Serbia Road Trip Day #3
The Second Proposal
A day later, we took a stroll to see the best overlook of the town of Prokuplje, and to stop by a small 10th-century orthodox church, the church of St. Prokopije, on our way. It is very rare for a town and church to bear the same name, and, even rarer that the bones of St. Prokopija are located inside the church's walls. 
It was quite a beautiful church, decorated with beautiful artwork, and it just felt as if it had seen so much. Dozens of candles flickered in an altar. "Light one candle at the top and pray for someone's health, light one candle at the bottom and pray for someone who has died, in remembrance of that person." My friend told me.
It was quite an experience to light a candle and pray for my family back in the US, and my uncle who died several months before, in the quietness of the church, the ritual was very moving.
Before we could leave the church the priest grabbed us, I'm not sure if he was just being nice or knew I was American and was, again, fascinated. He gave us incense, he told us it was the same kind that was used to wrap Christ's body, and dotted our foreheads, chests, and arms, blessing us as he did so.
He presented me with parting gifts of a keychain, a small picture of Mary, and fruit from his garden. Just as we were about to leave, he told me that he would marry me for free if I found a husband in Serbia. Then he introduced me to a member of his church choir, and told me I should consider him as a husband. Proposal number two.
I couldn't believe that this priest took so much time just to talk to my friends and me. He was supposed to be retiring for the night, but instead, chose to wait up and talk with us, and to educate me in the orthodox religion. But, those are Serbians for you, kind beyond measure.
Kopaonik
Kopaonik was the next site on our list. It is a mountain ski resort in Serbia, which I learned is quite popular and well known throughout Europe.
The scenery was a bit obscured as it was raining the whole time, but the views were still quite spectacular.
As we're wandering around the resort, we encountered men selling a few trinkets and some food. I love the food in Serbia. I buy some honey, and my friend's girlfriend buys some blackberries, which we devour. The men are quite nice, and offer us shots of Rakia. 
I think I impress them when I pronounce Živeli, the traditional Serbian cheers, and down my shot, wishing them all good health. They perform a traditional Serbian song and dance. And I'm, once again, shocked at the friendliness of these people. The people whom Americans think are dangerous.
Serbia Road Trip Day #4
Aleksandrovacka Zupa
We made a pit stop at my friend's aunt's house on our way to Zlatibor. They own a vineyard. I got to visit Serbian wine country, or Aleksandrovacka Zupa.
They own a beautiful little house, in the middle of wine country. My friend's family was kind enough to give me a tour, and answer all my questions about winemaking. We sat down to coffee, and wine, and chatted a bit.
I am not a huge wine lover, but that wine was delicious, especially the red. They gifted several bottles to us as we left.
Zlatibor
For the next leg of our journey, we decided to splurge and spend a few nights hanging around a mountain resort called Zlatibor. I loved Zlatibor, loved taking walks around the lake, seeing the different resort houses, chatting to a restaurant owner while making faces at a little 7-year-old Serbian kid.
I liked going into a meat shop, choosing different meats, some wrapped in bacon (oh my gosh), and going home to feast. And I loved drinking in an assortment of coffee shops and spending hours just pleasantly chatting. And drinking at night in bars with live music. It was a great little mountain resort.
Just driving from place to place on our road trip was spectacular. The views from the car are amazing, I tried taking pictures through the window-some of them turned out surprisingly well.
My Third Proposal
We were sitting in a little cafe in Zlatibor having breakfast. Naturally, we're speaking in English, since I can't speak Serbia. The restaurant owner, a man, starts eyeing us. But, at this point, I'm used to it.
Eventually, he approaches us and starts talking to my friend in rapid Serbian, my friend's mouth curls up in a smile. My friend's girlfriend and I take a walk while the men chat.
When we make our way back, my friend relays the information to me. I've been offered a house in Zlatibor in exchange for US citizenship.
I imagine myself owning a house in Zlatibor, making money off of the guests that visit. We all laugh about it, but it's still sad to me. I don't think of the US being that amazing, but to some people, I know it is like a dream come true.
Serbia Road Trip Day #5
Mokra Gora
My other favorite part of the road trip (besides Devil's Town) was the train ride we took around Mokra Gora. For the equivalent of around $6, you can take a 2.5-hour train ride in the mountains.
It was spectacular. The train stopped every 15 minutes or so for people to get off and take pictures.
And I'm so glad they gave us time to snap away!
It was definitely a highlight of my trip.
Drvengrad
After the train ride we made our way to Drvengrad, perhaps the most popular, or at least well known, town in Serbia, thanks to movie magic.
The town itself was fascinating, so many little idiosyncrasies.
Serbia Road Trip Day #6
Stopica
The busiest day of the road trip began with a trip to see a magnificent cave called Stopica pecina. There were basins pooled with water, and stalactites hanging from the ceiling.
My friend sweet-talked a guard, and we were able to go where most tourists were not allowed: to stand under a hole hundreds of feet above us, at the top of the cave. It's dangerous because things can fall through the hole (one drunk guy was actually killed when he fell through that very hole).
Sirogojno
From there we visited Sirogojno, a town made up of buildings that are around 200 years old. My friend is a regular historian and spent hours explaining the different tools used to make food, and describing sleeping arrangements, marriage rituals, and other contraptions and various ways of life from 200 years ago.
The Serbian school system sure does their job. Because I can't tell you how someone 200 years ago made food. I couldn't describe how they lived.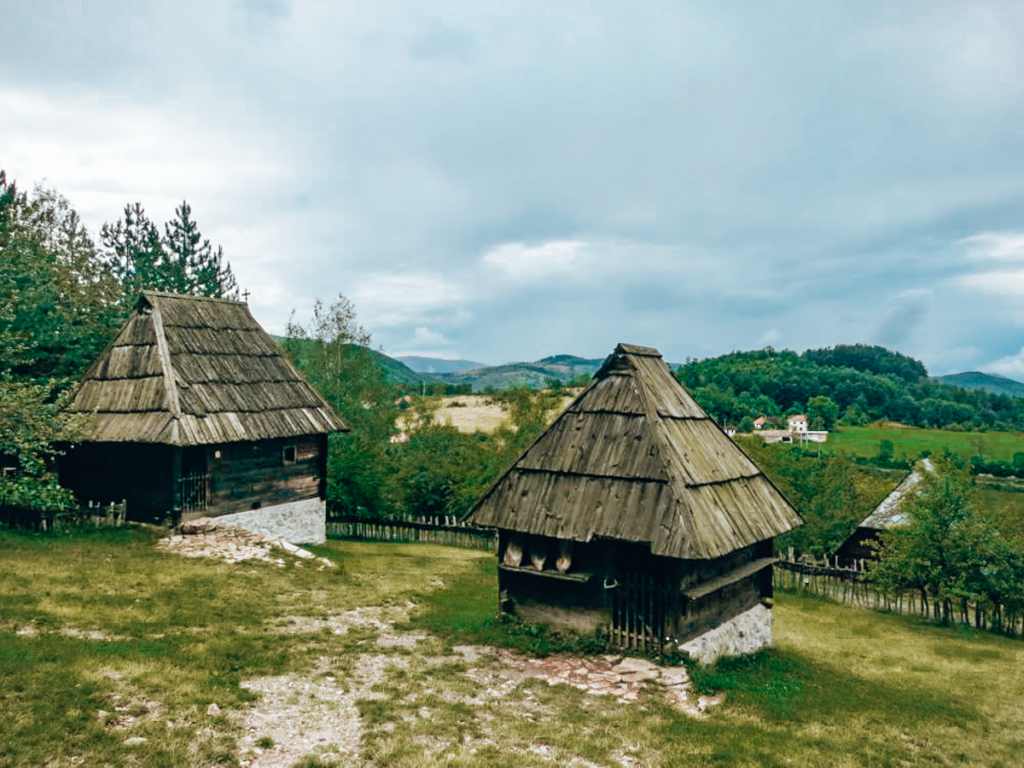 We ended the day with a hike to a waterfall, and dinner overlooking a valley.
We spent over an hour walking around the falls and snapping pictures, and just as much time sitting and enjoying the night air and our delicious food.
Serbia Road Trip Day #7
Head back to Belgrade. And if you haven't spent one day in Belgrade yet, be sure to spend some time wandering around this awesome city. Here are some great things to do in Belgrade!
Thoughts on Road Tripping
The experience of road tripping was fabulous. We really took our time seeing different things. And I had two wonderful guides explaining all the history and legends of their culture, a hundred times better than any other guide I've had while traveling.
I also got to meet and really get to know my friend's girlfriend, an amazing woman, whose dreams are not unlike my own: travel the world. The more and more I travel, the more I realize that deep down, people are the same. We have passions and goals and routines. Sure we may have different cultures and opinions, but at our core, we're human beings.
It was the little things on this road trip that I really appreciated. Always stopping for a good hour or two to drink a great cup of coffee and just talk. Nothing was rushed. Or, listening to my friend and his family talk in Serbian for hours and trying to figure out what they're talking about just by hand gestures and their facial expressions. Meeting and interacting with so many Serbians, and not feeling like I was abiding in a sea of tourists. Eating all the wonderful food! Gosh, there was so much good food!
When I arrived back in Belgrade, my other friends told me I had seen things that most Serbians had never seen. This again, made me sad (which is a common theme when visiting Serbia it seems) but then again, I haven't seen a fraction of the sites in my own country.
But, this road trip was something special, very few people can say they've taken a road trip around Serbia, but it was more than that. It was everything I learned about Serbian culture, and history, and the wonders of their country. The trip made me fall in love with Serbia even more.
Disclosure: I only recommend products and services that I would recommend to a friend. Some of the links in this article are affiliate links. Meaning, at no additional cost to you, I will earn compensation if you click through and make a purchase.
Love this post? Pin it!