Istanbul is located right in the middle of Europe and Asia. It is an amazingly diverse city filled with wonderful smells, sights, and sounds. This Istanbul 2 day itinerary will ensure you have the most wonderful time in the city.
One could easily spend weeks in Istanbul and not graze the surface of what Istanbul has to offer. But, if you're short on time, and only have two days in Istanbul, this is the perfect guide for you.
As always, I maintain my philosophy of visiting "must-see" attractions, and also taking the time to explore and enjoy the culture on your own.
This itinerary could be reversed. I recommend seeing all of the main sites in one day (because they are so close to each other) and taking another day to just wander and see the more modern side of the city. 
Day One on your Istanbul 2 day Itinerary
Take this day to soak up some of the more modern side of Istanbul, away from the uber busy tourist attractions.
Galata Tower and Surrounding Area
Head towards Taksim square and Galata Tower and take in all of the wonderful sites. You'll run across a rainbow stairwell or two-don't forget to take a photo for your Instagram! This city is full of rainbows-as you'll see a little later on!
The Tower itself is quite modest, but the area around the tower is to die for! Admire all the beautiful homes and storefronts. If you want to shop in some cute stores, don't miss Serdar-ı Ekrem. This street has amazing souvenir shopping!
Pet a Cat
You will see tons of cats all around Istanbul. Shop owners and restaurant owners feed them scraps, and most of the cats are quite friendly. Enjoy these cute felines all over the city!
Stop in for a Turkish Coffee
Although I could barely stomach a couple of sips-Turkish coffee is an important part of the culture. When you stop in for a coffee, local cafe owners will chat with you even if they don't know English that well.
Eat at Galata Konak or another Rooftop Restaurant
I promise you won't be disappointed with the views. Even though the food was only so/so-it didn't matter. My eyes were enjoying the feast that is Istanbul.
There are so many rooftop bars and restaurants in the city. Make sure you go to at least one during your two days in Istanbul!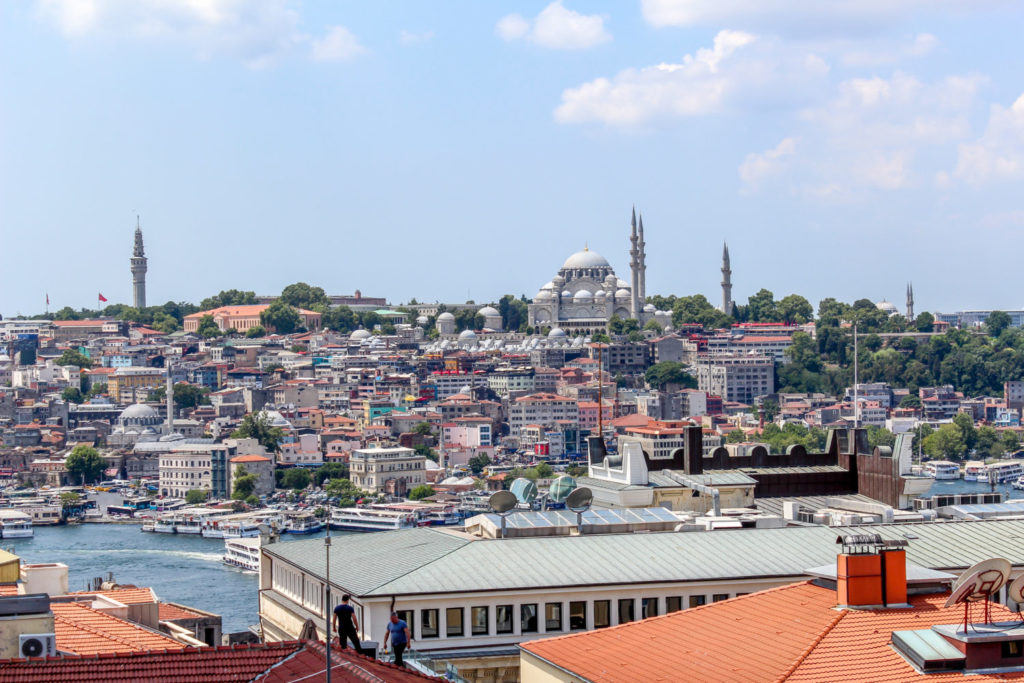 Smoke Some Hookah
I recommend Sokak Kulubu-not only for the wonderful hookah, but the hip atmosphere, with, guess what, more rainbows!
Do Some Shopping
Enjoy the many pedestrian streets and shops around Galata. Don't miss İstiklal Caddesi, a famous shopping street in Istanbul. You can find so many wonderful items in these shops-and people are willing to bargain with you. Great gifts include Turkish lamps, boxes, rugs, textiles, towels, jewelry, evil eye charms, and more.
End the Night at a Bar (And take some fuzzy, funny photos)
End the night at a bar, with your boyfriend, friend, or yourself, maybe getting drunk and buying tacky gifts from the local kids.
The local kids will pester you. Normally I wouldn't buy anything from the kids, but I couldn't help it. Soon our table was littered with flower crowns and balloons.
I recommend any bar in the Taksim area-just walk down any street and take your pick. You'll be goaded by dozens of bar owners to get you inside. Drinks are pricey compared to everything else in Istanbul, and weak. I recommend drinking wine or beer-you'll get more for your money.
Day Two on your Istanbul 2 day Itinerary
Day two of your Istanbul 2 day itinerary will be jam-packed with the "must-dos".
Even though there is a lot on the list, everything is very close together as you can see on the map below. You will be able to walk in between attractions quite easily.
Admire Sultanahmet Square
From Sultanahmet Square you'll have unparalleled views of the Blue Mosque and Hagia Sofia. In the square, you can admire the Egyptian Obelisk, the Serpentine Column, the Colossus, and the German Fountain.
You can also grab a bite to eat in between attractions!
Visit the Hagia Sophia
You absolutely must see the outside of the Hagia Sophia, the church turned mosque, turned museum. The entrance fee is only 72 Turkish Lira or about $10 US dollars.
If you're a history buff or you want to pay more for a tour guide, pay to see the inside. If you are neither of those things, the inside will be only vaguely interesting- I wish I had spent the money for a proper tour guide-without one, you'll end up a bit lost. There is no dress code for the Hagia Sophia.
Visit the Blue Mosque (But be Aware of Prayer Times)
I was not aware of prayer times-and ended up having to wait about three hours for the mosque to open to the public. But, I did get to hear some beautiful prayers.
There is a dress code for the Blue Mosque. Women have to be almost completely covered. Men have to cover their shoulders and knees. The mosque does provide clothing, but the wait can be a bit long-better to just bring your own.
The inside is quite beautiful-unfortunately I was there during construction. But, I still quite enjoyed the mosque.
Visit the Cisterns
If you need to kill some time, because you forgot about prayer times for the Blue Mosque, grab a bite to eat and then head to the Cisterns. They are cool, eerie, and quite beautiful.
Try and take pictures of the Cisterns and then give up because with the lighting it is near impossible to get a halfway decent shot.
Visit Topkapi Palace Museum
A huge castle complex with multiple courtyards, this is one of the best examples of the Ottoman empire's legacy. The cost to enter the museum is 100 Turkish liras. Be wary that special rooms in the palace cost more to enter, such as the Haram's room. But the views from the palace of the Bosphorus, as well as the beautiful courtyards and history make the Topkapi Palace Museum a must-see on your Istanbul 2 day itinerary.
Go to the Grand Bazar, Spend Lots of Money, and Get Lost
I loved this place. It was gigantic-you will get lost-just enjoy the moment. There are multiple entrances and exits-plan on caring or taking the metro whenever you pop out. If you're with a group, stay together.
I bought presents for my closest family and friends (about twenty people!) and spent hardly any money. I also bought a lot of presents for myself. The exchange rate is fantastic; you'll get a lot for your money here. Don't be afraid to bargain! The shop owners expect to bargain, never accept the first price. But, do not bargain too much. The prices are very good at the market, and remember, this is how people make their livelihoods.
Go to another Rooftop Restaurant or Take a Cruise on the Bosphorus
People do flock to the rooftops for sunsets, so reserve a table or get there early and have a few drinks before dinner.
If you want to see stunning views of the city, take a cruise on the Bosphorus at night! Some offer dinner packages on board.
Final Thoughts on this 2 Day Istanbul Itinerary
No matter where you travel, make sure you have a healthy balance of sightseeing as well as enjoying the city, wandering around and eating and drinking. I hope you have a fantastic time with your two days in Istanbul.
If you want some more advice about the logistics of your two day Istanbul itinerary, check below!
Some Helpful Advice on Istanbul
History of Istanbul
Istanbul, formerly known as Constantinople, was named after the Roman emperor Constantine the Great. The city served as the capital of the Byzantine empire and was essential to the growth and spread of Eastern Orthodox Christianity.
Istanbul's location at the crossroads of Europe and Asia as well as its position on the Bosphorus strait, made the city an economic, cultural, and political powerhouse.
In 1453 Mehmed II, leader of the Ottoman Turks, took control of the city, ending hundreds of years of Christian rule, establishing Istanbul as the center of Turkish power from thenceforth.
Getting a Visa
According to the US Embassy, visitors to Turkey need to obtain a visa. You can get one by going here. This e visa will allow you to be in Turkey for up to 90 days. No one checked our evisa when we arrived (but maybe it was tied to our passports electronically? I'm not sure) but make sure you get one. The cost is $20.
Getting Around
There is a public transportation system in Istanbul. This system includes a ferry that travels from the European to Asian sides of the city; buses, which are a good option but are usually crowded and not the best in traffic (even if they do get their own lane in the city); there is also a metro system, which is probably your best bet if you don't want to pay for a taxi, but can also be very crowded. But most of the time we just took a taxi. Beware, the traffic in Istanbul is pretty bad every weekday.
When you arrive at the Istanbul airport, grab a taxi to your hotel. We never had a problem with any cab drivers in Istanbul, but there is a super helpful app that you can download called Bitaksi , which will give you information about the registered taxis in your area. Double-check that the driver picking you up is registered.
Is Istanbul Safe?
I always felt incredibly safe in Istanbul. The US has a level 2 travel advisory for Turkey. Which means practice increased caution. But this is mainly due to Turkey's proximity to Syria and Iraq. Practice normal precautions in Istanbul, just like you would in any other city, and you will be fine.
What do I Wear in Istanbul?
98% of the people in Turkey are Muslim. I assumed that I would have to cover myself in Istanbul, however, that is not the case. On the street you will see everything from women in tank tops and shorts, to women with headscarves to women completely covered in a burka.
You can pretty much wear whatever you would like to in Istanbul. I wore shorts and a tank top one day (it was summertime and hot!) and I didn't get so much as a passing glance.
Now, to get into mosques, the dress code is a bit stricter. Men must have longer shorts, and women have to have legs, shoulders, and hair covered.
Currency and Cost
The currency in Turkey is the Turkish lira; ₺. 7 lira equals about 1 US dollar.
Everything in Istanbul is pretty affordable, from hotels to food. The only thing that is more expensive than normal is alcohol.
Where to Stay During Your Two Days in Istanbul
I highly recommend staying in the hip district of Taksim. Although most of the religious and famous sites are located on the other side of the city, Taksim offers a wonderful variety of shopping, cafes, restaurants, and bars with unparalleled views of the city across the river.
I spent a lot of time wandering alongside streets, enjoying street food, shopping, smoking hookah, drinking coffee in the streets, and drinking alcohol on rooftops. It was my favorite place to get lost in during my two days in Istanbul.
If being next to most of Istanbul's main attractions is the most important thing to you, stay in the Sultanahmet district. You will be very close to sites such as the Hagia Sophia and Blue Mosque. However, there are not as many bars and restaurants and nightlife in this part of the city.
Love this post? Pin it!