Amid a 100-degree Florida summer, I found myself yearning for vast landscapes, grand mountain peaks and snow-covered roads. New Zealand had been on my radar for a while, a place so far away from my home in the US, but somewhere that I felt drawn to in some weird, unexplained way. I would have about 7 days in the North Island, and about 7 days in the South Island. Instead of trying to conquer New Zealand on my own, I decided that I would complete a New Zealand North Island Itinerary 7 days with Haka Tours.
Disclosure: I only include products and services that I would recommend to a friend. Some of the links in this article are affiliate links. Meaning, at no additional cost to you, I will earn compensation if you click through and make a purchase.
This New Zealand North Island Itinerary in 7 days does not give you a lot of time in the cities. Rather, you spend most of your time in the breathtaking nature that is the New Zealand countryside. If cities are your thing, spend more time in Auckland and Wellington. However, I strongly advise you to spend as much time as possible exploring the mountains, pools, and beaches that New Zealand has to offer. You won't be disappointed.
What Will I do on this New Zealand North Island Itinerary 7 days?
You will see the best of New Zealand's North Island on this 7-day tour. You'll swim in hot water beaches, explore majestic cathedral cove, walk along crystal-blue pools and geothermal mud pools. You will explore the Lord of the Rings Hobbiton, as well as see the glow worm caves and participate in a traditional Maori night, you will experience so much of New Zealand's natural beauty and get your adrenaline pumping (only if you want to though)! And you'll do all of this in (around) 7 days.
Can I do this New Zealand North Island Itinerary 7 days by Car or Campervan?
ABSOLUTELY! The best way to get around New Zealand is to rent a car or a campervan. You will be able to stop whenever and wherever you want to. Here is a great website where you can rent a car from Auckland airport.
If a campervan is more your style, check out Mad Campers, Escape Campervans, Jucy Rentals, or Travellers Autoban. This website runs down the pros and cons of each company.
If you can't rent a car or a campervan, there is a fairly good bus system that will take you to some major cities. However, you may have a harder time stopping at pit stops and seeing everything on this itinerary. If you are a budget traveler, buses are great for you. But, if you can afford it, rent a vehicle or take a tour.
For this North Island itinerary, I recommend either booking with Haka Tours, or a similar tour company, or renting a car. The traffic in New Zealand (except for certain times in the city) is very light. You shouldn't have much trouble driving in New Zealand.
You can drive for up to 1 year in New Zealand with a drivers license from your own country or an International Drivers license.
I'm Traveling Solo: Tour or Vehicle Rental?
As a solo traveler in New Zealand, I wasn't comfortable renting a car on my own and wanted to visit some places that were not on the bus line (or would have been complicated to get to), which is why I chose to go on a tour. I enjoyed meeting everyone on the tour, and am still friends with them years later. I also thought the tour I selected was a pretty good deal and worth the cost.
If you are traveling with a friend or a partner, a car or campervan would be a great way to explore the North Island. Or if you're more confident than I was, rent a car to travel around on your own!
It is completely up to you on how you want to travel.
New Zealand North Island Itinerary in 7 days Tour Options
If you're traveling alone or would prefer to go with a group tour, several tour companies offer tour packages in New Zealand.
Check out:
TourRadar

, right now you can get up to 50% off your New Zealand tour!
About Haka
I chose to travel around New Zealand with Haka Tours for a few reasons. First, because one of my favorite travel bloggers traveled with them in the past, and had good things to say. Two, they've won all sorts of awards for being the best travel company in New Zealand. Third, they make traveling around New Zealand so easy and customizable.
The basic tour package from Haka includes transportation, lodging, a tour guide, a handful of meals, and a basic set of activities. The price is fantastic. Then, if you want to add more activities, you can pick and choose which ones you would like to experience.
Originally I signed up for about five or six activities (black water rafting, canyon swing, Hobbiton, a glacier hike, and one or two more), but when we were on the road, I added some things, and deleted a few. It was nice being able to tailor my vacation, with no worries about making reservations, or finding out the best spot to do which activity, Haka does it all for you.
Andy was our tour guide (the guy in the middle with the Haka Tours hat). And he was incredible. He tailored the trip to suit the interests of our group and stopped at several spots that we would have never seen without a guide.
The other people pictured in this photo were with me during the first half of the 16 day Amplified New Zealand tour that I signed up for with Haka(the shortest and most affordable way to see all the must-sees on both the North and South Islands). Right before we crossed into the South Island, one member left us. On the South Island we picked up 12 people-turning our little group of 5 into a group of 16 a full bus.
Getting to the North Island
If you want to take Haka Tours, you will fly into Auckland (or into Wellington and fly up to Auckland).
If you do this tour on your own you can start in Auckland and work your way south, or start in Wellington and work your way North. It is up to you! Air New Zealand is a great airline that flies all around the country.
Visa Requirements
US citizens do not need a visa to enter New Zealand BUT from 2019 you do need an NZeTA. You can apply online here. You need a passport to fill out the form and will pay a few fees.
Money and Cost
The currency in New Zealand is the New Zealand dollar. 1 US dollar equals about 1.5 NZ dollars.
Credit cards are accepted everywhere, and there are plenty of ATMs at every stop on this New Zealand North Island itinerary.
New Zealand is pricey, especially the food and the hotels, even with a decent conversion rate. There are some fast food options, but if you want to eat in restaurants, you'll pay for it. Budget a little extra for your meals, or be okay with fast food offerings.
When to Visit New Zealand
Since New Zealand is in the southern hemisphere, the seasons are flipped. Winter runs from June-August, Spring is September-November, Summer December-March, and fall March-May (or sometime around that). The weather can be cold in the winter and quite beautifully warm in the summer.
Fall and spring are a great time to go on hikes and admire the blooming flowers or changing foliage. I visited New Zealand in winter and enjoyed the Southern Lights and snowy landscapes.
Most people visit New Zealand during the summer. But really, anytime is a good time to visit New Zealand.
My New Zealand North Island Itinerary 7 days
Day 1: Auckland to Hot Water Beach to Whitianga
Day 2: Cathedral Cove to Rotorua
Day 3: Day Trip to Waitomo Glow Worm Caves
Day 4: Hobbiton/Maori Night
Day 5: Rotorua to Taupo
Day 6: The Tongariro Crossing/Other activities in Taupo
Day 7: Taupo to Wellington
In Other Words….
*Optional* 1 night Auckland (if you arrive late at night and start your tour the next day)
1 night Whitianga
3 nights Rotorua
2 Nights Taupo
1 Night Wellington
*Please note that Haka Tours have since changed their North Island itinerary slightly. Please check Haka's website for their latest itineraries
Day 1: Arrive in Auckland/Hot Water Beach/Whitianga
When you arrive in Auckland, meet up with your Haka Tours group or rent a car.
If you arrive late at night, grab a hotel in the city and start your journey the next day.
Take the airport train from Auckland airport to the city center. Check out more information about bus tickets and times here.
If you arrive in the morning, from Auckland pick up your car or camper, drive towards the Coromandel area and make a pit stop at Hot Water Beach.
Where to Stay in Auckland
If you arrive in Auckland late at night and plan to start your trip the next morning, get a hotel by the airport.
Use Booking for the best hotel deals in Auckland or anywhere in the world!
If you want a bit more time in Auckland, I recommend staying in Grey Lynn or Takapuna. Grey Lynn is artsy, close to the center of town with lots of bars and restaurants. If you want to chill out by the beach, opt for Takapuna. If you want to be close to all the major attractions, stay in the Central Business District. I stayed in the CBD when I visited Auckland and found it to be pretty stark but very convenient.
Hot Water Beach
Hot Water Beach is your first stop on your New Zealand North Island Itinerary in 7 days.
There are free places to park at Hot Water Beach including The Main Beach car park and Te Waiwai carpark. You can also park at the Main Store Carpark for a fee.
While I'm sure Hot Water beach is wonderful in the summer, going there in the winter is a treat. The air outside is freezing, but being in the warm water has the wonderful effect of sitting in a hot tub in the middle of snow-covered mountains.
When I visited Hot Water Beach, I remember thinking "There is no way I'm taking my clothes off in this weather." But, of course, I wasn't about to let an opportunity like this go to waste. Shivering, I abandoned my clothes by a few big rocks, and ran to the tennis-court sized-spot on the beach where the hot water resides.
To get to the hot water, you have to dig. Haka tours provided us with shovels, which the boys were gracious enough to use to dig pools big enough for all of us. Make sure you either bring your shovel or rent one at a neighboring store: Hotties Cafe, Hot Waves Cafe, Moko Artspace, and the Hot Water Beach Top 10 Holiday park.
You can only experience the water during low-tide or two hours before or after. So make sure you plan your visit around the tide. You can check tide times here.
When digging, make sure you are careful. Some of the water is so hot it boils, in other areas, the water is quite cold. It takes a bit of maneuvering to find water that is just the right temperature. But when you do, it's a little bit like heaven.
Some people jumped into the cold ocean, just to appreciate the warmth of the pools a little bit more. But, I was content to just lay in the hot water until our guide told us we had to get going.
If you like to surf, Hot Water Beach is a great place to do it!
Whitianga
Spend the night in the town of Whitianga. Located close to Hot Water Beach, and Cathedral Cove, this makes the ideal spot to rest for the evening.
If you want more to do for the evening you can enjoy the beach or go for some mini-golf. If you want to see some more beauty, head to Waiau Falls, or enjoy a dip in The Lost Spring.
Where to Stay in Whitianga
Whitianga is so small, so anywhere you stay will be fine. I would recommend an oceanfront hotel, or somewhere where you could walk to the beach! If you're on a tour, the tour company chooses your accommodation for you.
Day 2: Cathedral Cove to Rotorua
Cathedral Cove
In the morning, make your way to Cathedral Cove.
In the movie, "The Lion, the Witch, and the Wardrobe," Cathedral Cove was the film location for Narnia. It is also known for being the setting of a music video by Macklemore.
If you're driving, park at the Hahei Visitor car park. The cost is $5 per person, $3 for a child, $10 for a family of 4 (2 adults 2 children). You can also park for free at the North end of Hahei Beach. However, this will add about 30 minutes to your hike to the cove.
You can choose to walk down to the cove and wander around, or, you can rent kayaks and kayak around the cove. Kayaking allowed one to see more of the crevices of the rock formations. If the weather is nice, bring a bathing suit and snorkel gear.
I did not go on the kayak, as I get seasick super easily. And I wanted the chance to wander around. I'm glad I didn't go because I had the chance to take dozens of gorgeous photos of this gem of a place.
I could have explored this place for hours, there were so many wonderful aspects to Cathedral Cove: waterfalls, and cliffs to jump off of into the sea, rainbows, secret caves, rich vegetation, rocks to climb, a beautiful cliffside, and amazing rock formations that didn't seem real.
I would believe I was in Narnia in a heartbeat.
Pit Stop: Te Waihou Walkway and the Blue Spring
When you're done with Cathedral Cove, you'll make your way to Rotorua. The drive is a bit long, so if you want to stretch your legs, consider stopping at Te Waihou Walkway and the Blue Spring.
The Blue Spring has some of the purest water in the world and supplies 70% of New Zealand's bottled water.
The hike begins from the Whites Road car park. It is an easy and pretty hike, wandering and weaving through forests and fields.
When I went, it was a beautiful day. The gorgeous fall weather highlighted the beauty of one of the most stunning places on earth.
The hike was spectacular, and eventually led us to a beautiful spring filled with amazing streaks of crystal blue water.
Rotorua
After your pit stop, make your way to Rotorua. Rotorua was one of my favorite places in New Zealand. I liked the little town, the geothermal activity everywhere, steam rising in the sky, and all of the cool activities we did while we were there.
Where to Stay in Rotorua
Rotorua is another small town. We stayed in downtown Rotorua with easy access to restaurants, shops, bars, and tour offices as well as the public park. If you want to save some money, you can stay outside of the city, a bit closer to the natural attractions. You will need a car if you stay outside the city center.
Day 3: Day Trip to Waitomo Glow Worm Caves
In the morning, head out to the glow worm caves!
If you're feeling adventurous, take a black water rafting trip and get a tour of the glow worm caves.
At this point, I was running out of money. So I elected to just do the normal tour of the caves, which is still absolutely gorgeous.
Tickets for rafting or entering the caves can be found here. If you go with Haka, they take care of all the tickets for you! Haka will also drive you to and from the caves, however other tour options will include transport.
Waitomo was one of the highlights of the trip. The only downside was that you cannot take pictures in the caves. But let me assure you, the glow worms are beautiful. Because our tour group was so early in the day, our Maori guide, whose family discovered the caves generations ago, and considers herself a keeper of the caves, sang us a traditional Maori love song. The song was quite chilling, especially when you're underground and the acoustics are phenomenal.
Head back to your hotel. There is still plenty to do in Rotorua…
Extra Time in Rotorua
If you have a bit of time after the glowworms, or if tomorrow's Hobbiton excursion doesn't float your boat. There is still so much to see in Rotorua.
Kuirau Park's mud pools and the trail is a great way to spend time in the city. This is an open public park where you can walk around and see (and smell) all the bubbling mud pools! The park is located right in the middle of the city and is 100% free. Enjoy the pools built right into the ground, where you can soak your cold feet. It feels quite delicious.
If you're into adventure, sign up for a whitewater rafting trip. The highest commercial waterfall drop in the world is located on the Kaituna River. This company is the highest reviewed on TripAdvisor for this particular activity.
If you can't decide between adventure and relaxing, try the famous Squeeze. You get an adventure boat ride and a trip to a relaxing waterfall all in one tour. Tickets can be found here.
Explore the Redwood forests. You can mountain bike, canopy walk, or take a walk through this amazing landscape. Here is the link for the tree walk website.
If you want more geothermal activity, Wai-o-Taupo is a surreal place with tons of geothermal activity. Open 365 days a year, so no matter when you travel, you'll be able to go. Here is their website for more info.
Day 4: Hobbiton/Maori Night
Hobbiton
About an hour away from Rotorua, Hobbiton took up quite a bit of time. If you go without Haka Tours or any other tour group, some tours will take you from Rotorua to Hobbiton and back again. Some include guides. You can get a walking tour while in Hobbiton. The options are endless!
I loved my time in Hobbiton. Being a lover of the English language, fantasy, imagination, and an English teacher to boot, it would make sense that I would love "The Lord of the Rings".
The hobbit holes are adorable. Quick quiz: can you remember how you can tell a hobbit's occupation? And, what are the two signs of wealth of this little town? Visit Hobbiton to find out!
Besides wandering around Hobbiton and taking more than a socially acceptable amount of pictures, my little group and I made our way into the Green Dragon for a complimentary glass of alcohol, and a few minutes away from our tour group to wander and take a few more photos.
Hobbiton was fantastic. If you're even a small fan of the books or movies, I highly recommend a visit! Say hello to the hobbits for me!
Maori Night at Mitai Maori Village
After Hobbiton, you cannot leave Rotorua without first experiencing a traditional Maori night.
You can explore a whole village built in the traditional Maori way. Dinner is cooked in a hangi, or earth oven (and is some of the best food you'll ever eat.)
While waiting for dinner, you are treated to a performance, which showcases songs, dancing, the haka, and a weapons demonstration. It is quite spectacular.
After a fantastic buffet-style dinner, you take a short walk through the woods where you see a magical river, filled with fairies, and even a few glow worms.
My camera skills failed me on this night. The camera I had did not do well in the dark, and I was about five rows back from the action. But I highly recommend this activity, even if it does seem "touristy". Sometimes, the touristy stuff is fun and worth it. And, you're learning about a different culture. Worth it.
Day 5: Rotorua to Taupo
The next morning, make your way to Taupo. When I visited Taupo, I regret not doing more in this cool little town. Most people went on the famous Tongariro Crossing (one of the most beautiful hikes in the world.) But I spent the day wandering the lake, resting, and buying souvenirs. Don't be like me. Here is what you should do in Taupo.
Pit Stop: Craters of the Moon
Before arriving in Taupo, stop at Craters of the Moon. The area around Lake Taupo and Rotorua is littered with geothermal activity. Craters of the Moon is a low-key walk around an area littered with craters and steam.
It was pretty steamy. And the smell of rotting eggs filled the air. But, I hadn't ever seen anything like it. It was a cool little pit stop.
Where to Stay In Taupo
Taupo is yet another small town. I would recommend staying by the Lake (or walking distance from the lake) for the views and proximity to bars and restaurants and shops.
Extra Things to do in Taupo
Spend some time walking around Lake Taupo. Admire the scenery, and stop in for a bite at a cute cafe or restaurant.
Book a sailing cruise and see some Maori rock carvings up close and personal! Check out these 5 different ways to see the carvings and book one that suits you!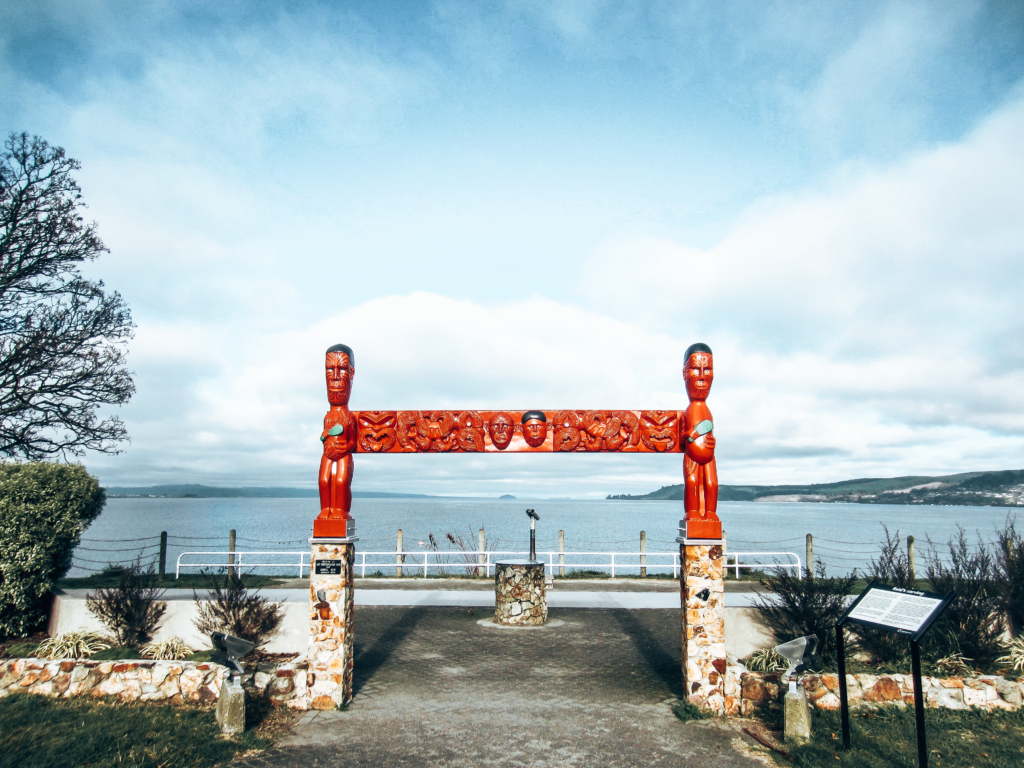 Explore Huka Falls. You can take a boat tour to see the falls from the bottom. Or, enjoy one of these scenic hikes to spend a bit more time wandering around.
Taupo is also a great place to get out some of your adrenaline!
You can go skydiving. Taupo is famous for its skydiving.
Or, do a water touch bungy over a beautiful river!
If you want a more relaxed time, check out Spa Park. There are a ton of trails and pools where you can enjoy a warm soak!
Day 6: Taupo-Tongariro Crossing
Most people today would love to do The Tongariro Crossing. If you are in shape, do this hike. It looks stunning. But when I was there, I was not in the best shape, and it was covered in snow and ice, making it doubly difficult. So, I passed. This hike will take all day, so make sure you get a good rest the night before and head out early the next morning.
If this hike isn't for you, pick out a couple of things from the extra things to do in the Taupo section and create your own itinerary!
Day 7: Taupo to Wellington
I didn't go to New Zealand for the cities. I would have been content to just wander through nature, hike mountains, explore forests, and glaciers, and fjords. If I didn't see a single building I would have been content. That being said, Wellington is a cool little capital, and I had fun visiting for 1 day.
Where to Stay in Wellington
Te Aro was my favorite part of Wellington because of its proximity to the cool Cuba Street. There are tons of bars and restaurants in this part of town, and it is very close to the city center.
If you want to be in the center of everything, stay in Wellington's Business Center. Similar to Auckland, I wasn't a huge fan of this part of town because there were so many cold buildings. But you are in the middle of EVERYTHING, which is a huge plus.
If you want to be closer to the water, or want someplace a bit quieter, stay in Miramar. This is also a great area for families.
Pit Stop: The Desert Road
Before you make it to Wellington, stop by the side of the road and take a photo. The Desert Road boasts incredible views of three active volcanic peaks – Mount Tongariro, Mount Ngauruhoe, and Mount Ruapehu. Mount Ngauruhoe plays Mount Doom in The Lord of the Rings movies. If you're a fan, don't miss that mountain!
Weta Workshop
In Wellington stop by Weta Workshop, where creatures and machines, hair and helmets, and all assortment of oddities are made for world-famous movies. I got to see armor from the Hunger Games trilogy, and Elf hair from the Lord of the Rings.
Unfortunately, everything is copyrighted, so they don't allow cameras. But, I got a photo with these guys right outside the shop. You can buy tickets here.
Te Papa Museum
Wellington is also home to Te Papa, a free museum of arts and history. I'm not a huge museum person, but it was free and I had time. The museum is really interesting, and showcases a lot of New Zealand's culture, history, artwork, and social activity. They had a really neat display, explaining how everyone is an artist, and lots of interactive art to do. My friends and I had fun playing with the mirror.
Other Things to do in Wellington:
Shop on Cuba Street. There are so many cool little shops and restaurants on Cuba street. Stroll along this boho street and step in vintage and modern shops alike.
Visit Mount Victoria Viewpoint. Several hikes will get you to this beautiful viewpoint where you can see almost the entire city. Check out all of the options here.
Visit the Karori Wildlife Sanctuary. You can do a free walk and talk and learn all about the animals that call this sanctuary home. The sanctuary is only 10 minutes outside of the city!
Take in Matiu or Somes Island. Take a ferry out to this beautiful place. See birds, penguins, and weta around the island. Here is some more info on the island.
Stroll along the Wellington Waterfront. Stroll or bike along the waterfront for a bit of light exercise. Or, take a picnic lunch and just rest with a beautiful view.
Final Thoughts on this New Zealand North Island Itinerary in 7 days
New Zealand is one of the most beautiful countries in the world (in my opinion). You can experience the beauty through adrenaline-inducing activities, or, more peaceful walks.
You can see the country on your own, or join a tour group. No matter what, you will have an amazing time visiting New Zealand.
If you have a little bit more time and want to see more of New Zealand, visit the South Island as well. The South Island (if possible) is even more beautiful than the North. I hope you have fun on your New Zealand North Island Itinerary in 7 days! Happy and safe travels!
Disclosure: I only include products and services that I would recommend to a friend. Some of the links in this article are affiliate links. Meaning, at no additional cost to you, I will earn compensation if you click through and make a purchase.
Love this post? Pin it!