I fell in love with Rome at night-I was 24 years old and the simple pleasure of being young, with no attachments, drinking an orange Bacardi Breezer in my favorite piazza, listening to the wonderful mix of the fountains and street musicians, looking up at the sky, feeling the warm October breeze, is a moment in time that I'll savor forever. I love this city in the dark, and there are so many beautiful things to do in Rome at night.
This list is appropriate for all ages and is perfect for solo travelers, couples, friends, and families with children of all ages. Pick the perfect thing for your party to do in Rome at night!
Disclosure: I only recommend products and services that I would recommend to a friend. Some of the links in this article are affiliate links. Meaning, at no additional cost to you, I will earn compensation if you click through and make a purchase.
Grab Some Dinner
Italians don't eat until around 8 pm. And they usually linger over their meals, chatting and drinking wine for hours.
Because they spend so much time at a restaurant, tables usually book up for the night. Make a reservation a couple days beforehand at a nice restaurant like Ambrosia Rooftop Restaurant, Matermatuta, or Crispi 19. Spend the evening dining on great food and spending time with loved ones.
Take a Dinner Cruise
If you want a memorable dining experience, try a Rome Dinner Cruise with Live Music. You will cruise down the Tiber River, enjoying a 4-course meal, while being serenaded by live music. The views from the boat are magnificent.
Eat on a Budget in Trastevere
If you're on more of a budget and want something a little less fancy, make your way to Trastevere. Eat pasta carbonara or pizza at numerous restaurants in this cute part of the city. My favorite pasta place, and my favorite pizza place is Carlo Menta in Trastevere. Margherita pizza, which is the best, is 3 euro and pasta carbonara is 5 euro. However, they do add on a 1.50 service charge per person. Don't leave without trying some of their amazing house wine.
For dessert, go to Antica gelateria in Trastevere for the best gelato. If you take the #8 tram from Piazza Venezia and get off at stop 'Belli' the ice cream place is right there and the pasta/pizza place is almost right behind it. They have the best gelato in Rome.
Go for Aperitivo
Another option for dinner is to go to aperitivo. They usually start around 7 or 8 and go until 10 pm. My favorite aperitivo is Freni i Frizioni in Trastevere. You pay around 6 euro for a drink and then you can eat all of these beautiful appetizers buffet-style. Grab a plate and take a seat and stay awhile. Lots of bars have aperitivo around the city if you want to sample different bars and food. But people usually spend most of their night in one place. So go out at around 8 pm and plan to stay awhile.
Go Out For Drinks
Just like with aperitivo, Romans usually pick one bar per night out. So find a place you like before 10 pm or so, and settle in. There are a lot of great bars in Rome. Here are my top picks:
If you love wine, go to Enoteca Ferrara. Run by two sisters, Enoteca Ferrara has several rooms-bar, wine bar, restaurant, and patio. The food is delicious and classic Roman, and the wines are extensive.
Bar San Calisto is one of the gems of Trastevere. This bar has a chill, laid-back vibe, and is frequented by tourists and locals. Don't be surprised to spend hours in some comfy indoor seating, playing a game of cards with some Romans.
If you're younger and looking for an international crowd the Yellow bar is popular, people go there for drinks, and then there is a club that opens at 12 underground (it is also a hostel).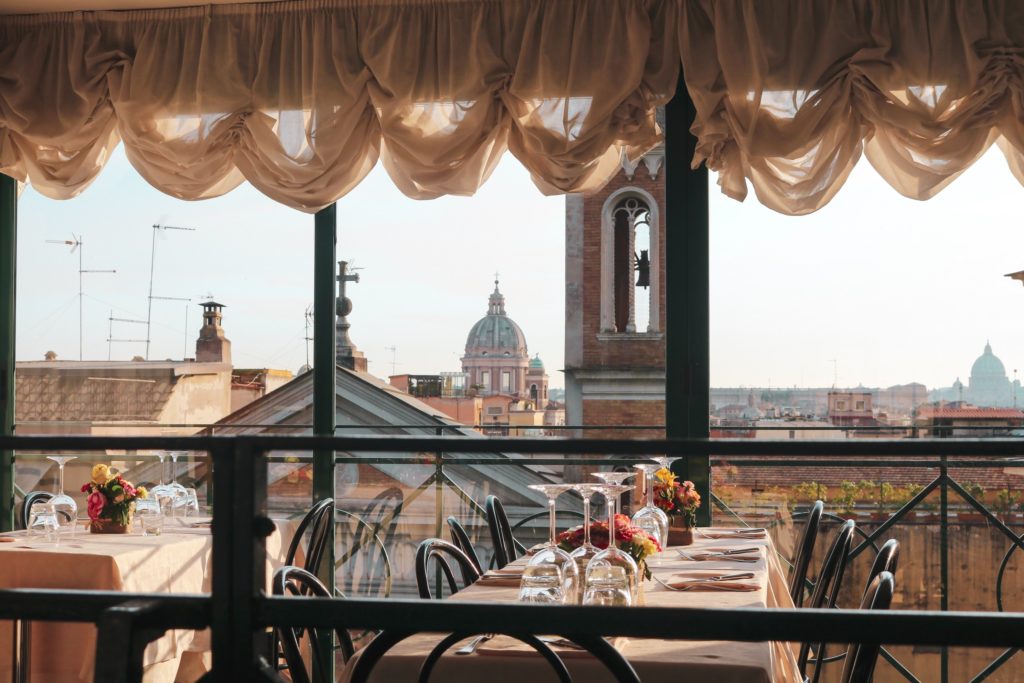 Rooftop Bars
See the eternal city from the sky. Ambrosia has a rooftop bar in addition to their restaurant. Other options include Hotel Raphael and Les Etoiles Rooftop at Hotel Atlante Star. Here is a list of 17 of the best rooftop bars in Rome.
Speakeasy Bars
You'll need a code to get in, but once you're in, prepared to be whisked back to the roaring 20s and 30s. Make sure you book ahead of time to get the password. Here is a list of 6 hidden speakeasy bars in Rome.
Clubs
Feel like dancing into the night? A couple of great clubs are Goa and Raspoutine. Here is a list of some more of the best clubs in the city!
See a Show
Movie at an Open Air Cinema
Spend a night under the stars watching a film. Rome has several open-air cinemas where you can sit, drink, and watch a movie. Several film festivals happen throughout the year. But there are also some cinemas open on a more regular basis during the summer. One such place is Casa del Cinema. Located in Villa Borghese, and free of charge, Casa del Cinema shows movies in a 200 seat theater.
For July and August, II Cinema in Piazza, a free outdoor movie festival, is happening. Rome has dozens of piazzas, and some of them will be transforming into open-air cinemas. Movies will be in their original language and will feature Italian directors as well as other directors from around the world.
See a show at Teatro dell' Opera
If you're looking for an indoor activity and are a fan of the arts, consider a show at Teatro dell' Opera. Take your pick of ballet, opera, digital theater, and more. Click here to browse their schedule and purchase tickets!
Take a Tour
Take a Ghost Tour or Catacombs Tour
Do you like to be scared? Consider taking a Rome Legends and Criminal Stories Tour. Your guide will thrill you with stories of ghosts, myths, and other Roman legends. You may even encounter the supernatural!
Another option is to sink below Rome's streets for a tour of the Crypts and Roman Catacombs! You'll see a chapel made entirely out of human bones and learn about historic burial customs in Rome.
Both tours can be found on Viator.
Take a guided tour of the city
Rome is beautiful during the day, and equally as stunning at night. Consider taking a guided tour of the city at night. You'll encounter fewer tourists, and enjoy some of the magic of Rome, lit up with soft yellow light against a dark sky.
Some worthwhile tours include the Rome by Night Tour, Vespa Tour by Night, Segway Grand City Tour at Night, Jewish Ghetto and Campo de Fiori by Night Food, WIne, and Sightseeing Tour, Rome by Night e-bike, and tons more. Some tours will even include food and wine! Browse all of your options on Viator!
Take a Specialized Tour of the City
Love and Sex History Tour
Are you and your partner history buffs? Or do you want to learn a little more about Rome's romantic history? This Love and Sex History Tour of Ancient Rome may be perfect for you. You'll see historical sites throughout Rome while being regaled by Rome's romantic history and famous love stories. You'll learn about weddings and courting rituals as well as seduction practices.
Colosseum Night Tour
The Colosseum is perhaps the most popular attraction in Rome. Visit during the day and you'll be jostled along with hundreds of other tourists. So, invest in a more unique experience. Take a tour of the colosseum at night. Viator has tours that will not only give you a great tour, but put you on the arena floor and show you some of the highlights of the Roman forum.
Vatican Night Tour with Sistine Chapel
This is the perfect chance to admire the Vatican and the Sistine Chapel without all of the crowds! Only available during the summer, you'll tour with a small group and learn all about the Vatican's history and present role.
You'll also get to see fine sculptures, beautiful Renaissance art, and of course, the most famous mural in the world: the Sistine Chapel.
Self-Guided Night Walking Tour
My favorite thing to do at night is to wander around a city, grab some good food and a glass of wine, and sit outside. My favorite memory of Rome is walking the streets, with a beer in hand in the twilight. So, I created a self-guided tour of Rome, with 13 stops, that is perfect for a night tour. (This tour will also work during the day!)
Stop #1 Spanish Steps
Begin your walking tour at the Spanish steps. This is off of Via del Corso, the main shopping street in the city. Originally built to link the square below to the church above, now it's a gathering and resting place for Romans and tourists alike.
Take some time and admire the boat fountain at the base of the steps. Or, grab some to go pizza. There are a few places tucked right around the corner from the steps. Expect it to be delicious. The workers will fold up a piece of pizza for you and give it to you in a paper towel/napkin. Take your pizza, sit on the steps, and admire the views!
Stop #2 Trevi Fountain
Perhaps the most beautiful fountain in the world-certainly the largest Baroque fountain in Rome, the Trevi Fountain is gorgeous at night. Sit on the ledge and throw a coin with your right hand over your right shoulder-this ensures that you will return to Rome again.
If you're hungry after your pizza, grab some gelato by the Trevi Fountain, Valentino gelato is my personal favorite-simply amazing. A lot of people rave about San Crispino, but it is expensive.
Stop #3 Pantheon
The Pantheon itself closes at 7 pm. But be sure to take a walk around the outside at night. If you want to wander a bit more in the area, walk down Via del Corso from Piazza Venezia or Piazza del Popolo and veer off for a nice nighttime stroll.
Stop #4 Piazza Navona
One of my favorite piazzas because of all the fountains. Enjoy the water and the music, sit down and have a coffee or beer at one of the cafes encircling the fountains. You will pay a bit more for the magnificent view. Another option would be to grab some gelato, or just a beer, and sit down on one of the fountain's steps-this won't cost you much at all!
Stop #5 Ponte Sant'Angelo
This is one of my favorite bridges in the city. As you walk over the bridge, you're flocked by angels on both sides. You'll also get great views of the Tiber river.
STop #6 St. Peter's Basilica
Walk along the Tiber river and cross the bridge into Vatican city. You'll see an empty square, with spot-lighting on the buildings.
Stop #7 The Vatican Museums
The paintings are incredible. And there are also artifacts and sculptures. There is an option for a night tour, Vatican and the Sistine Chapel, as mentioned above. But just walking around the outside of all of these buildings at night is breathtaking.
Stop #8 Piazza Venezia
This is one of the biggest piazza's in Rome in addition to being a large bus stop. If you ever get lost, a bus can always bring you back here. It's about a 10-minute walk from the Colosseo. This is where Via del Corso starts or ends, and you can catch tram #8 to Trastevere, where you should end your night time walking tour.
Stop #9 Tomb of the Unknown Soldier
On your way to Trastevere, in Piazza Venezia, take a moment to admire the Tomb of the Unknown soldier at night. Make sure you climb the steps to get amazing views of the city.
Stop #10 Visit the Colosseum
This is the most famous site in Rome. It is amazing to tour during the day, but you'll likely be jumbled along with every other tourist in the city. Take a tour of the colosseum at night. Viator has some amazing tours. If this tour is not within your budget, make sure to at least walk past the Colosseum at night. It is lit with soft, golden light that is quite beautiful.
Stop #11 Roman Forum
Right next to the Colosseum, there are lots of old ruins, remnants of buildings, and statues from long ago. The Roman forum was the epicenter of Rome centuries ago. All of the ruins are lit beautifully at night, and worthy of some of your time and attention. After your Colosseum tour (or walk), spend some time wandering around the Roman forum, watching street performers, and listening to musicians.
Stop #12 Orange grove and Keyhole/Aventino Hill
The Italians call the keyhole "the secret of Rome". If you want a walk that gets you a little bit out of the city, this activity is for you. On your way to the keyhole, you can stop by walled orange groves and a few churches that have amazing views of the city. Walk along the road Via di Santa Sabina from Piazza Venezia. I won't spoil the surprise for you (and hopefully I'm not building it up too much).
Stop 13 Trastevere
Spend hours ducking into stores and restaurants, eating gelato, sipping wine, and wandering the cobblestones.
Things to Consider in Rome
The Metro
Metro tickets cost 1.50 euro for 100 minutes of travel on any public transport. They have three-day tourist tickets; which also include some sightseeing, so you may want to look into that and see if it would be a cheaper option for you.
I am a big advocate of just walking around places and not using public transport. All of the places in Rome are relatively close to each other, and it is easy to walk from one to the other.
The metro runs from 5:30 am-11:30 pm every day, and until 12:30 am on Saturdays. Never fear, you can use uber in Rome, so if you stay out late you'll still have a comfortable ride back to your hotel.
Getting Around
The metro is a great way to get around the city-but so is walking. Use your phone to get you from place to place. No wifi? No problem! I found that downloading the offline trip advisor app for Rome was extremely helpful. If you're not buying a data plan for overseas, keep your phone turned on but in airplane mode. That way you can connect to wifi at restaurants (lots of places offer free wifi in Italy) and you can use trip advisor offline.
Safety
Be careful with your money. You are going to extremely popular places, in an extremely popular city. There will be pickpockets. I've had several friends get robbed in Rome. Don't let that scare you, but be cautious. Don't put your wallet in your back pocket or an easy to reach jacket pocket. Make sure your purse cannot be slashed through with a knife. If you do lose your wallet, make sure you have a backup card and cash in your hotel. It's also a good idea to make copies of your passport.
As far as crime, Rome is a safe city. Pickpocketing is your number 1 concern. Take normal precautions as you would in any other city in the world and you will be just fine.
Final Thoughts on the Best Things to do in Rome at Night
No matter what you decide to do, make sure that you pick one or two things to do in Rome at night. The eternal city shines brightly after dark, and is magical. Take your time wandering the city. Don't expect to get great photos at night, unless you get paid to take pictures for a living. You won't have photos but you will enjoy the moment.
Also, don't try and complete everything on this list-it's impossible. Instead, do like the Romans do and choose one or two things to do in Rome at night and savor each moment. Linger over its beauty, spend time with your loved ones, or with your beautiful self. Enjoy your time in this amazing city!
Disclosure: I only recommend products and services that I would recommend to a friend. Some of the links in this article are affiliate links. Meaning, at no additional cost to you, I will earn compensation if you click through and make a purchase.
Love this post? Pin it!