My first experience with Vienna and solo travel was…not the greatest. In fact, Vienna and I have a bit of a complicated relationship.
But, Vienna will always hold a special place in my heart because Vienna was where I learned how to travel solo for the first time.
I didn't hate Vienna; it's just that I didn't fall in love with it. I've fallen in love with many different cities over the years, and even some countries, but Vienna wasn't one of them.
This always surprises people because unbeknownst to me, everyone loves Vienna. It was voted as having the highest quality of life for young people in the world, and there is a lot of stuff to do.
Why didn't I love Vienna?
There could be a few reasons why I didn't like Vienna as much, not including the city itself. The first day I was there I was entirely sleep deprived. I had no sleep on my transatlantic flight from the US to Serbia, and about one hour of sleep on the overnight bus from Serbia to Vienna.
And I didn't meet anybody in Vienna. I didn't make any friends at my hostel, although I tried. And I tried running into the same people at local markets, eating at the same restaurant a couple of times, going to the same bar, and I saw the same people, but nothing. I tried making conversations with locals, but nada.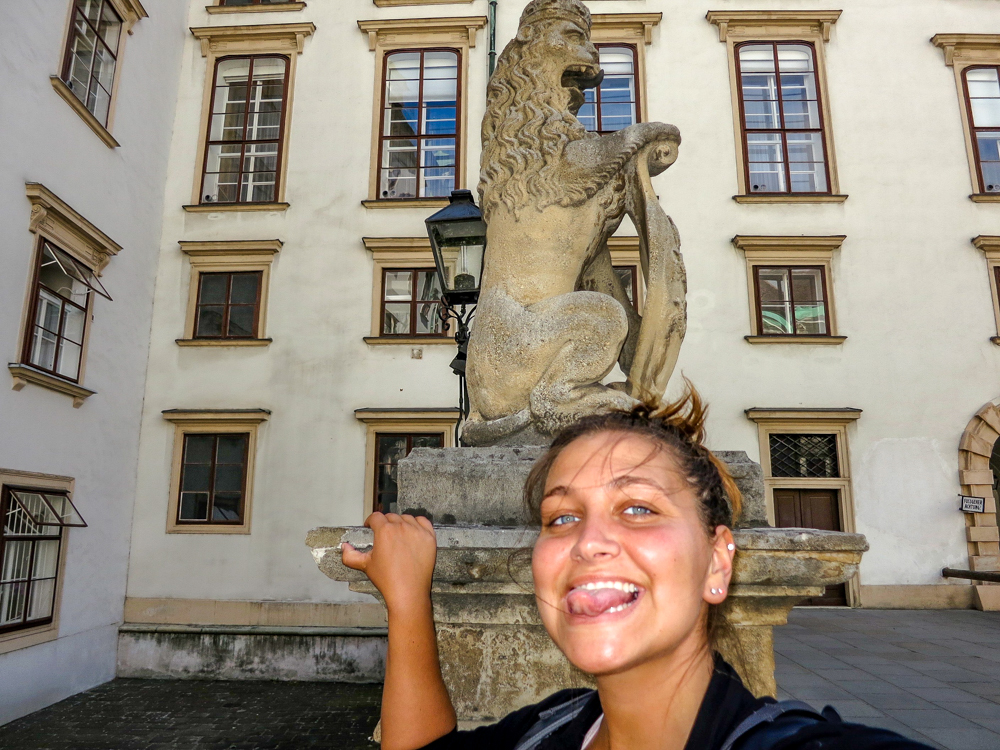 The hostel that I stayed at was geared towards younger people. Now, I was 24 when I went to Vienna, but most of the people at the hostel ranged from 18-21. Those few years make a difference. The hostel itself was a chain, with nothing really special about it.
I lost count of how many times I got lost in the city. It took me a good 1.5 hours to complete a 10 minute walk from a tram station to my hostel. I had no wifi on my phone, and was standing in the rain with a free map, trying to navigate the way to my hostel.
In addition, also didn't have a clear plan or itinerary in my head. I didn't know what to do or see in Vienna. As a result, I spent a lot of time just trying to keep myself occupied.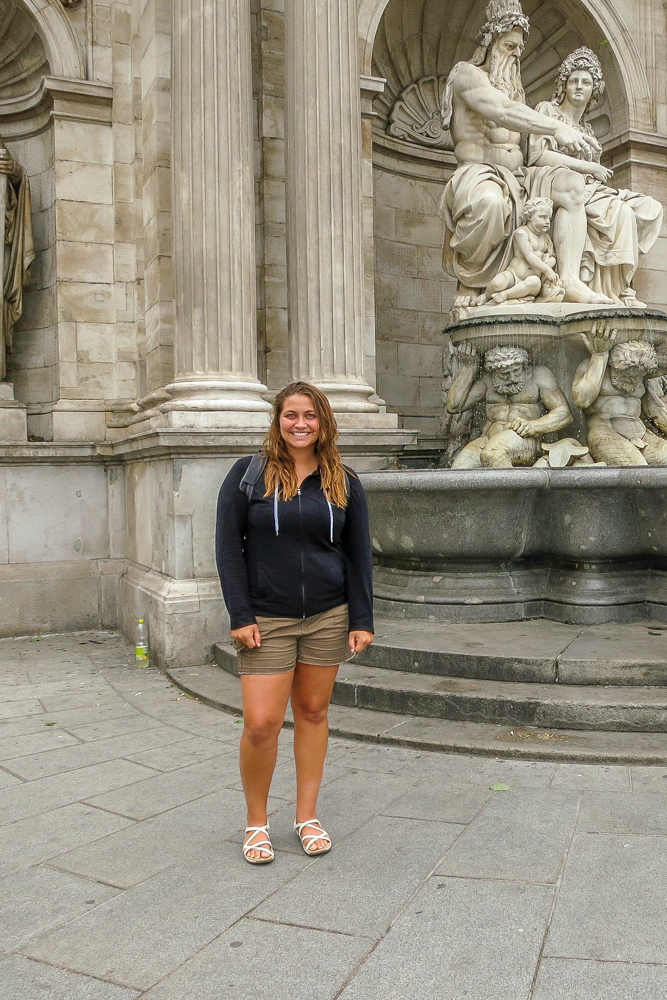 The First Time: Vienna and Solo Travel
I like to think of Vienna as my trial period for traveling solo. I wasn't exactly sure what to do, where to go, how to do this whole traveling solo thing.
When you travel with a group everything is planned for you and you don't do a whole lot of thinking on your own. But when you're alone everything is up to you. You decide where you want to go, how long you want to stay somewhere, ect.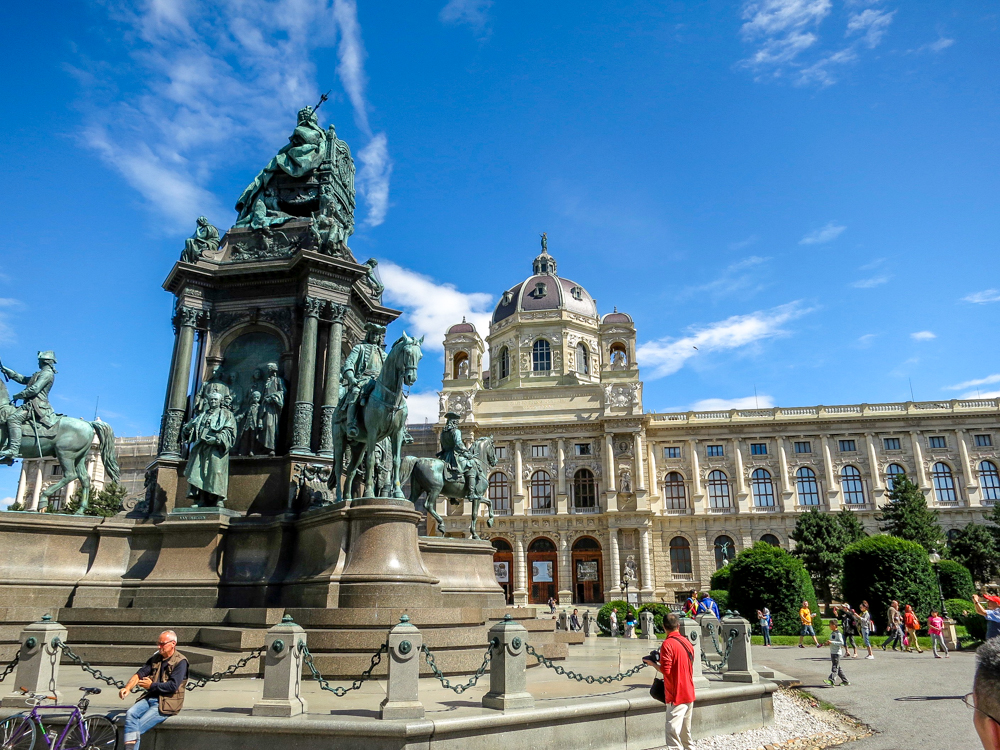 If you get lost in the middle of the city, you have to figure out how to get unlost. It's incredibly daunting, and incredibly empowering at the same time.
Solo traveling in and of itself is an incredible experience. But the first time is a bit of a learning experience. And I think Vienna was just that, a learning experience.
5 Tips for Traveling Solo in Vienna (or anywhere)
1. Do a lot of research on the hotel that you stay in, and the neighborhood where it's located. I like to pick accommodation that is quirky, and offers a bit of the culture of the city. Choose an area where you can walk around and see something beautiful or interesting. Or pick and area with a lot of great bars and restaurants. Even if you don't meet anyone, you will have plenty to do.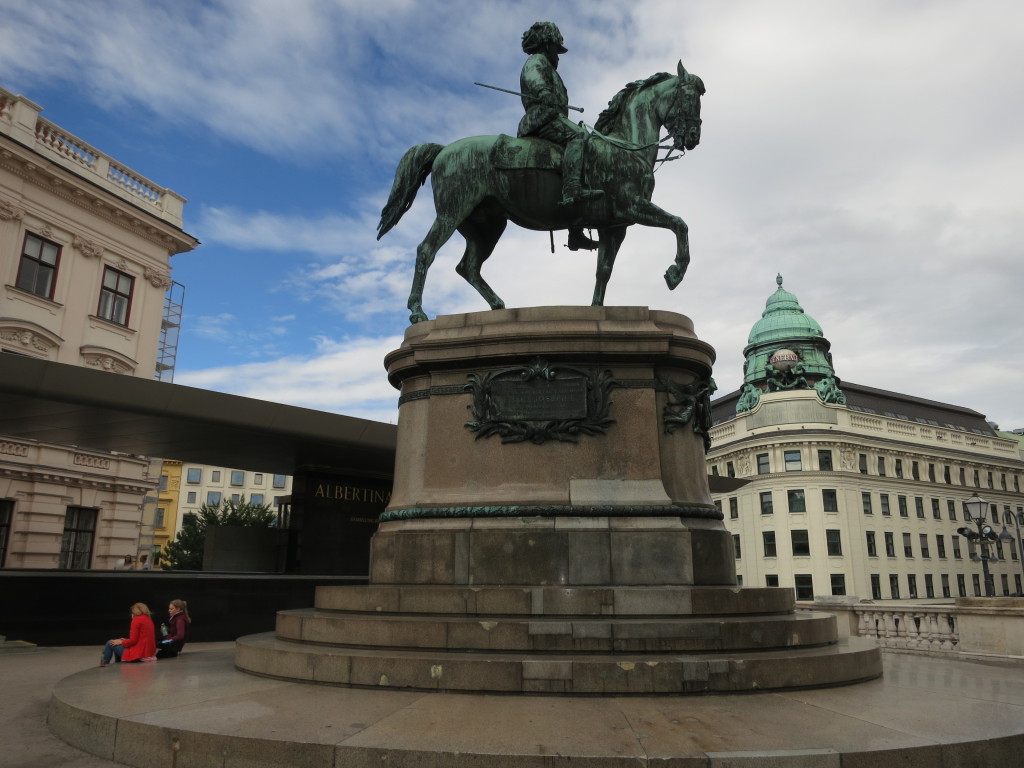 2. Have a plan before you arrive. I knew NOTHING about Vienna before I landed. And a lot of my time was spent in my hostel, trying to figure out exactly what to do with myself. Because I didn't plan ahead, I missed out on a lot of amazing experiences and sites that Vienna offers. Before you leave your home country, create a few "must do" activities, this will ensure you're not spending tons of time in your hotel room.
3. Try and do a walking tour on the first day in a city. Not only will you get a good layout of the city and learn some history, you will meet at least a few solo travelers. I've met a lot of people in group tours that ended up becoming friends. Even if you don't meet anyone, its a great way to orient yourself in a new place.
4. Accept that you might be lonely sometimes. Everyone gets lonely, its a part of life. Being in a city, alone, where you know no one is very daunting. Try not to get overwhelmed. Its okay if you don't fill up every hour of your day. Take it one step at a time and try and enjoy the solitude. Eat at a restaurant by yourself, take a walk, climb a tower or a mountain, enjoy getting to know you a bit better.
5. Embrace the fact that you are traveling solo! You can go anywhere and do anything that you want. When you're in a group there is always compromise. When you are alone you can do exactly what you want all the time. Love sleeping in late? Sleep until 2 and party all night! Don't like drinking? Wake up at 5am and take a walk without the crowds and get some great photos. You are in complete control of your trip.
7 Fun things to do in Vienna
So even though Vienna was a tough city for me, I look back on my visit there with fondness. Vienna taught me a lot of about solo travel, and I still managed to do a few fun things in the city.
1. I visited the Naschmarkt. This is a wonderful market, where you can buy all sorts of fresh food. Even if you don't buy anything, you can walk through it and sample all different kinds of fruits, vegetables, meats, cheeses, dips, crackers, nuts, and sweets. By the time you walk through it you will have eaten a whole meal for free.
2. Went on a free walking tour. A walking tour picked me right up from my hostel at 10:30. It was about three hours long, and at the end I gave her 10 euro. I took a walking tour in every city that I visited. It is important, for me, to know the history and culture behind a place. And a walking tour is a great way to do that. Plus, you get to get a feel for the city. I saw a lot of things on the walking tour that I came back to later, on my own, and spent more at.
3. Visited the museum quarter. It is a wonderful place to just sit and relax, read a book or have a meal. I only went in one museum (I'm not big on museums and they are rather pricey in Europe-I'm spoiled with all of the free museums in D.C.).
4. Saw the baby Limpizaner stallions. I've seen these guys put on shows (well, not the babies, but the adults) and they are magnificent. I would have gladly paid money to see a show, but the stallions were on vacation. And, the opera was closed.
5. Visited Pratar amusement park. You can walk into the park for free, but it costs money to ride rides. I did a couple of the rides, but once again, money held me back from doing any more.
6. Also explored a bit of Danube Island. I don't think many tourists make it out here, as it was rather empty, which I liked. I would have liked to come back at night to go to some bars by the river, but it just didn't happen.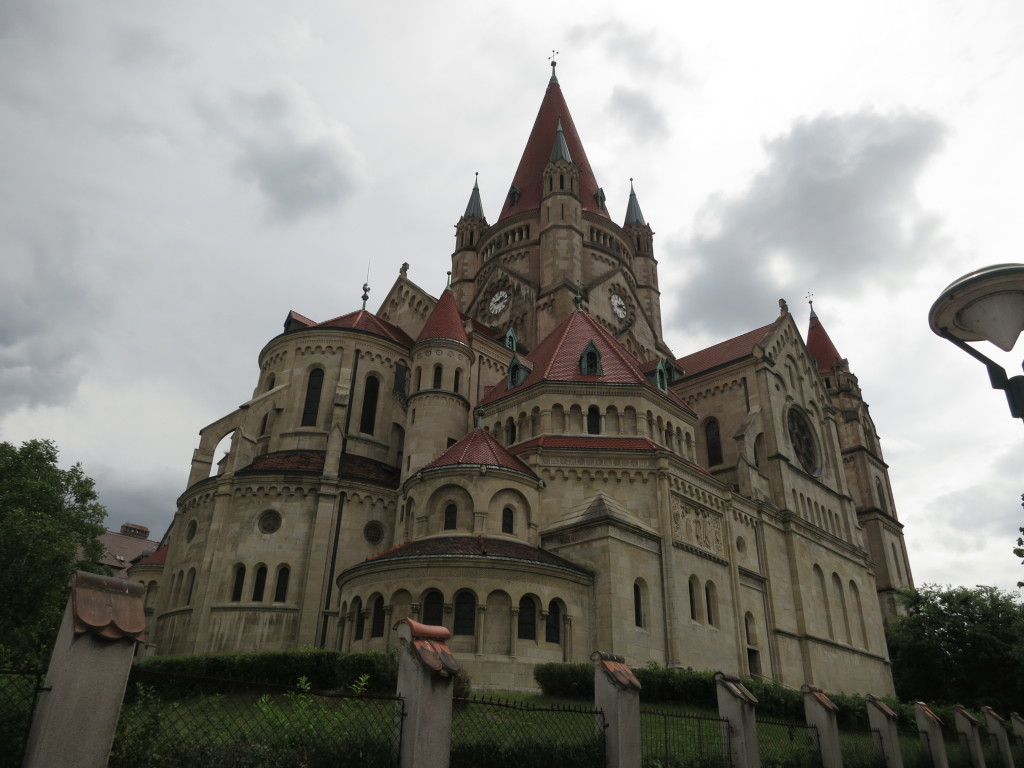 7. Saw a Mozart and Strauss concert at Schonbrunn palace. This was a bit of a splurge. I like classical music, and I wanted to see the palace, so this killed two birds with one stone. The music was wonderful, and the gardens around the palace were breathtaking.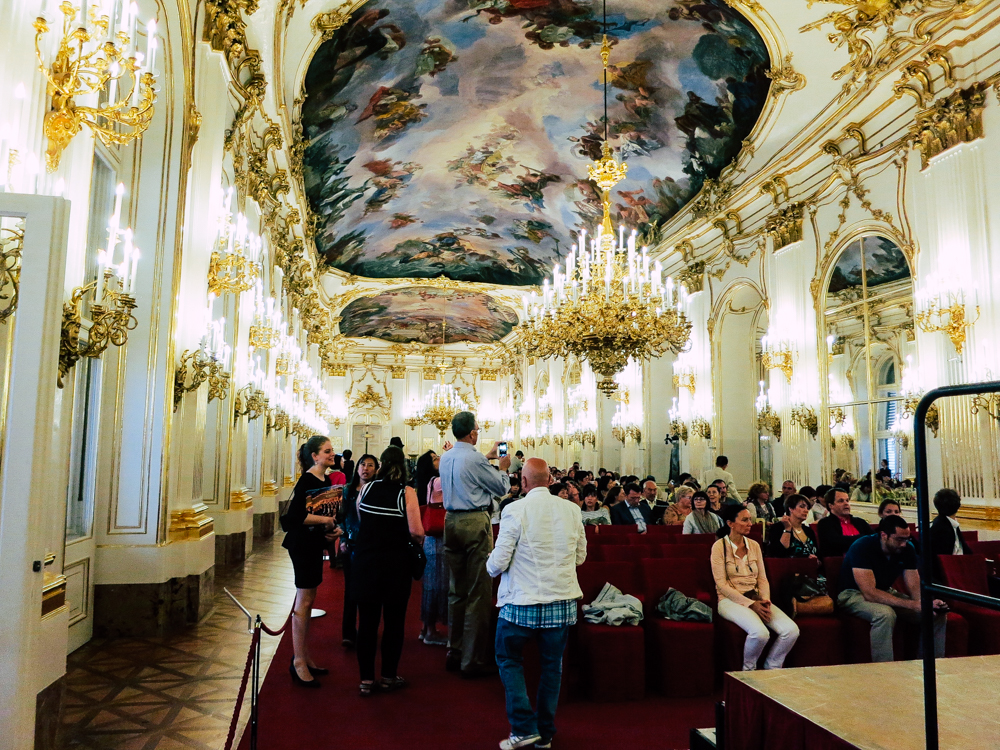 My Favorite Memory and Take-Away from Vienna and Solo Travel
My favorite thing that I did in Vienna, on my first solo trip, is now my favorite thing to do in any new city that I travel to: walking, eating, and observing. On my first day In Vienna I came upon St. Stephens. I climbed to the top of the tower and got a breathtaking view of the city. Then I sat down at a restaurant and people watched for a couple of hours. Never forget to take time to appreciate your surroundings!
What was your first time traveling solo? Did you fall in love with traveling alone or did you struggle like me?
Love this post? Pin it!