Prague was my second city that I ever traveled to solo. My first experience traveling solo was to Vienna, which you can read about here. I dubbed Prague the Fairytale City after spending approximately 15 minutes in the city center. Beautiful baroque and gothic architecture rise up from cobbled streets filled with performers and street vendors. Castles loom in in the distance, and everything feels like a dream. This is Prague. And this is a great 1 day Prague itinerary for first-timers to the city!
Arriving in Prague
You'll most likely arrive in Prague by air or train. If you arrive by air, the most cost effective way to travel is by the airport bus, then by metro. You can buy tickets on the bus, or at the small red public transport booth. Bus 119 will take you from the airport to metro line A, where you can then navigate into the city center of Prague, where you are hopefully staying. Other options include uber or a shuttle company. This is the best resource from getting from the airport, to the city center of Prague: click here.
If you arrive by rail, you will most likely arrive at Praha hlavni, the main train station, it is a short 15 minute walk to Prague city center. Metro line C is at the station, if you prefer to navigate by rail. There is also a tram station close to this train station. Click here if you would like more information on train transport.
Currency
The currency used in Prague and throughout the Czech Republic is the czech koruna (czk). $1 US dollar is the equivalent of about 25 czk. There are plenty of atms throughout Prague. If you do have to change money, go to a bank as opposed to a currency exchange store-banks, for the most part, have better rates.
I recommend investing in a credit card where you are not charged an international transaction fee, and using that while abroad. The vast majority of places in Prague take credit cards. But, its always good to have some cash in hand.
Language
The official language of the Czech Republic is Czech. With that being said, a lot of people in Prague can speak English. You will not have a hard time finding your way around, ordering food, or asking for directions. Everyone that I spoke to when I was in Prague could speak English. If you travel outside the city, fewer people will speak English.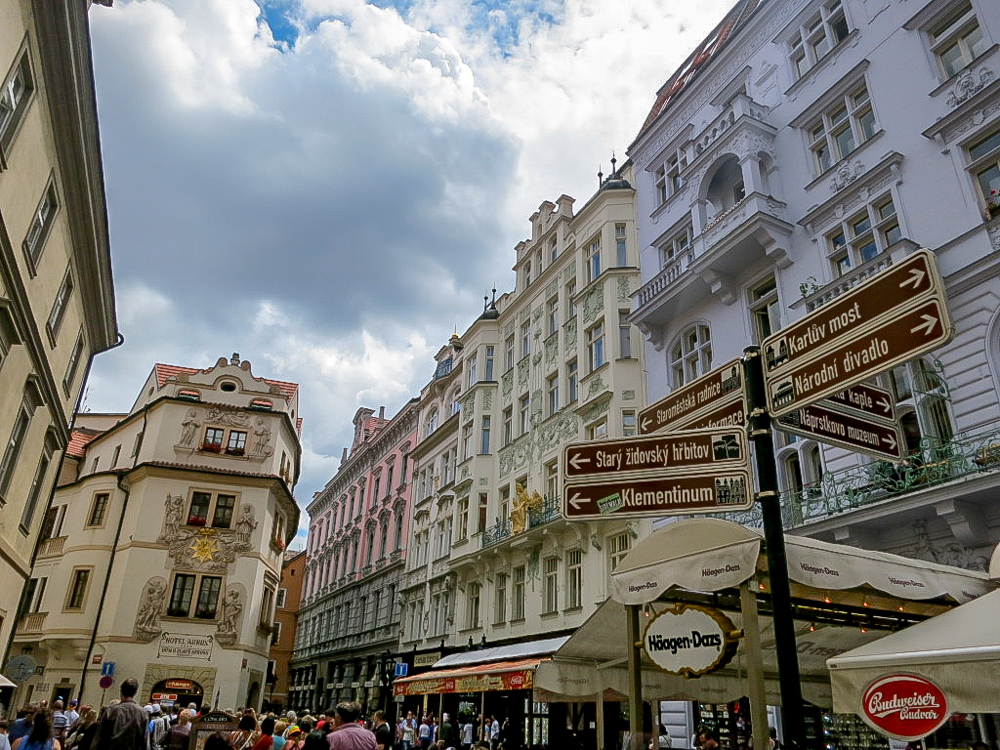 Cost
Prague remains relatively inexpensive, for the most part. A normal meal will run you about $6-8 U.S. dollars, beer coming in at around $2 for a pint. If you eat directly in the city center, expect to pay more. Walking a mere five minutes from the center will get you some good deals.
Hostels and hotels can be cheap as well. We stayed about a 10 minute walk from the city center. The hostel had free breakfast, and we enjoyed our own room and bathroom for about $35 U.S. dollars a night. Split between two people-this was fantastic. Was it the nicest place? No. But we both appreciated the price.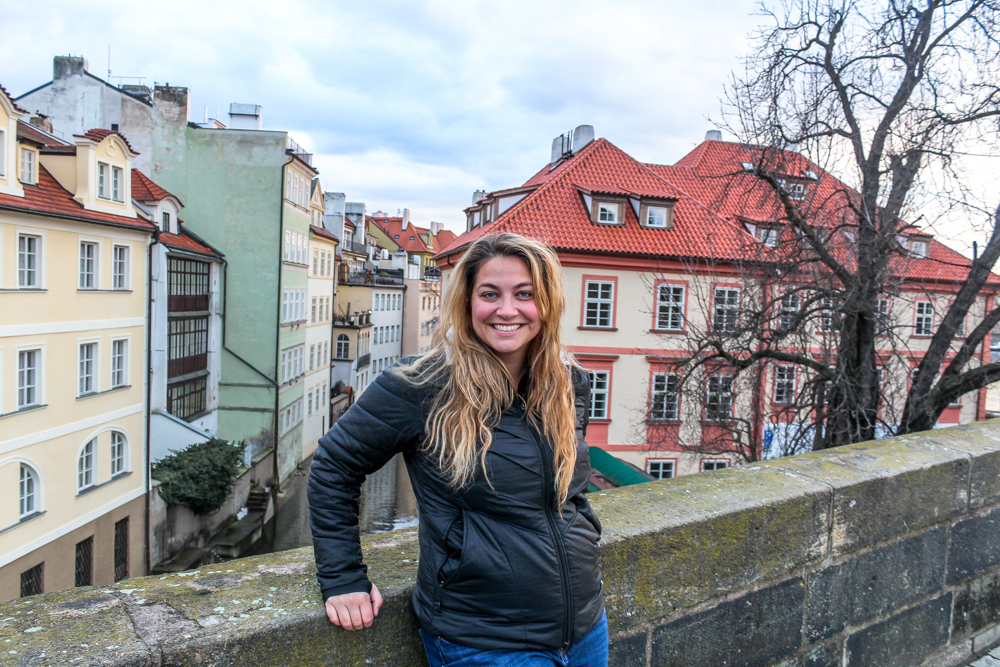 Weather and Clothing
In the winter, Prague gets cold. The average high temperature from November-March is about 36 degrees Fahrenheit, or just over 2 degrees Celsius. If you're visiting in the winter, invest in a good jacket, wool socks, and warm leggings to put under your jeans. As well as hat, gloves, and a scarf.
If you're visiting in the summer, May-September, the daily high temperature is 68 degrees Fahrenheit or 20 degrees celsius. It is quite comfortable in the summertime. And can even get chilly at nights, make sure you pack a light jacket.
Regardless what time of year you visit, invest in a good pair of walking shoes. The streets are cobbled, and you'll be walking a lot through the city. I always wear hiking boots in the winter, or a nice pair of white sneakers in the summer.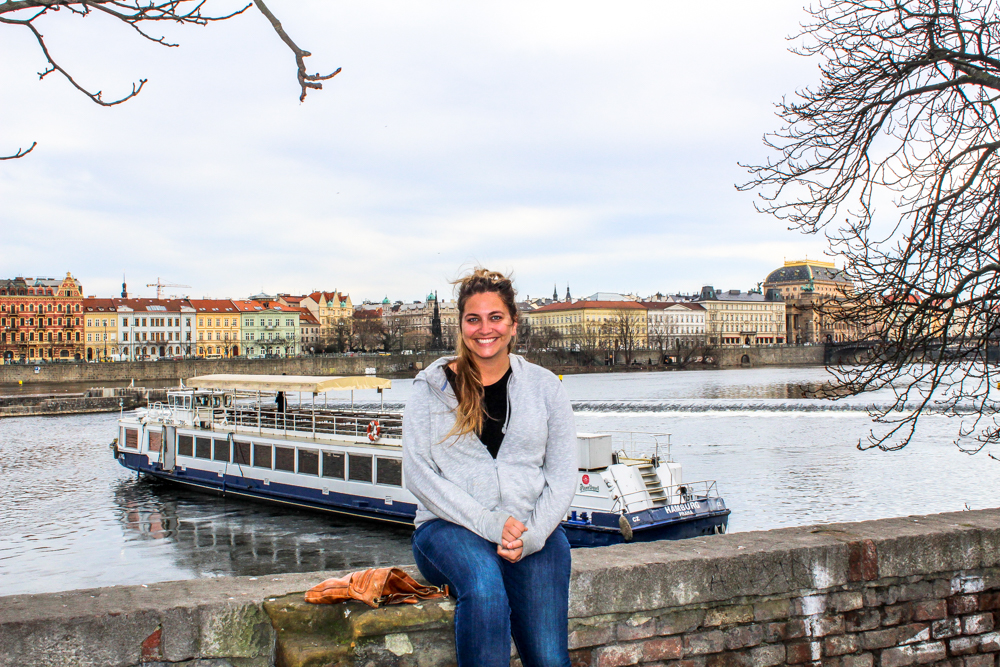 1 Day in Prague Itinerary
Charles Bridge
One must do on any 1 day Prague itinerary is Charles Bridge. Charles Bridge is perhaps the most famous icon in the city of Prague. And it is beautiful.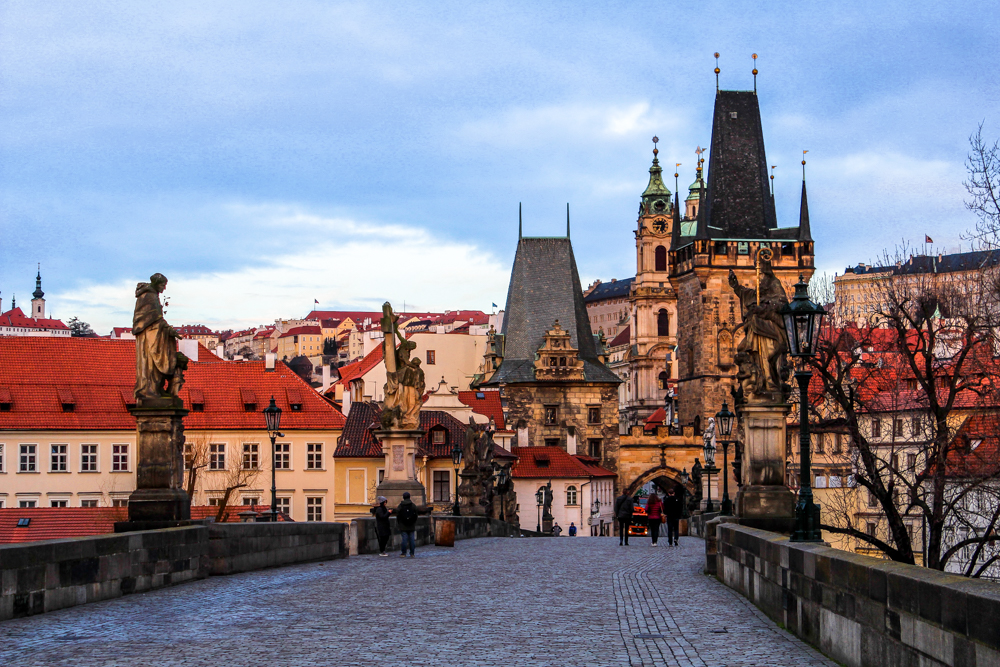 As you walk along the bridge, you're dwarfed by beautiful statues on either side, and gorgeous views of the river and the city.
But beware, the bridge is packed during the day. Literally packed. You will move at a snails pace, trying to dodge tour groups, street performers, artists, beggers, and throngs of people trying to get a picture on the bridge.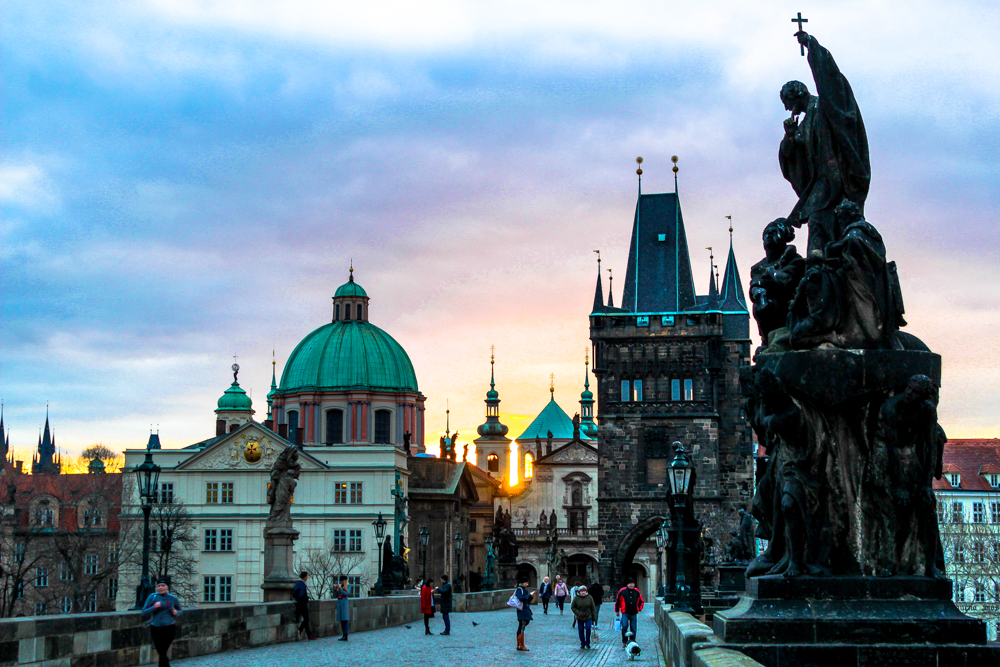 Avoid this. Wake up to see the sunrise. There will still be a few people on the bridge at this time, but it is nothing compared to what the bridge looks like a few hours later.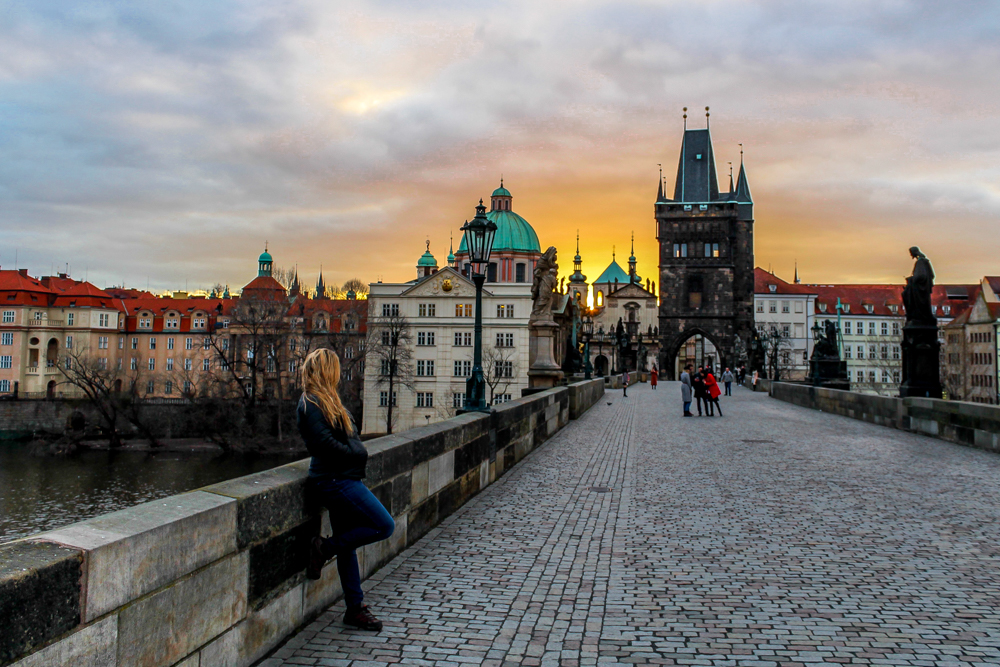 The sunrise is spectacular as the rays shine out onto the city. Take your time admiring every view and getting some great pictures.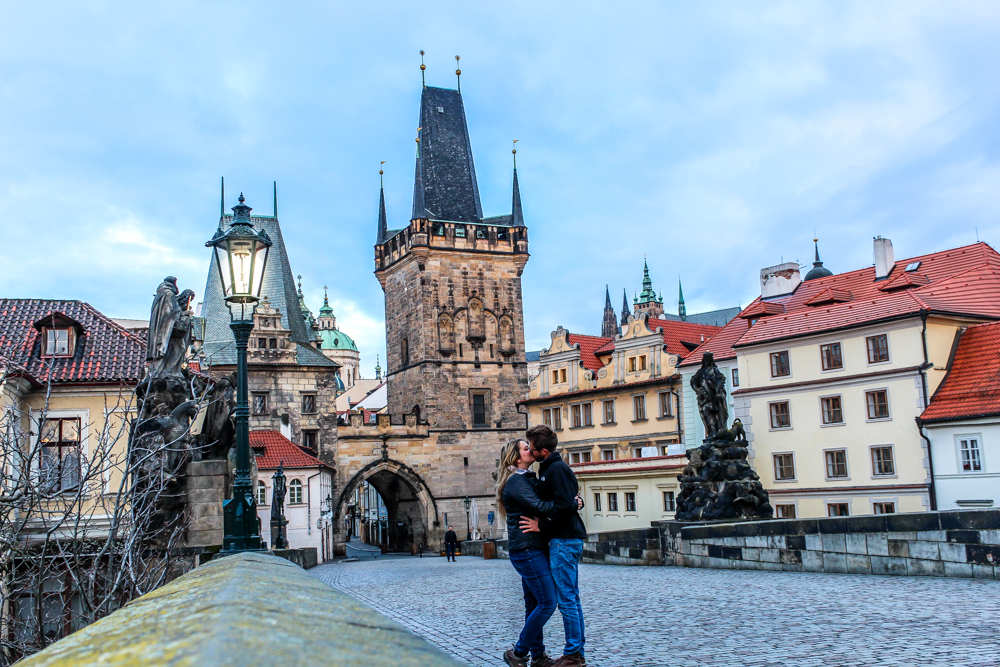 Walking Tour
After a beautiful sunrise, take a walking tour. This will allow you to get oriented, learn some history, and ask your guide for some recommendations!
There are a couple free tours operating in Prague, the first is Sandaman's Free Walking Tour. And the second is Free Walking Tour Prague. I've taken both tours and I liked them equally.
Remember, even though the walking tour is "free" you should still tip your guide at the end. I usually give around $15 US dollars ( or 375 czk).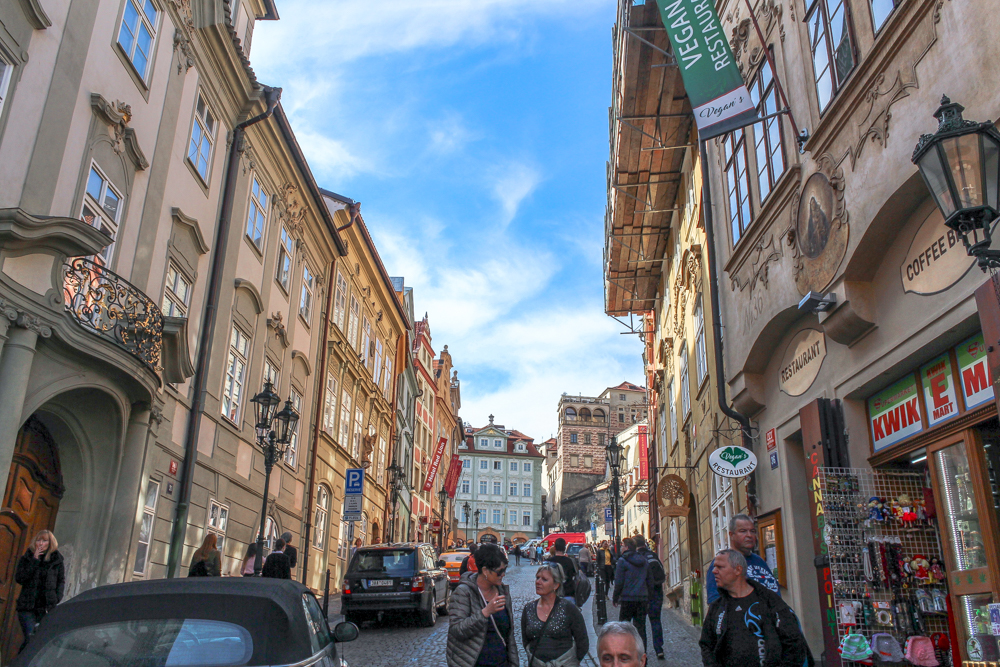 If you don't have time, or if you can't make the times of the walking tours, here are the sites that most walking tours cover, if you want to create your own tour!
Old Town Square
Astronomical Clock
Jan Hus Memorial
The Jewish Quarter
Church of Our Lady before Týn
Rudolfinum
The Powder Tower
Old Town Hall
Even though you'll be able to see a lot just walking around, a walking tour gives you invaluable information about the history and purpose of each place. Your guide will also point out different buildings, artwork, or give fun or interesting facts that make a tour well worth it!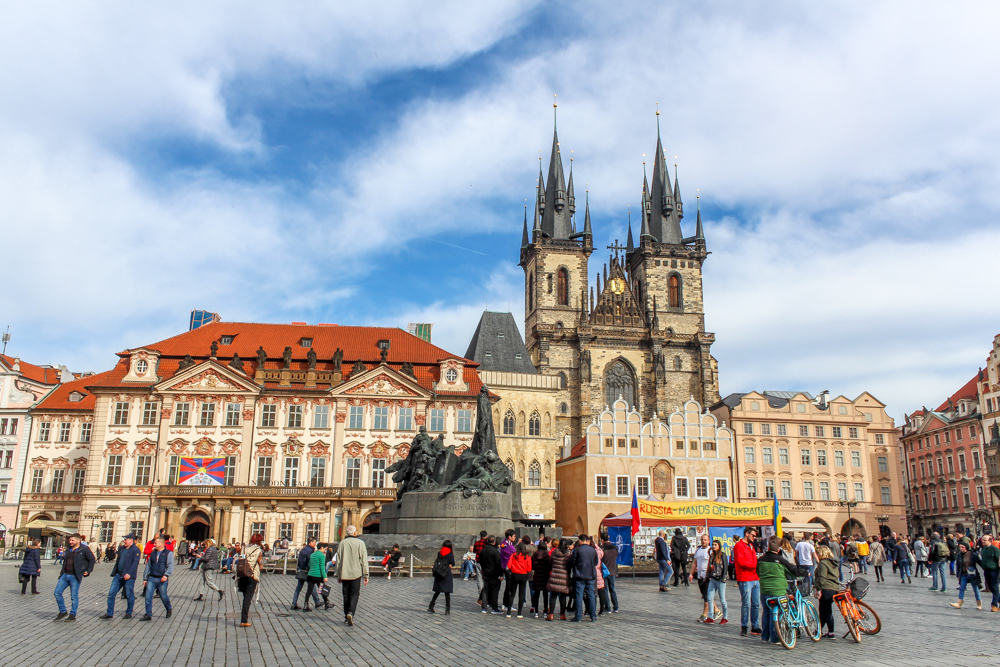 Most tours run around 2.5 hours, and will lead you all around the city center, giving you the amazing history of Prague. And, allowing you plenty of opportunities to snap pictures along the way. The walking tour is a must do on any 1 day Prague itinerary.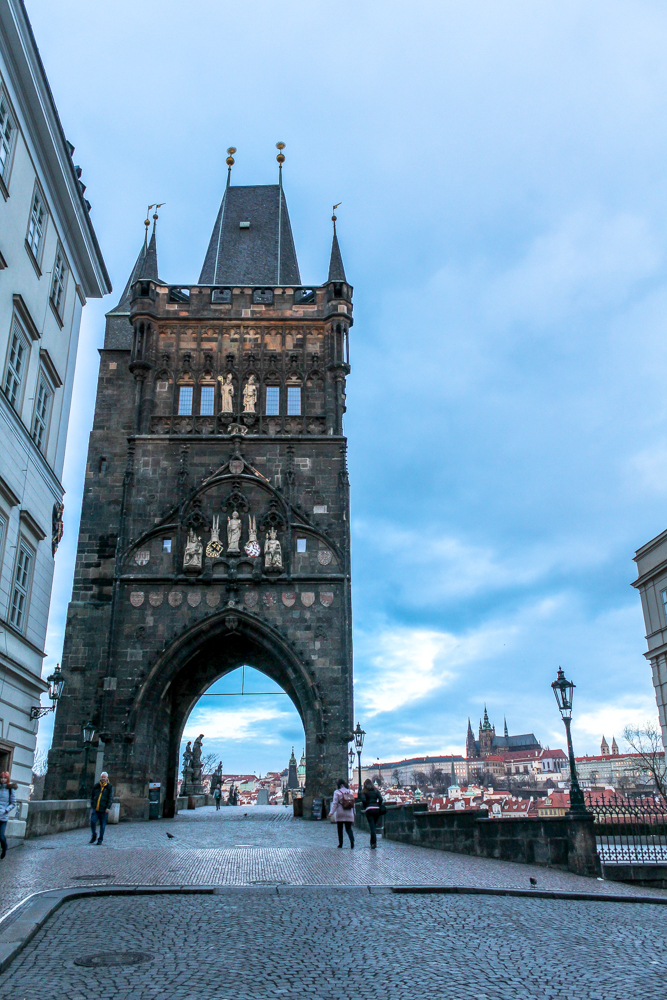 Prague Castle and St. Vitus Cathedral
When you're done with your walking tour, the next stop on your Prague itinerary is Prague Castle.
You can choose to walk, or take the tram. Tram #22 will take you about 5 minutes away from the castle, the stop is called Pražský hrad. This is the easiest way to get to the castle, if you would like to see some easier options, click here.
The first time I visited Prague I took a castle tour. It is so worth it, if you have the time. If you don't have the time, go up and wander around. You can go into the castle on your own for 350 czk or about $14 US dollars. Here is a link to a castle tour, if you have the time!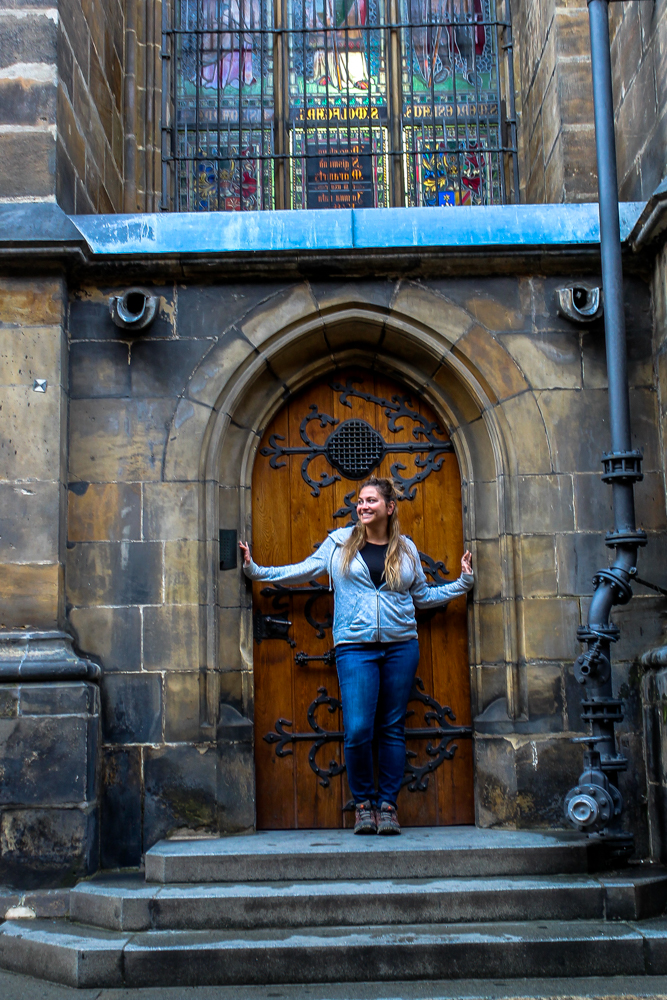 The inside of the castle and monastery is beautiful, but after doing the tour once, I was happy with just wandering around the outside.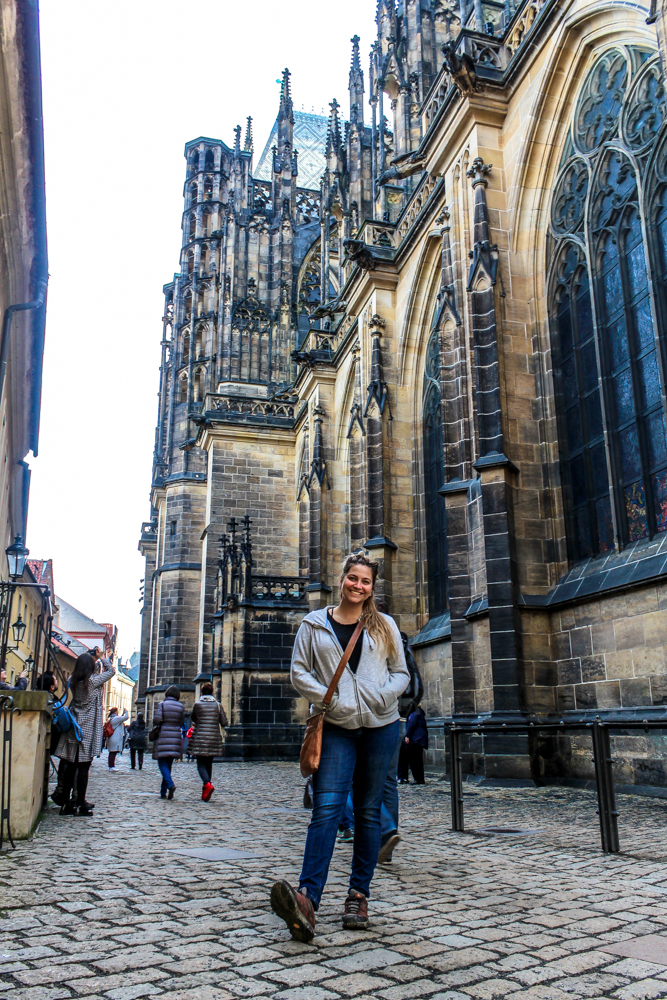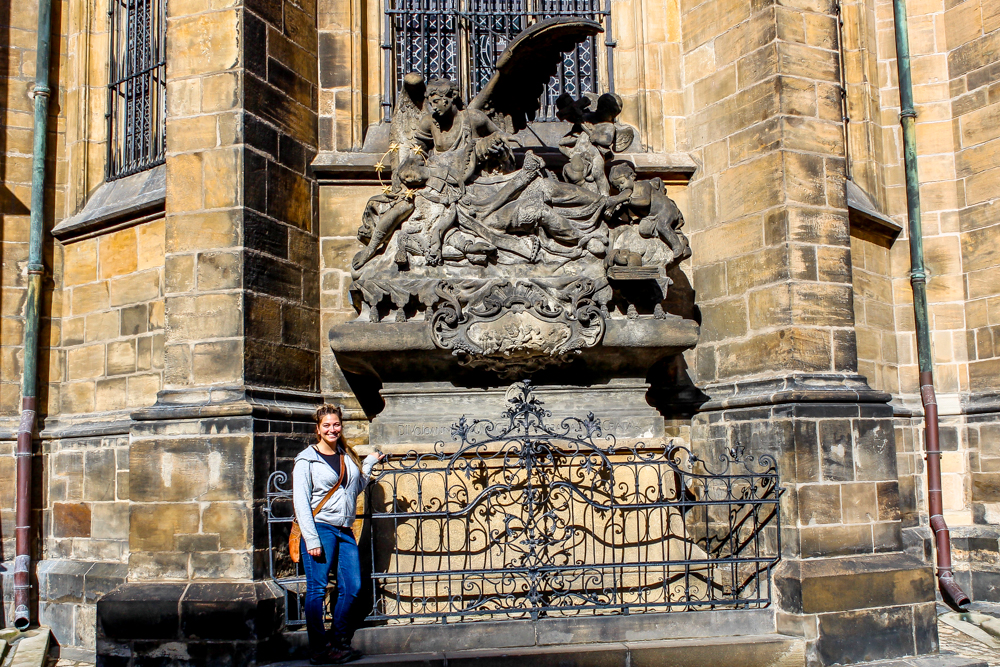 After walking around the castle, we decided to wander down the hill, back to the city. Admire the view on your way down!
Brewery Strahov
Next, make your way to a great brewery and restaurant, Brewery Strahov. The brewery is in a monastery. And beer was brewed here as early as the 13th and 14th centuries! Pilsner beer originated in the Czech Republic. The beer here is cheap and delicious. Make sure you add some good drinking to your Prague itinerary.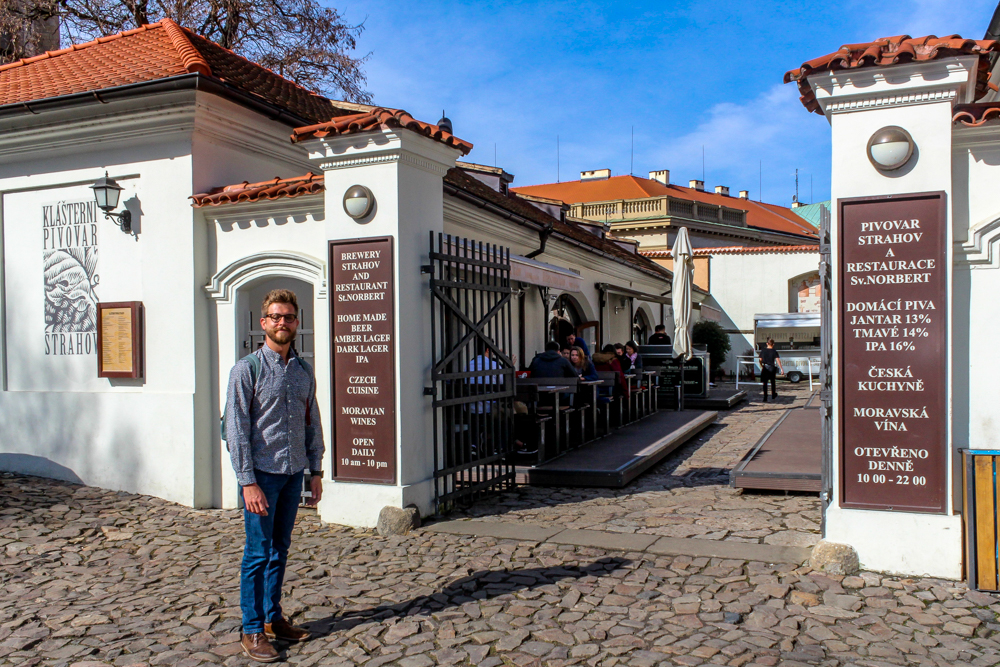 The brewery has great beers and some good wine. It's a wonderful way to take a breather after walking around the entire city all day! By now, your feet will hurt and some cheap, delicious beer and good food will sound like heaven!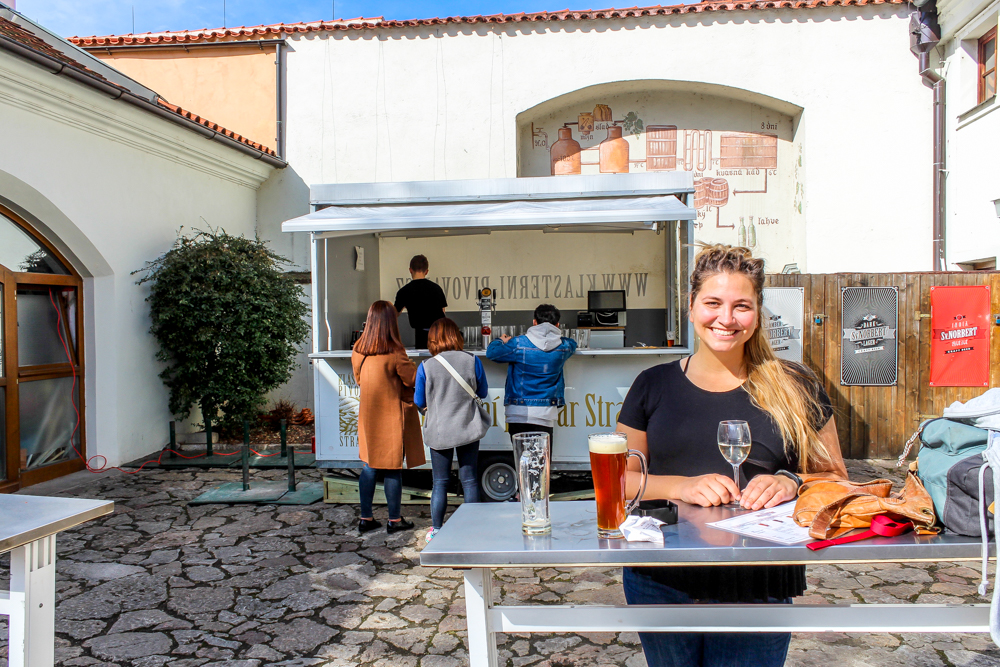 Havelský (Havel) Market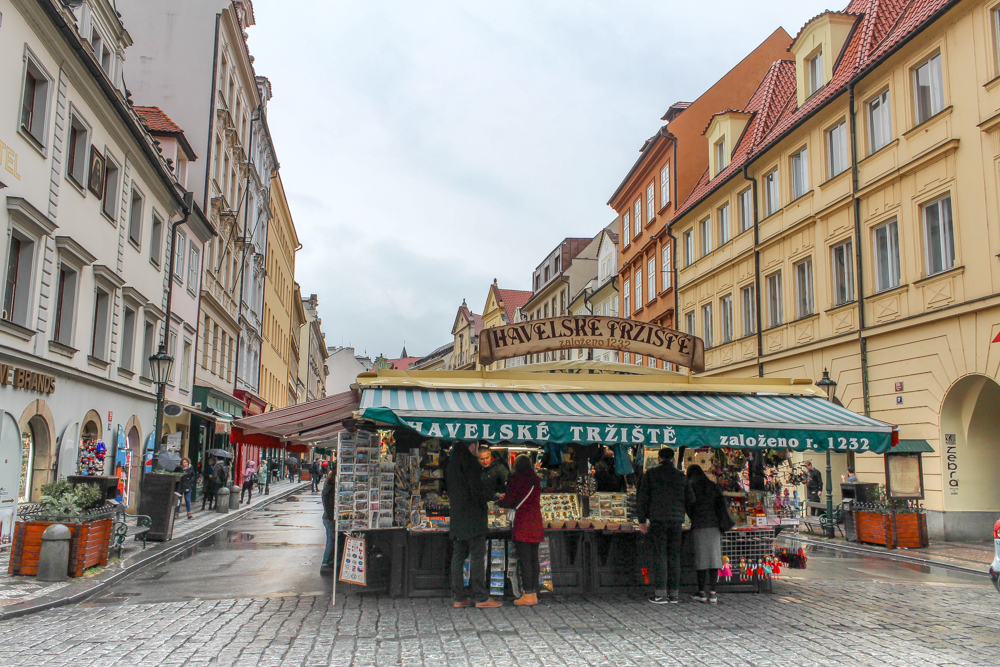 If you love trinkets, visit this market on the weekend. You'll have fun wandering around the stalls and grabbing souvenirs to remind you of this beautiful city!
There are other markets in Prague, including: Holesovicka Trznice or the Holesovice Market, The prague Flea Market, and Náplavka Farmer's Market.
Jewish Quarter
Spend your afternoon wandering the Jewish Quarter in Prague.
The history of Jewish people in Prague is a sad one, filled with persecution.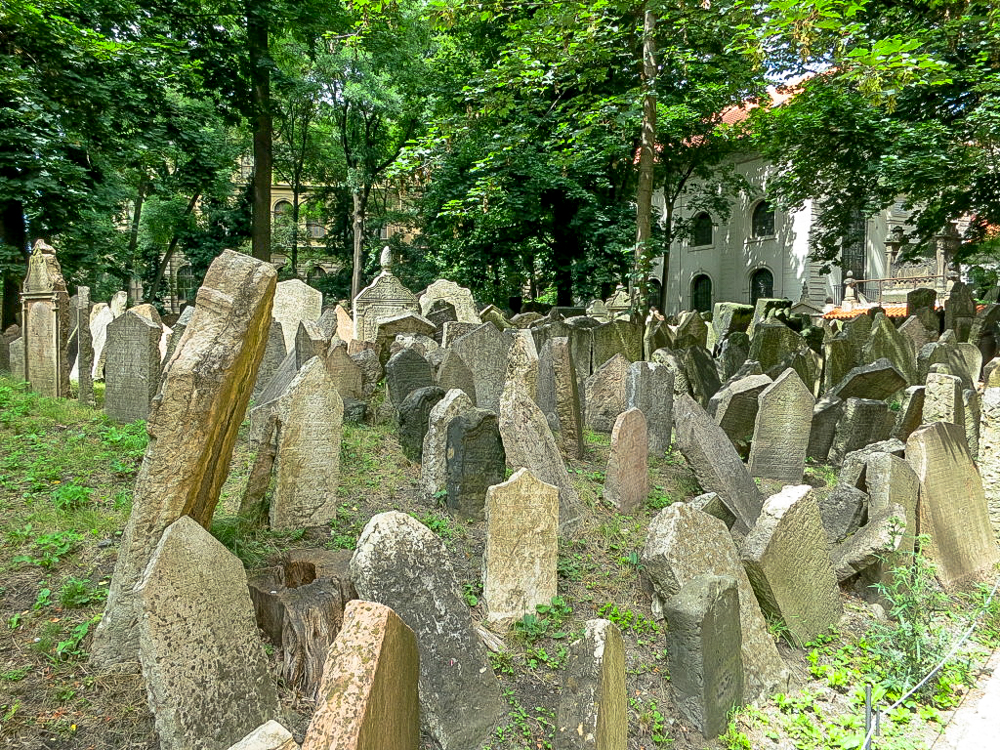 During WW2, Hitler preserved Prague's Jewish quarter, intending for it to be a "Museum of an Extinct Race." Many artifacts from the Jewish community as well as artwork and valuables made their way to Prague.
Today, there are many exhibits open to the public. For 350 czk you can gain entrance to the Jewish museum in Prague.
This ticket includes the Pinkas Synagogue, Klausen Synogogue, Spanish Synagogue, Jewish Ceremonial Hall, Old Jewish Cemetary, and Robert Guttman Gallery. The ticket is well worth the price. You can also elect a Jewish quarter tour if you would like to hear more of the history of Jewish people in Prague.
Water Mill/Love Locks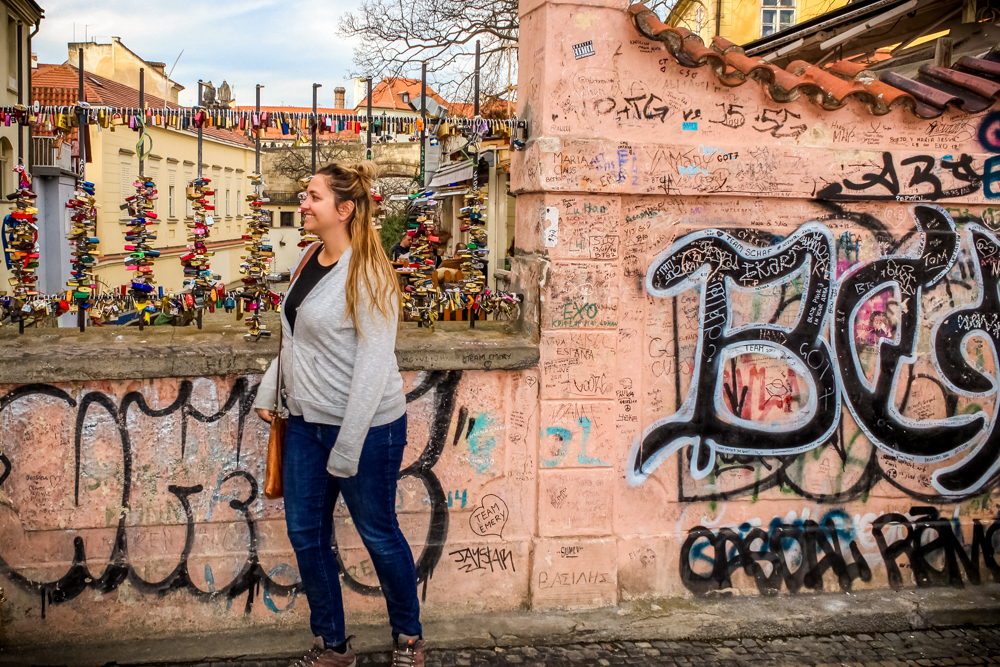 After you tour of the Jewish quarter, try and celebrate some art. Head towards the Lennon Wall, but don't forget to stop at the love lock bridge.
There is a small restaurant dangling over the river, with a cute troll and water wheel. We did not eat at the restaurant, but I imagine it is a bit magical.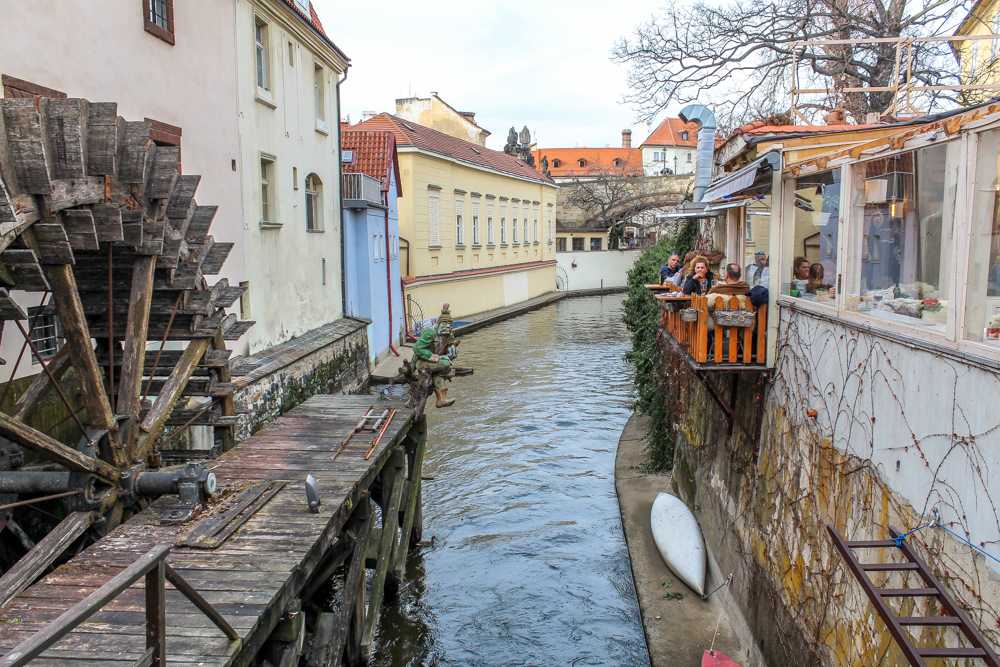 Kampa Park/Lennon Wall
Take a walk around Kampa park, admiring the water views and the installation of Babies. There are a ton of sculptures and artwork located all throughout Prague. Kampa Park is a great place to wander and admire some of it!
Once you're done with the statues, head to the Lennon wall.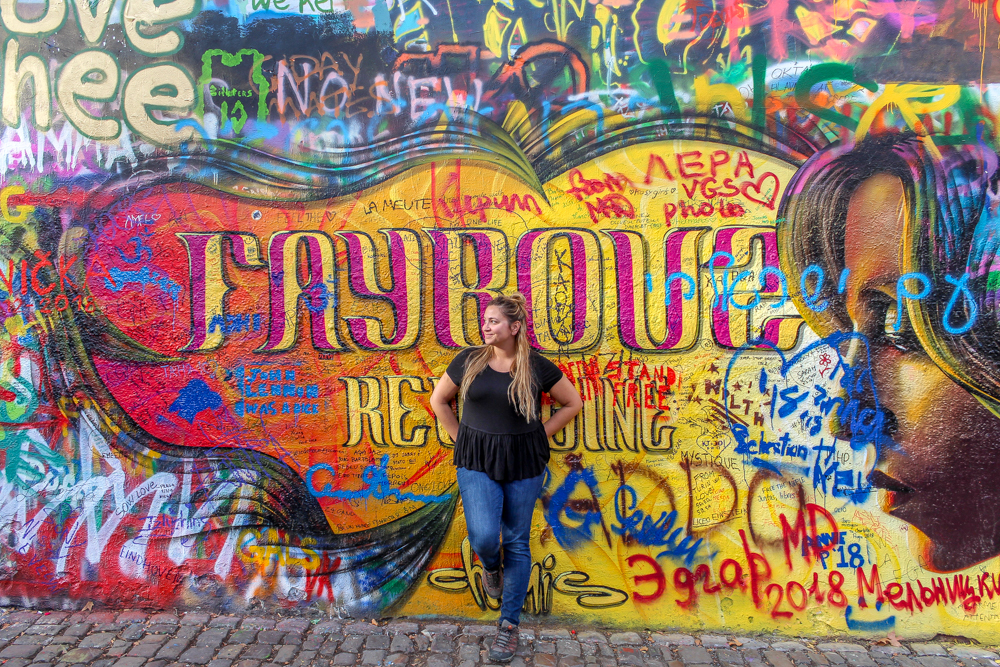 The wall is pretty big, so you'll see different groups of people huddled at different pieces along the wall. Everyone is very patient, and if you just wait, you can get a picture of every part of the wall you would like.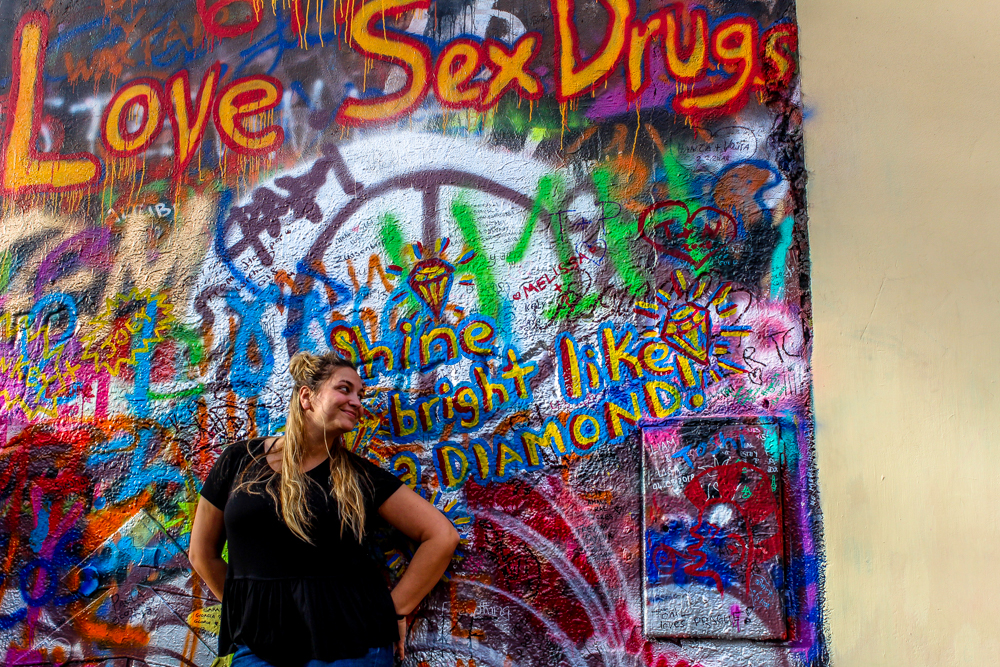 Dancing House
On your way back to your hotel, stop at the dancing house. A feat of architecture!
Beer Spa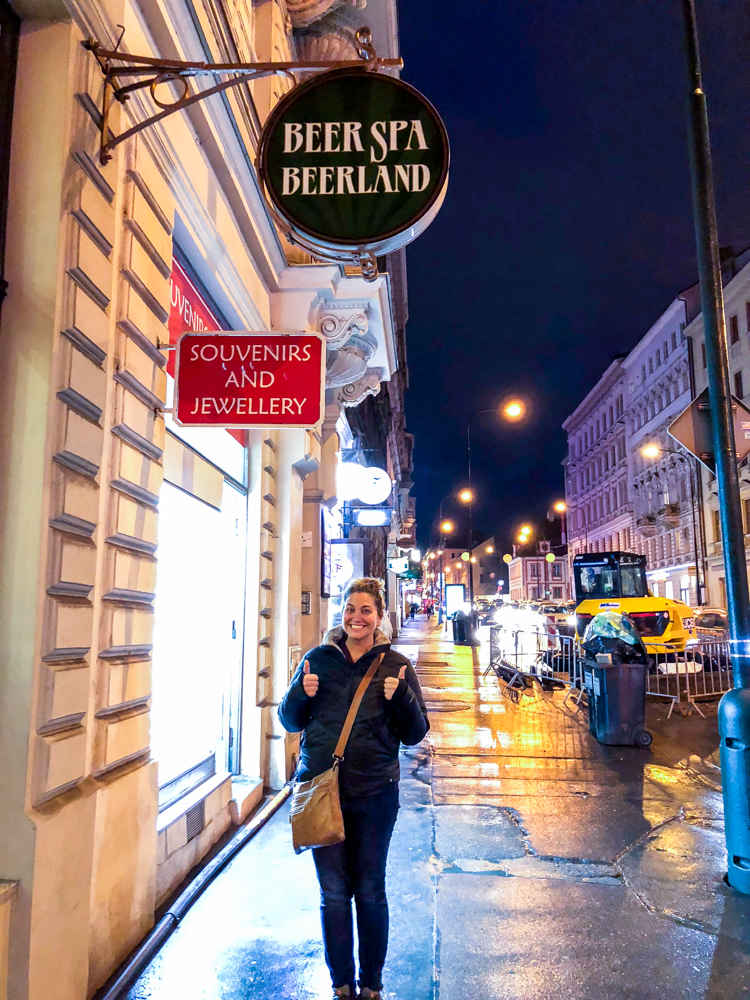 Drink all of the beer, eat beer bread, bathe in hops, and relax by a warm fire at BeerSpa Beerland.
The tickets are a bit costly, but it is one of those magical experiences!
Feel free to read my Beer Spa Prague Experience Post.
Other Things to do in Prague
There are so many things to do in Prague! Here are some other ideas if you want to swap something from above!
Petrin Hill-views of the city and views of the tower
Prague Zoo
Narodni museum
Clementinum
Karlstejn Castle
Zizkov Television Tower
Museum of Communism
Letna Park
National Gallery Prague
Kafka museum
Sex Machines Museum
…and so many more!
Final thoughts on this Prague Itinerary
Don't forget to take time and wander the side streets, eat at great restaurants, and do a lot of people watching.
Take time to enjoy the sites, smells, and atmosphere around you. I hope you enjoy the city!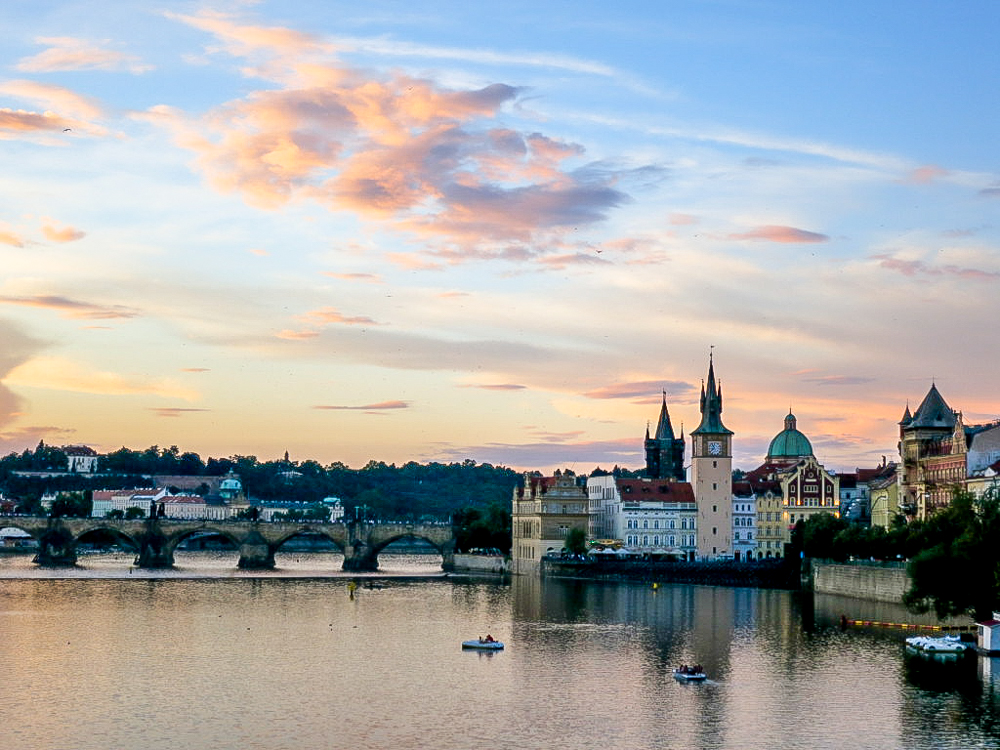 If you only had 1 day in Prague, what would be something you HAD to see?
Love this post? Pin it!