Hiking Palcoyo, the alternative Rainbow Mountain hike, was one of the highlights of my recent trip to Peru. Although not as large, or quite as vibrant as the "real" rainbow mountain, the easier hike and lack of crowds make Palcoyo an appealing choice for travelers to Peru.
Rainbow Mountain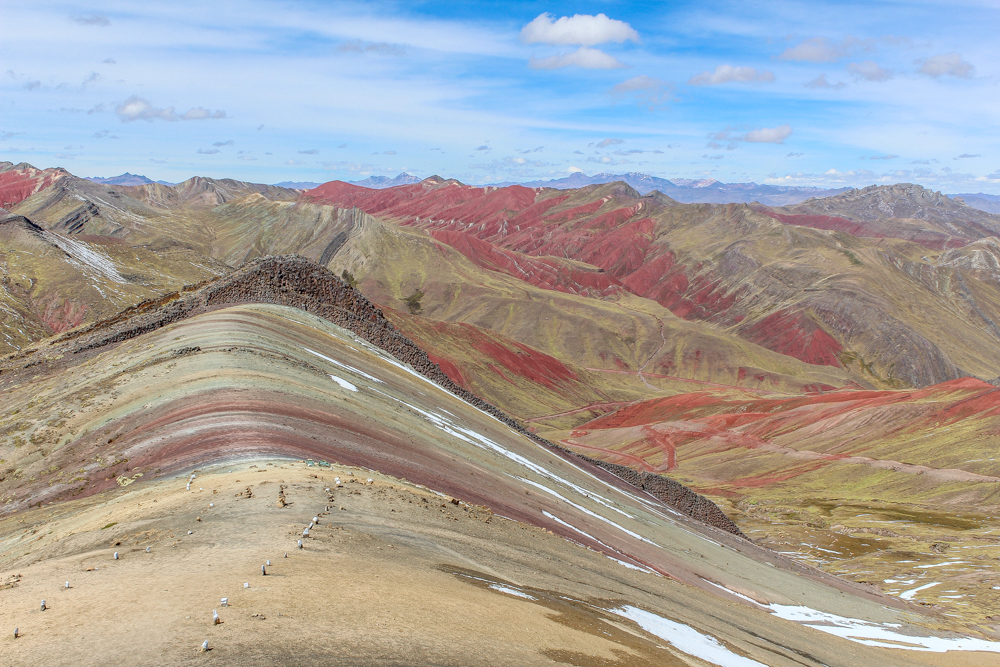 Anyone who follows a few travel bloggers on Instagram has surely seen the beautiful site of a huge mountain, washed in rainbows, and has wanted to travel to see this gorgeous piece of earth. I was no exception. So, my friends, boyfriend, and I scheduled our hike to Rainbow Mountain for the second to last day in Peru.
To hike Rainbow Mountain you have to wake up very early, and drive about 3-4 hours away from Cusco. If you go with a tour group, you may get some breakfast, and then you have a several hours long hike to the top. What a lot of people don't realize, is that the altitude presents a huge problem for a lot of people wanting to see the Rainbows.
Rainbow Mountain, at the peak, sits at about 17,000 feet, several thousand higher than the city of Cusco. Once I realized that fact, I began to do some research. I read reviews from dozens of people who had gotten sick, passed out, and had bad experiences with the amount of people on the hike.
The Scary Rainbow Mountain Hike
All during the night before our hike, I kept thinking how I was having a really hard time with the altitude just in Cusco, I still wasn't in the best of shape, I had images of me being transported to a Peruvian hospital after falling off, or passing out on Rainbow Mountain. Safe to say I didn't sleep at all that night.
3am came, and I told my friends I didn't want to do the Rainbow Mountain hike. I knew my limits. They understood, and headed off on their own. For the rest of the day, I thought I had made the right decision, I had listened to my body. But part of me was sad I wouldn't be able to see this wonder. And I became frustrated with myself.
Hours later, my friends came back-and began gushing about how wonderful the mountain was. They told me it wasn't hard at all, most of it was even ground, that it was beautiful, that I could do it, etc. They gave me some confidence in myself that I could indeed visit Rainbow Mountain.
After much consideration, I decided that I wanted to try. But, my friend's stories of hordes of people on Rainbow mountain did turn me off a bit. And they had hired a private car-I didn't want to spend the money, neither did my boyfriend, so we looked for other options.
Discovering Palcoyo
That's when we stumbled on the hiking Palcoyo option. Palcoyo is another "Rainbow Mountain" very close to the original. It's not as well known, not as big, and as some tourist said "not as beautiful". But I looked up pictures and it seemed just as beautiful to me, albeit in a different way.
The hike to Palccoyo is over flat ground and takes 45 minutes as opposed to three hours. You also didn't get quite as high as the original Rainbow Mountain. The idea of less crowds and flatter ground appealed to me, so I signed up.
If you do decide to do a Palcoyo tour, wait until you get into Cusco again-prices are so much higher online. You can walk into one of dozens of tourists offices in the city and sign up for any excursion you want. We literally walked down the street from our hostel and ended up in Andean Sky Tourist Agency, and they were wonderful.
I was still scared though. That didn't change. But I didn't want to back out two days in a row. I had to try.
Hiking Palcoyo
The wake-up call was at 7 am-much nicer than 3am. The drive out is beautiful-but a little bit bumpy. If you get motion sickness, try drinking some caffeine. If you're sensitive to altitude, make sure you're on diamox for a few days before your trip.
My anxiety began again as I got sicker the higher up we went. . But it was pretty much too late to turn back at that point.
The driver stopped a couple of times to let us admire the landscape on the way up.
He also stopped to grab some leaves from a plant growing along the side of the road. He gave each of us a few stems and told us to breathe deeply. This would help with the altitude. The plant smelled like mint and was very invigorating. I held it in my hand the entire hike, sniffing as I went.
One thing that is amazing about Palcoyo is that you can see the rainbows as soon as you get out of the van-they are right in front of you, no hiking required!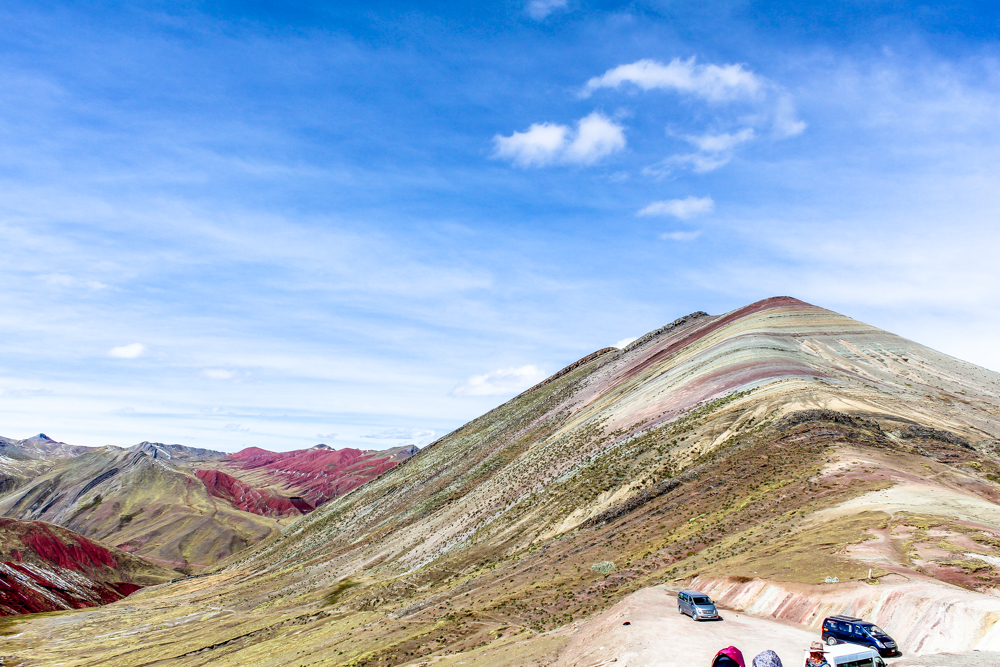 Of course, you can see more as you journey slightly (very slightly) uphill. To help, our guide also gave us coca leaves to chew (like tobacco, see picture below) as we hiked. You're only supposed to keep them in for a few minutes-and you only need about 3 or 4 leaves to get the full effects. They definitely helped on the trek.
It was slightly muddy in the afternoon sun, but the views were outstanding.
Our guide talked about the history of the mountain and local legends surrounding it. He also had us build a shrine with rocks and coca leaves. He spoke in Spanish so I only understood a little bit-but it felt magical to be in such a beautiful place, creating something mystical, surrounded by the wind, you feel wild, adventurous, alive.
I was a bit out of breath from hiking, but I moved very slowly, stopping and taking pictures. The guide was at the front, and the driver in the back, but he didn't rush me or a few others who lagged behind.
Every direction you looked was astounding.
You could also see the Andes mountains.
And I maybe saw fifty people there total (ten of which were in our group). I loved how empty it felt.
As I stared out onto the different rainbows, I thought that I almost didn't make it here. Yes, I didn't go to the "real" Rainbow Mountain. But, hiking Palcoyo was every bit as beautiful, and rewarding, and challenging. I conquered my fear of the altitude, and my fear of failure.
And I got a pretty great reward.
I do believe in listening to your body, but I also believe in having faith in yourself and pushing yourself outside of your comfort zone. Because life gets more interesting when you get a bit uncomfortable.
Helpful Tips for Palcoyo or Rainbow Mountain
Sign up for a tour for any excursion in one of the agencies in Cusco-we chose

Andean Sky

for Palccoyo as well as atving through the valley and had wonderful experiences with both!
Dress warmly, bring layers, bring a scarf, and sunglasses. The wind is brutal up there- as is the sun. You'll be cold and get a sun burn.
Wear sunscreen (see note above)
Bring snacks- you'll be hungry. Most likely afterward your tour will stop for lunch-but you'll be hungry long before.
Drink coffee before- caffeine really helps with motion sickness. If you get bad motion sickness be sure to take something before you go-lots of twists and turns in the ride up.
Wear comfortable hiking shoes-its going to be muddy and you don't want to be slipping and falling down.
Bring your own Coca leaves (in case your tour doesn't provide them) to help with the altitude.
If you're sensitive to altitude, get on diamox or at the very least adjust in Cusco for a few days before attempting the hike
Bring a nice camera because the sites are beautiful and you'll want to capture them!
Have realistic expectations about the rainbows-they are oversaturated a lot in pictures. The rainbows are beautiful-but don't expect super saturated color.
Take it easy to the top! There's no rush!
Believe in yourself-you can do this!
Love this post? Pin it!