Five years ago I was living in Rome, taking care of two adorable boys during the week, and exploring the city center of Rome on the weekends. However, I was also in the center of chaos-trying to arrange flights back home, applying and interviewing for jobs. Life was jam-packed, but life was good.
In October, I turned 30. And it seems like yesterday and an eternity ago that I was living in my large attic room in Rome, halfway between the seaside and the city center. So much has changed, so many memories made, places explored, and challenges met. But one thing remains the same: I am so grateful for my life.
Five years ago, in Rome, I reflected on my entire life- the moments that stood out in every phase of life, the small things that defined an era, the big things that changed me forever. 30, in my mind, seems like a defining point. Of what, I'm not too sure, but I'm excited to find out.
To celebrate my 30th birthday I decided to reminisce again. This time, I'm doing it in the form of an answer to a question that I get asked all.the.time.
So, where have you traveled?
Oh, man. Now I'm not someone who has traveled to 100 countries, but I have traveled a lot. And I don't know if people want a list of where I've traveled, or they just want to keep the conversation going. So I usually just smile, and say, a lot of places, but I can't wait to explore more.
But 30 seems like a good year to reflect on three decades of travel, document where I've been, and see how much I've grown.
I decided to focus mainly on trips to countries outside the United States. I've visited a lot of our beautiful country, but I feel like it would turn an already long post into a monster. So I'll share a few highlights of my travels around the US and focus more on which countries I have visited.
And of course, I'm going to do it in order (kind of, places where I've visited multiple times I've lumped together), baby Kelly to the most recent trip I've taken.
So, Kelly, where have you been? Let me tell you….
1. Bermuda 1996/2014
Bermuda was my first overseas trip (that I officially remember. My Mom took my one-year-old-self on a cruise to the Caribbean, but if I can't remember it, I'm not counting it. What I remember from my first trip to Bermuda was the most beautiful blue water, moon gates, horse-drawn carriage rides, beaches, a pink hotel, and the waiter's disappearing magic trick with sugar packets.
I went back on a family cruise in 2014. Bermuda was as beautiful as I remembered. And the element of a cruise was an experience in and of itself. While I wouldn't call it my favorite kind of travel, cruising can be a good way to get your feet wet traveling outside of your comfort zone.
2. Italy 2008/2014
I consider Italy the place where I fell in love with traveling. I was on an EF school tour in 2008, right after I graduated from high school. And everything was, quite literally, perfect. It had been my first time exploring the world as an adult, away from my family. I remember looking out onto the pages of history books and history felt real to me, for the first time in my life.
I ended up going back to Italy in 2014, as an au pair, for several months. It was my own, personal study abroad experience. I lived with a Roman family, cooked with them, made tons of friends, and visited Florence, Venice, and Naples on different weekends.
If there is any piece of advice I can give to young people it is this: travel. Study abroad, live abroad. Experience a different way of life, meet new people, explore. This will enrich your life in more ways than I could ever describe.
3. Vatican City 2008/2014
Technically it's own country in and of itself, I visited in 2008 and was amazed by the Sistine Chapel, and the beautiful church.
In 2014 I returned and got to hear the Pope speak! That was a special, once-in-a-lifetime experience.
4. Greece 2008/2018
Greece was the second country that I visited on my EF tour in 2008. And I have so many memories that I will never forget. I have fuzzy photos of swimming in the sea at midnight after too many sex on the beaches at a hotel bar, memories of swatting mosquitos in a tiny room with a three-inch mattress, a sunny photo of me on the beach petting a stray dog when I couldn't sleep because of this life that was bubbling up inside of me. There are memories of being sick on our small cruise around the Greek islands, and photos of me being so tan (because I got sick if I went below deck) wandering around these fantastic white and blue islands.
10 years later, in 2018, I went back to Greece. I saw a lot of the same things in Greece, but through new eyes.
5. Turkey 2008/2018
My first trip to Turkey was a stop on my Greek cruise. I went to the local markets and learned how to barter. As a naturally shy person I had a really hard time. But, as I went from stall to stall, I gained confidence. And I walked out with some of my most treasured souvenirs that are in my home to this day.
In 2018 I went back. I visited Istanbul. It was a completely different experience, I ate at rooftop restaurants, visited mosques, heard calls to prayer, smoked hookah, drank in the streets, and, of course, did a ton more shopping.
This reminded me that only seeing one city in a country doesn't give you a true picture of the culture. Turkey the first time had great shopping. Turkey the second time was rich and interesting, and complicated.
6. Portugal 2010
Portugal, in my mind, is a blur. I can distinctly remember almost everything about my trip in 2008, but my trip in 2010 is almost lost to me. It was a weird time in my life, and several things happened on that tour that were just…weird. However, I do have fond memories of Portugal-visiting a little beach town lined with bars and celebrating Portugal's victory in some kind of futbol match, dancing the night away and taking pictures with a cute bartender, taking shots out of ashtrays in our hotel rooms. It was crazy and it was fun. I would like to go back to Portugal and appreciate the country more.
7. Spain 2010/2017
Spain in 2010 was much the same as Portugal. I don't remember a whole lot of it. I do remember being impressed by Barcelona, and the fantastic architecture.
But, luckily, I had the chance in 2017 to go back and visit my friend in Sevilla, where she now lives. When she was working, I took day trips and wandered around the city, practicing my Spanish. When she wasn't working, she showed me the city through the eyes of a local. I got to shop for furniture for her apartment with her. We went to a food market and bought stuff to make for dinner in her lovely apartment overlooking a shopping street. We celebrated St. Patrick's day at a noisy bar filled with study abroad students. Afterward, I got hot chocolate and sugary donuts and sat up and talked with her all night until I had to leave to catch my flight.
8. Morocco 2010
Morocco was my first venture to Africa. I only got slightly sick on the boat ride from Spain. Morocco was a maze of vendors and people and colors. We went into a part of the town where a guide was required because tourists kept getting lost in the maze. There were so many interesting and unique sights and smells and sounds. I peeked my head into doorways of mosques, admired the different colored spices, and drank tea with a few shop keepers. I rode a camel (which is 2019 I would NEVER do…), was dressed in a burka, and was taunted by our guide who kept calling me Angelina Jolie. Even though it was only for a day, I still look back at Morocco with fondness.
9. Austria 2014/2017
Austria was the first country on my first solo trip. And it was pretty much a disaster. I got lost for an hour and a half trying to get to my hostel. I didn't have a smartphone, and kept looking at a worn-out map in the rain while I tried finding my way. My hostel was geared towards a younger crowd, and I didn't make any friends. I fought to find things to do and entertain myself. Things, like figuring out where to use the bathroom, finding a place to eat, and navigating a foreign transportation system, was so overwhelming.
I ended up on a three-hour walking tour the first day I got in, and then climbing to the top of some kind of church, and eating a meal as horse-pulled-carriages walked by. During that meal I was scared, nervous, excited. I thought everyone was looking at me and talking about me, making fun of me. But slowly, over that solo trip in 2014, I started to gain confidence.
I went back to Austria in 2017 with my friend. We were visiting Munich and took a day trip to Salzburg. It was freezing! But the city was so beautiful covered in snow. I felt so much more confident in myself in 2017 than I did in 2014. What a difference three years makes! We shopped at the Christmas markets, took a tour of the city (Sound of Music scenes included), and took a gondola ride to see some of the alps!
10. Czech Republic 2014/2018
Even though Austria was hard for me in 2014, Prague was not. It was so amazingly beautiful, the baroque and gothic architecture made the main street look like a Disney World for adults.
And, exploring was just easier in Prague. I had a great hostel right by the Charles Bridge, I could walk anywhere I wanted to, and I met an awesome girl from Croatia who I hung out with for the next few days. We ate vegetarian food, drank in beer gardens, and wandered the city together. I met another girl on a walking tour, we hiked up to see the castle together, and had traditional Czech food after. The introvert in me was being pushed to the max! But I found it easier and easier to talk to people, my confidence building every day, or every hour.
I also got more comfortable spending time alone. When I had a couple more days in Prague, with no one to hang out with, I bought "The Metamorphosis" and sat on a bench in a secluded street in the city and read. I hiked to a viewpoint and saw the entire city of Prague. I was okay being alone.
In 2018 I returned to Prague with my boyfriend for a quick, 2-day trip. I thought Prague would be a good first trip for him (he loves Pilsner beer, so that may have had an impact on my selection. Pilsner was created in the Czech Republic). And we had a blast. I showed him the city, took him to my favorite spots. And we made new memories together.
We found the Lenin wall. And took a dip at the beer spa. I woke him up early, before sunrise, so we could take pictures alone on the Charles Bridge. It was the first trip that I ever took with a significant other. And it was so special, we fed off of each other's excitement.
11.Netherlands 2014/2017/2018
I did not like Amsterdam the first time that I visited in 2014. I tried to, but I was turned off by how dirty and sexual the city was. When I took a day trip out of the city, it was much better-I saw cheese factories, clog factories, windmills, and lakes. But the city had left a bad taste in my mouth. I did find a great group of friends, that I still talk to this day. We met in line at the Anne Frank museum, and hung out for the rest of the day. So I can't say that the trip was all bad.
In 2017 I decided to go back, with my friend, before visiting her in Spain. And Amsterdam started to grow on me. We rented bicycles and toured the streets, stopping at breweries, and fun shops. The city became a little bit more beautiful.
And then, I visited again in 2018-this time for the tulips. And it solidified in my mind that The Netherlands are beautiful-Amsterdam may not be everyone's cup of tea, but there is so much to do and see in this country. Museums, and restaurants, and historic monuments, and history, and flowers. The quality of life that people in Amsterdam have is among the best in the world. And I found myself wanting to move to this city so I could have a little bit of that quality of life.
12. Serbia 2014
The only reason that I visited Serbia was because of a boy, well, three boys. Three boys who I lifeguarded with the summer after I graduated from grad school. They were all from Serbia (a place that I hadn't even heard of before). It was my first experience interacting with people from a different country. They told me stories about their history, cooked meals for me in their little hotel room, and quickly became my good friends.
I wanted to visit their country, and so, I did, despite warnings that it was dangerous. Let me tell you, it wasn't dangerous at all. I wrote a post about how beautiful the people of Serbia are, and about an amazing road trip that my friend took me on, that covered quite a bit of the country. I won't ever forget the scenery of this little-known country, or the kindness of its people.
13. Monaco 2014
Monaco was a day trip when I was visiting Nice, France. I wanted to see this small, wealthy country of grand hotels and casinos and fast cars. My impression of Monoco was one of opulence-my normal cappuccino in France cost a couple of euros, in Monoco it was something like 6. I had a bit of sticker shock, and didn't do too much but wander around the city, buying vintage postcards as souvenirs.
14. Switzerland 2014
Remember that friend I made in Amsterdam? Waiting in line at the Anne Frank museum? Well, we took a little tour of our own a week or two later. We went to Venice and Nice and then I stayed with her for a week in Switzerland, her home country. I had skipped out on my flight home from Europe, determined to find a job and remain in Europe for as long as I could. I was scared, but she gave me a free place to stay, and showed me her country, I met her family, and we hiked and went seeing. I'm forever grateful to her. Switzerland was a beautiful place.
One of my favorite parts of the trip was hiking. My friend told me it was an easy hike, but I was dying as I climbed up. But she (and a few other people) were so patient with me. And I was rewarded with pancakes at the most unique restaurant I've ever been to. I couldn't believe a restaurant was built into the mountainside, with views that came out of a fairy tale.
15. Belgium 2014
When I was living in Italy, my friend, Brittany, just moved to Spain. Since we probably wouldn't be in this situation ever again, we decided to meet up. We chose the cheapest flight we could find and found ourselves in Belgium. Belgium wasn't my favorite country that I ever visited, but I loved being with Brittany. We took a boat tour in Bruges along all of the canals, and ate fries covered in mayonnaise and Belgian waffles until we felt sick.
16. England 2015
As an English major, London is someplace that I should have seen way before 2015. If circumstances were different, perhaps I would have studied abroad in London, took day trips to the homes of famous authors, read Shakespeare and Austin to my heart's content. Alas, life rarely turns out the way that you expect. I had finished my first (well, half) of a year of teaching. My rent was cheap, I had very little debt, and I started saving to go back to Europe. This trip was going to be a monster-4 weeks, 6 countries, and a visit from my baby sister in the last one. I was so excited.
I knew that I would love London before I visited. I loved how people talked, their dry humor, their down to earth personalities. Some people are bothered by the coldness, or harshness of London, I wasn't. My night out in London was fantastic, I met cool people, visited thrift markets, took a tour of east London's street art, learned about serial killers, visited the palace, the Globe, the abbey, I did everything.
But my favorite memory was taking myself to see The Phantom of The Opera-one of my favorite musicals. I had seen it on Broadway, but now I was seeing it in Her Majesty's Theater for a rock bottom price. I sat in my seat transfixed, and after the show wandered around town and saw the city at night. That date night with myself was something that I will never forget.
17. France 2015
Nothing magical happened in Paris. I was expecting it to. This is supposedly the most wonderful city in the world. But for some reason, we didn't click. I enjoyed parts of my visit, for sure. My hostel was located in Montmartre. After wandering around this beautiful neighborhood, I would sit on the steps by my hostel, eating baguettes, and people watching.
I think one of my biggest issues with Paris was the crowds. And really, how much can that be helped? I went to Paris in July, there were throngs of people everywhere I went.
My favorite morning in Paris was climbing Notre Dam and spending time with all of the gargoyles. I had bought a Nutella crepe on my way to the cathedral, the early morning air was crisp, and I felt free. It was blissfully empty at the top of the cathedral, and I took time to look out onto the city, and be in awe.
18. Ireland 2015
I wanted to love Ireland. The place, in my mind, was always magical-with the rolling green hills, people with sing-song voices, and fanciful folklore.
I did enjoy Ireland quite a bit, I took a tour with Shamrocker tours and experienced several wonderful places around Ireland. We drank in pubs, explored castles, wandered around towns. It was so much fun, and being around so many people around my age was nice. It was also nice not having to plan a huge itinerary, or worry about how I was going to get from one place to the next- everything was planned for you.
The one thing I will always remember about Ireland was The Cliffs of Moher. I went way out onto the cliffs, by myself, with fewer people around me. With the wind whipping, and the waves crashing I had almost a spiritual experience. I felt so alive, and happy (can't you tell by my face?). Maybe because nature was so powerful there, and I was in awe.
19. Northern Ireland 2015
I went to Northern Ireland for only a couple of reasons. 1) To see some Game of Thrones filming locations and 2) to see the Giant's Causeway. I saw both of those things, but it was a tightly packed day trip, and I didn't do much else.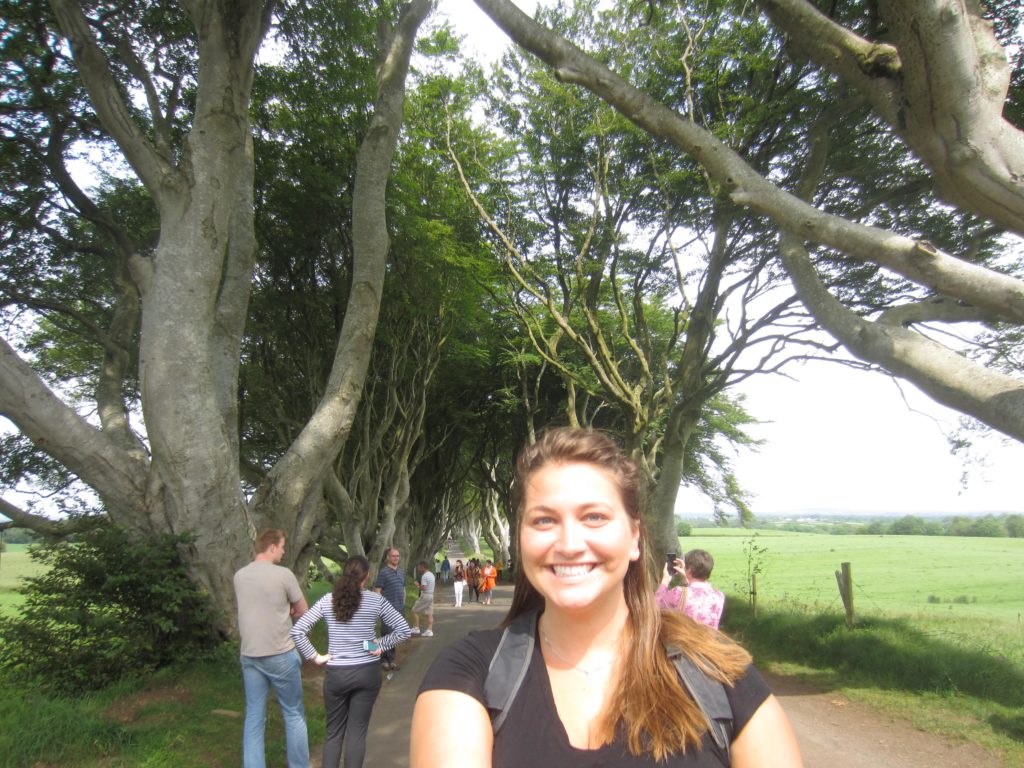 20. Scotland 2015
Scotland threw me for a loop. I wasn't expecting to love it so much I was expecting to love Ireland. I've learned to not have too many expectations when I travel, and try and appreciate the beauty of each country.
But Scotland was fantastic. I went on a tour again-this time with Haggis Tours, and was led around Scotland by a genuine Highlander. There were times that I barely understood what he was saying, but I could have listened to him talk for hours. There were fantastic, down to earth people in my group and we hung out constantly. We sang ABBA songs on the bus, tried Haggis, went hiking, and exploring together.
The countryside of Scotland is wild. There are beautiful mountains, green fields, it's open and majestic and rugged. The weather was perfect-jeans and hoodie weather, with a slight breeze wherever you want. It felt so refreshing and invigorating. I would look back months later, sitting on the beach in Florida, and wish I was back in Scotland with my hiking boots and wool jacket, hiking some mountain, or looking for Nessie the Loch Ness Monster.
21. Iceland 2015
Iceland was the first time that I traveled with my sister, as an adult. She is a ball of energy, and we pretty much went all day. She refused to go on a group tour, so we rented a car and toured the country by ourselves. The landscape was breathtakingly beautiful. We would stop on the side of the road, jump out, and take pictures because we couldn't believe what we were seeing.
We went to the blue lagoon, and also to a lesser-known lagoon where there was hardly anyone else. We drank beers in the rain while enjoying the steaming water.
Being an adventurer, Megs also signed us up for an ATV adventure. We road over landscapes that resembled the surface of the moon. Megs yelping behind me as I slowed down to let everyone get ahead and then race forward so we could go as fast as possible.
When people ask me what was the most beautiful country you've ever visited, I usually name at least three, but Iceland is always one of them. The country, even though its small, has such amazing, diverse landscapes. If you visit, try and take the time to see a variety of what the country has to offer.
22. Dominican Republic 2016
I went to the DR because my friend had a house there, and I wasn't going to pass up a chance to see a new country for so little money. The DR was spectacularly beautiful, the people so friendly. I loved it so much because I didn't stay in a resort. I stayed on a hill overlooking the sea, ate at local restaurants, met local people, and had a great little weekend getaway.
23. Mexico 2016
I was only in Mexico for one day, and I hesitate to say I've been there. It was right before my trip to New Zealand, and I was visiting my friend in California and she asked if I wanted to visit Mexico and grab some amazing seafood. Of course, I was down, so we packed up our car and headed to the border. We went to Tijuana and explored the food and trinket markets. Then I drove down to eat the most amazing food at this quaint little beach town. The margaritas were strong, the food was heavenly, and the views over the ocean were spectacular. I'd love to return to Mexico to learn more about the culture and history.
24. New Zealand 2016
New Zealand is another place that I always list when asked about the most beautiful countries. I came to New Zealand because my favorite travel blogger lives there, and I was blown away by her photos of this alien land. I spent 16 days in New Zealand and it wasn't enough. I saw so much: glow worm caves, movie sets, famous trees, a glacier, went bungee jumping, saw a drive-in movie, explored native culture, smelled the surfer, wandered in snow-covered fields, froze my butt off hiking small mountains and trails and beaches, explored the warm beach pools, and I could go on.
I could spend two years in New Zealand and not cover half of what the country has to offer. My guide said that at the end of every road in New Zealand is something beautiful, and I believe it. No matter where you go, beauty is sure to find you.
I will go back to New Zealand. What makes this a hard country to get to is the fact that it is so separate from anywhere else. If you live in the US, you need to commit a good length of time to being in NZ to make the flight out worth it. But I promise you, it is more than worth it.
25. Japan 2017
I was only in Japan for about three days. Japan was challenging-the language barrier for one, and the culture shock for two. I found myself kind of lonely in Japan-despite never feeling lonely on any other trips. I went to see Mt. Fuji on a day trip just to get out of the city of Tokyo.
The city of Toko itself was extremely fast-paced for me, I woke up early (thanks to jet lag) to walk around temples and explore the city. I had the temples almost to myself for about an hour; I watched young families, men and women, and teenagers come to the temple, drip water over an altar, and pray. It was so beautiful so watch, everyone was so reverent.
Sometimes traveling is hard that's not true, most of the time-traveling is hard. It challenges you in ways that you would never expect. Japan challenged me-everything from eating with chopsticks to riding a crowded metro, to feeling so alone in a gigantic city. But I'm glad I went to Japan. I forced myself to get out into an uncomfortable space and do something, which sometimes, can be hard. And sometimes that is a perfect metaphor for life, forcing yourself to get outside of your comfort zone and just do something, and sometimes, its enough to shift loneliness, depression, anger, sadness, or anything else that you are experiencing.
26. Thailand 2017/2019
I've probably spent the most time in Thailand than I have in any other country, besides The United States and maybe Italy. My times in Thailand have been transformational both physically and mentally.
Yes, Thailand is beautiful. Yes, it's cheap, and yes, there's a ton of fun stuff to do and see and explore. The people are maybe the friendliness in the world.
Why do I love it so much? It's really hard to put into words. I feel so comfortable in Thailand even though it is so different than what I know. It feels like home.
I've done dozens of things in Thailand- visiting temples, zip-lining through trees, laying around on a beach, watching a fire show, hiking mountains, trekking through an elephant sanctuary, the list goes on and on.
But I think my favorite memories of Thailand are the ones when I was with my sister and her boyfriend, or the friends that I made at a fitness camp. One time, I was riding in the back of a songthaew with my sister and her boyfriend. We were on the way to the night market, beers in hand, flying down the road, blaring music-singing at the top of our lungs. We spent hours wandering the dozens of stalls, eating street food, and bartering with the vendors.
Or maybe it was the day we spent walking around the most beautiful, secluded temples in the woods with figurines that looked they came from a storybook, listening to a stream running over the rocks, and the monks gently sweeping the walkways beneath our feet. It is the quiet moments and the loud ones. The amazing people that you meet. I've made some amazing friends in Thailand. Friends that I love and miss even though we are scattered across the globe.
27. Germany 2017/2018/2019
My mom has these little Christmas toy houses with lights that shine through the windows and doors; she puts them under the Christmas tree every year-its a fairy book town. And that was Germany to me-magical in the snow, at Christmas time.
Over the years I've visited Munich, Berlin, and Frankfurt, enjoying each city to the fullest. I spend a disproportionate amount of time wandering around the Christmas markets, buying ornaments, and drinking gluwine and hot chocolate and eating sugary treats. But I love it.
German Christmas markets made me fall in love with the Christmas season again. I see people huddled together against the cold, gripping gluwine and talking and laughing in groups, young couples out on dates, wandering the stalls. The smells of cinnamon and chocolate and pine permeate the air, Christmas music, sometimes live and sometimes recordings, warm my heart. Germany got me in the Christmas spirit.
Of course, Germany is much more than its Christmas markets. I've toured concentration camps, visited memorials, seen the Berlin wall, learned the history of Germany, and also seen their quality of life. If I moved anywhere in Europe, Germany would be an easy sell for me. The quality of life is great, they value education, they value history, and they value people. If any country has learned from the sins of their past, it is this one. And in the world we live in in 2019, that is admirable.
28. Hungary 2018
When I toured Europe for several months in 2014, tons of people told me Budapest was their favorite city. And it so easy to see why. In a day I managed to see some beautiful architecture, drink a coffee at the most beautiful hotel in the world, take a bath in a huge bathhouse, explore the history of the Jewish quarter, and go to a hip ruin bar.
29. Peru 2018
Peru was the first country that I visited in South America. It was so different. I only had European cities, and a handful of Asian cities to compare it to. But South America is so unique. My two-week trip took me to cities and deserts and mountain tops.
I have so many great memories of Peru: eating ceviche, looking at great street art, wandering in a desert, taking a boat tour to an island of birds, climbing Machu Picchu, seeing the salt flats, hiking rainbow mountain, riding ATVs through mountains and around lakes.
Peru awoke in me a desire to explore more of an entire continent. I can't wait to get back to South America.
30. Lithuania 2019
I've been hearing about Lithuania since I was a little girl-my grandparents on my mom's side are both (mostly) Lithuanian. I'd wanted to visit this country for a long time, but it was always passed over for more popular destinations. But when I visited Lithuania, I loved it. I loved that there were no Americans there, that the people all looked like my grandfather and grandmother. That there was a rich history, and it felt a little like unchartered territory.
It was cold there, and it snowed every day. We explored the city, Vilnius, and then ventured into the countryside on a road trip. I felt like I was learning more about my history, and more about myself as we ventured around the country. Recently, I did a 23 and me DNA test that revealed I was 36% Lithuanian-and the rest a European mutt. I have more Lithuanian DNA than anything else. And I'm proud of that; it's an amazing country.
31. Poland 2019
Poland took me by surprise. It was snowy and beautiful, just like Lithuania. We went on a walking tour and learned about Poland's history, while eating McDonald's french fries (we were starving and it was the only thing close by and fast). The rest of the tour the Polish guide poked fun at us, all in good fun. The Polish have a fantastic sense of humor.
But we also toured the Auschwitz complex, in the snow. We were freezing, and when we looked at the clothing that the prisoners wore, our hearts become heavy, I can't imagine how anyone survived this place.
After a day of touring a concentration camp, you're not the happiest person in the world. Your heart is heavy, your mind racing and exhausted and disgusted and pained. We saw a lot of pain, and at night we often simply went out to eat, not wanting a party atmosphere. Luckily, the food in Poland was exceptional.
One night, we ate in a warm glass box, by candlelight. Another night we dined at a fancy restaurant on top of a hotel. We kept our beers cold by opening a skylight window and putting them in the snow. And were delighted when a large pile of snow fell in our room as we tried to retrieve a beer.
Poland was a mix of sadness and happiness, good times, and somber. But, isn't that life?
32. Canada 2019
I went to Canada because of a magazine. There were pictures of Banff, Canada on the pages-my friend and I just had to go.
Banff did not disappoint. The mountains were covered in snow, the lakes covered with ice. And it was beautiful everywhere you looked.
My friend ad I rented a car and visited a few frozen lakes and mountains. The next day we went shoe snowing in a forest. We also drove up a mountain and bathed in the hot springs.
Banff is above all, a ski and snowboarding town. Now, we did no skiing or snowboarding. But we admired the beauty of the country. And that was more than worth it.
33. United States
I was born and live in the United States. And I've visited a few places in the US, but I would love to visit more. Here is a list of every state-a star by the state means I've visited it. I tried to attach a picture for every place I've visited, although some are lost to me because of technology.
Alabama
Alaska
Arizona * 
Arkansas
California *
Colorado
Connecticut
Delaware *
Florida *
Georgia
Hawaii *
Idaho
Illinois *
Indiana
Iowa
Kansas
Kentucky *
Louisiana *
Maine
Maryland *
Massachusetts *
Michigan *
Minnesota *
Mississippi
Missouri
Montana
Nebraska
Nevada
New Hampshire*
New Jersey *
New Mexico
New York *
North Carolina *
North Dakota
Ohio
Oklahoma
Oregon *
Pennsylvania *
Rhode Island *
South Carolina *
South Dakota
Tennessee *
Texas
Utah
Vermont
Virginia *
Washington *
West Virginia*
Wisconsin
Wyoming
Thoughts on 30
Creating this list brought back so many memories of my travels. It's funny how some memories are crystal clear, and others are fuzzy. It's always wonderful to look back at the past, and be grateful for what you had, or what you had the opportunity to do.
It's equally as exciting to look ahead.
So Kelly, What's next?
That's the second question I always get when talking to people about traveling. It's hard to pin down what I'm doing next. Tentatively, I have India and Bolivia coming up. But Jordan and Egypt keep calling to me, as do Norway and Kenya. And more of southeast Asia…and honestly so many other places. The world is big and I want to see as much of it as I can.
But all in all…
It's wonderful to look at the past, and exciting to look at the future. But more and more I try to keep myself in the present moment. It doesn't matter if I'm traveling to a country that I've never been before, or if I'm watching Netflix with my boyfriend and our dogs. I always try and be thankful for every single moment that I'm on Earth. Thankful for my family, friends, boyfriend, house, job, health, the world, the list goes on and on.
It's been an amazing 30 years here's to the next 30!